Take a Tour of This Compact Home Built on a Tiny Infill Plot
By Amy Reeves published
After renovating a cottage, Joanna and David Rakowski turned to the neighbouring infill plot to build their family home, filled with smart tech and clever ideas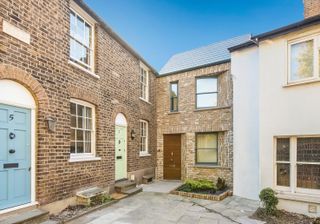 (Image credit: Fulham performance)
Some projects are delayed and derailed by unexpected challenges and constraints, but not Joanna and David's self build, which, in the face of everything life can throw at a building project, thrived against the odds.
Starting with a tiny plot of just 130m2 (at street facing less than 4m deep), architect Joanna managed to navigate a difficult planning permission process, get creative with construction solutions and design a contemporary home that satisfies David's love of home automation and passion for energy efficiency, as well as catering to family life with two young children.
Here, they detail the ins and outs of the house design.
1. Communicate with Planners Early
Image 1 of 2
Image 2 of 2
Joanna: We're in a conservation area, and because we knew the process was going to be quite sensitive we thought it was best to engage early with the planners.
The pre-application process took a good eight months. There was lots of discussion with conservation bodies until we were confident they were on board with what we were proposing. It was a lot more work up front, but by the time we put the application in, it was much smoother.
We had initially wanted to follow the pitched roofline of the cottages and put in extra bedrooms at the back of the house but the conservation officer wanted the new structure to read as a separate entity, so we now have a flat roof at the back.
The plot was penned in on all sides except the front so the house is literally built up touching the neighbours. We started speaking with the neighbours really early on, just as we'd done with the planners, so they were comfortable with the plan and we didn't surprise them with a design at the end of the planning permission process — everyone was amazing, thankfully.
2. Design with Creativity and Innovation
Image 1 of 2
Image 2 of 2
J: With it being such a tiny plot type, you have to embrace the constraints and make use of them where you need to. There's no 90º angle in the building because our walls are built to maximise the site and we had to deal with privacy and rights to light for our neighbours — the list goes on.
But with each problem we just sat down and thought about what we could do with it to make it a feature. For instance the courtyard brings in natural light [more below] and provides an outdoor manhole to connect to the sewer pipe.
During the design process we looked at lots of different options for how we could build using concrete formwork or timber frame but we actually came back to traditional brick and blockwork because of the nature of the complex shape.
Also, because it's behind a little green we've only got pedestrian access so there was some difficulty getting materials on site.
3. Introduce Smart Technology
Image 1 of 3
Image 2 of 3
Image 3 of 3
David: My background is robotics engineering and sustainability, so from the beginning I wanted to experiment with home automation. We weaved it in from the start so we could design a smart home system which would really enhance the house while finding systems that were affordable but capable.
There's a control panel at the front door where we can set the mood of the house or get the house ready for us to leave — shutting blinds and turning lights off. It makes leaving the house with two small children much simpler. Between that and the insulation of the house, we're able to tune the house and work at optimal energy efficiency.
4. Use a Tiny Plot for Unique Architectural Features
Image 1 of 2
Image 2 of 2
D: Both Jo and I love modern interiors and clean lines but we've got two boisterous boys and the house needed to be something we could really live in, so everywhere has hidden storage.
We nicknamed it 'the tardis' while we were building because people would come round expecting quite a poky house, but when you walk in there's such a sense of space because everything's so open. I'm so proud of Jo and what we have achieved — it's a brilliant house to live in.
J: We were never going to have a traditional view out to the garden so natural light was something I was really conscious of from the outset. The issue was how to make a house on an awkward, tight plot feel light and calm.
As you walk in, the courtyard provides a focal point and allows a huge amount of light to come in. The glass doors slide back into pockets in the wall, so when they're open the courtyard and the indoor area become two parts of a single space.
Assistant Editor Amy began working for Homebuilding & Renovating in 2018. She has an interest in sustainable building methods and always has her eye on the latest design ideas. Amy has interviewed countless self builders, renovators and extenders about their experiences for Homebuilding & Renovating magazine. She is currently renovating a mid-century home, together with her partner, on a DIY basis, and has recently fitted her own kitchen.
Homebuilding & Renovating Newsletter
Get the latest news, reviews and product advice straight to your inbox.
Thank you for signing up to Homebuilding. You will receive a verification email shortly.
There was a problem. Please refresh the page and try again.