A London Schoolhouse Converted into a Stylish New Home
By Daisy Jeffery published
Converting a former schoolhouse into a sleek, industrial-style home, James Davies unlocked the potential in this long-forgotten building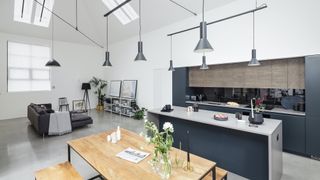 (Image credit: Simon Maxwell)
Originally called 'the Old School Building', the former schoolhouse turned warehouse that captured the eye of now-owner James Davies has had an interesting life.
Obtaining access to the building was to prove one of James' biggest hurdles — and one that needed addressing before any work could even begin on site for conversion.
"As well as dealing with the freeholder of the site, I also had to approach the owner of the adjacent car park (who held a 125-year leasehold) in order to arrange and purchase an easement to obtain right of way, not only for access but to also bring services to site — which required a huge 90m-long service trench to be built underneath the car park," explains James.
"This consequently caused upset with the residents of the neighbouring block of flats, who came to find that their car park had been dug up in order for the service trench to be installed. It's no wonder potential developers and self-builders were put off, as it took 12 months of solid determination to get everything agreed and in place," he says.
Bringing the Building Back into Use
"From the beginning, I knew immediately how I would use the space, which featured an L-shaped layout," says James, who is an architect. "The idea of a courtyard that two elevations would open out onto really appealed. For me, it was really about bringing the building back to life."
Despite the initial setbacks, planning permission proved relatively straightforward given James' sympathetic proposal, with the only real change to the building being the creation of new glazed openings. James' light-touch approach to the building was driven by his wish to leave the footprint of the structure unchanged, as well as retain the 6m-tall vaulted ceilings internally.
"Keeping the double-height volume was important to create wow factor," explains James. However, the geometry of the interior spaces was not symmetrical and so James had to work closely with a design engineer to introduce several detailed interventions behind the walls to minimise any visible structure within the tall, open plan space.
While James went to the great effort of restoring the external fabric of the building, the interiors have a distinctly minimalist industrial style, inspired by his time spent living in a loft in New York.
"This massively influenced me," he says, "and visiting the Albert Docks as a child and going to the Turbine Hall at Tate Modern as a teenager all helped me to realise my love for these types of buildings with their lofty spaces. Old historic buildings have to be a passion project as they will always take longer to transform, but they are worth the effort of restoring."
The interiors now feature a simple palette of a few raw materials, including polished concrete flooring and steel-framed Crittall-style doors and glazing. Spruce panelling has been introduced to some walls to add texture, as have the oak veneer kitchen cabinets.
"For me, this was about reviving an old building with a history and doing it properly. It was a lot of work, but it has all come together to create a home that I love living in. Walking through the corridor into the double-height space is one of my favourite parts of the building, and I love how successful the courtyard is, which brings in so much natural light as well as providing a pleasant outlook onto a parcel of outdoor space which is so rare to find in such a busy area of London. My ambition is to do something similar on a larger scale next time," concludes James.
Daisy was Features Editor on Homebuilding & Renovating for more than five years and had a passion for all things design. She has since moved on to pastures new.
Homebuilding & Renovating Newsletter
Get the latest news, reviews and product advice straight to your inbox.
Thank you for signing up to Homebuilding. You will receive a verification email shortly.
There was a problem. Please refresh the page and try again.