Best MDF Paint: 5 Primers and Sealers for the Perfect Finish
By Steve Jenkins published
Our expert looks at the best MDF paints for priming your projects and getting the sharpest, most professional finish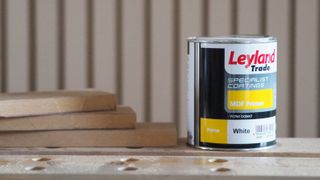 (Image credit: Future)
MDF is a versatile and budget-friendly alternative to traditional timber, but without the best MDF paint, it can be challenging to work with, as it has different properties than other woods and sheet materials.
Made from bonding together wood fibres with resin and wax, MDF is moisture resistant, but it's not water resistant. If too much water gets into the fibres of the board it will cause it to swell and effectively become useless and end up being thrown away. So it needs to be sealed before you start painting.
Painting MDF isn't necessarily the same process as painting a wall either, when it comes to getting the best finish. With MDF, you'll also need to get to grips with the edges of MDF board, which are more difficult to deal with when painting and sealing.
Before you start painting your MDF, make sure you check out our selection of the best sealers, primers and specialist paints to help get your MDF ready.
What's the Best MDF Paint?
Specialist MDF primers, oil-based undercoats and acrylic-based paints all help create a barrier that will make MDF resistant to water. These are easy to apply with a brush or roller and once you have sealed your MDF you can start looking at adding your preferred finish.
Our guide to how to paint MDF outlines the best way to use these primers and sealers when painting MDF.
1. Zinsser B-I-N Multi-surface Primer
A good quick drying all rounder
Tin size: 1 litre | Coverage per litre: 12.5m2 | Drying time: 45 minutes | Finish : Matt
Adheres well to all surfaces
Seals porous surfaces
Very quick drying
Re-coatable in less than one hour
Not cheap
This solvent-based paint from Zinsser is an all-round primer and sealer that makes it ideal as a base coat for MDF. It offers excellent adhesion to a large number of different surfaces, so while it's great for MDF, you can also use it on pretty much any interior surface. It will seal the porous surface of MDF and create a barrier against stains and liquids, making it ready for top coat to be added. It's extremely quick-drying, being touch dry in around 15 mins and ready for another coat in less than an hour. Typically you will need a couple of coats to fully seal any MDF, especially edges.
---
2. Leyland Trade MDF Primer
Specialist coating that gets MDF ready for painting
Tin size: 0.75, 2.5 litre | Coverage per litre: 13m2 | Drying time: 30 minutes | Finish: Matt
Seals well for painting
Quick drying
Easy to apply
Only available in white
This primer from the Leyland Trade range sits under their Special Coatings banner and is like a mixture of primer and sealer. Even though it's called a primer we would say it is more like a coloured sealer that dries quickly. It has a thin consistency which means it's touch dry within 30 minutes and makes it easy to apply with a brush or roller. You will need to apply two coats to get a decent finish to paint on your top coat(s) and seal up the MDF. And you won't need to wait long to add a second coat with recoat time being around one hour in the right conditions, a little longer if being used in the cold or damp.
---
3. Rustins Quick Drying Primer and Undercoat
Perfect for light and dark colour top coats
Tin size: 250ml, 500ml, 1 litre, 2.5 litre | Coverage per litre: 13m2 | Drying time: 30 minutes | Finish: Matt
Two colours
Easy to clean brushes
Primer and undercoat
Low odour
High opacity
Matt finish only
As the name suggests this is a primer and undercoat but its acrylic base means that it's good for sealing MDF at the same time. Available in more than just the common white - you can also get it in grey which is ideal if you are painting your MDF in a darker colour. It's a high opacity water-based paint - making it easy to clean brushes - that gives good coverage, is low odour, and will be touch dry within 30 minutes. However, you will need to wait another hour and a half, or longer before you can add a second coat - which you will need to get the best finish.
---
4. Blackfriar MDF Primer Undercoat
Specifically designed to work with MDF
Tin size: 500ml, 1 litre | Coverage per litre: 14m2 | Drying time: 2 hours | Finish: Matt
Durable finish
Can be over painted with matt, satin or gloss
Good coverage
Compatible with airless sprayers
Slow drying time
If you are looking to paint your MDF then this combination primer/undercoat is a good choice. It has been specially designed to work on the fibreboard and provides great coverage, typically more than most. Only available in the popular choice white, it goes on easy — you can use a brush, roller or an airless sprayer for a really smooth finish. It is touch dry within 1-2 hours, but you'll have to wait for at least four hours to add another coat, and up to 3 days for it to fully harden. But once fully cured you have a strong and durable base coast that can be over painted with matt, satin or gloss finishes.
---
5. Rustins Quick Drying MDF Clear Sealer
The ideal choice if you want to varnish your MDF
Tin size: 250ml, 500ml, 1 litre, 2.5 litre | Coverage per litre: 12m2 | Drying time: 30 minutes | Finish: Matt
Typically only needs one coat
Clear finish
Can paint or varnish over
Quick drying
No colour
This quick drying and clear sealer is ideal for all grades of MDF and is a great choice if you don't want to paint it. Unlike most sealers and primers it doesn't contain any colour when dry — it simply seals, which makes it the perfect option if you want to varnish your MDF.
It is worth noting that you can still paint over the sealer if you change your mind, but if you are going to paint, you'll be better off using a coloured sealer/primer. It has a thin consistency which means that you typically only need one coat to seal your MDF, which will be touch dry within 30 minutes. If it needs another coat you'll have to wait for a couple of hours before you can apply.
---
Do I Have to Prime or Seal MDF?
If you want a good smooth paint finish on your MDF, there isn't any real alternative to priming or sealing. Medium-density fibreboard is made from small wood fibres such as sawdust and shavings, which are mixed with resin and wax and compressed into panels. It is not fond of water as this can make the board swell. So it needs to be treated - or primed or sealed - before you consider painting it.
The big issue with MDF is the edges, these are more porous than the top/bottom of the board and need more attention. To get a really smooth non-porous finish on the edges you can use wood filler or MDF edging tape. If the edges aren't going to be seen simply add an extra coat of sealer/primer and rub down.
What Alternatives are There to Specialist MDF Primers and Sealers?
However, if you don't want to paint your MDF there are a few alternatives to primer/sealer. Effectively, they do the same job - seal the MDF - but in different ways. If you like the natural look of MDF and want to add some protection you can use a clear varnish - choose matt or gloss - to keep your MDF looking like new. An oil-based varnish is the best choice for this. You apply in much the same way as primer/sealer/paint, with a brush or roller.
Other finishes that you can apply to MDF are stain or wax. Stain will typically add a different more natural colour and some sort of fake grain. Wax will add a protective coating that makes the MDF water-resistant, but doesn't have the shine of varnish, offering a more subtle natural finish.
Steve is an avid DIYer with over 20 years of experience in transforming and renovating homes. He specialises in painting and decorating, but has strong all-round building skills, having previously worked in the industry for 10 years.
Homebuilding & Renovating Newsletter
Get the latest news, reviews and product advice straight to your inbox.
Thank you for signing up to Homebuilding. You will receive a verification email shortly.
There was a problem. Please refresh the page and try again.