How to Paint MDF: A Step by Step Guide
By Steve Jenkins published
If you need to know how to paint MDF, we've got you covered. Follow this step-by-step guide for a perfect finish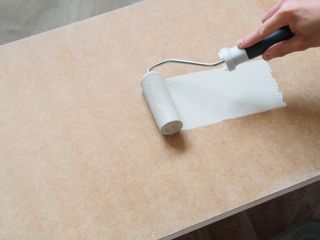 (Image credit: Future)
Knowing how to paint MDF can be a useful skill to have. MDF (Medium Density Fibreboard) is a great low cost and versatile material that is used in a lot of homes, but to get the best finish and help it fit in with your home, it will need to be painted.
Here we reveal the best tips and techniques you need to know to prepare and paint MDF to get great results every time.
You Will Need
Paint
Radiator roller
Radiator brush
Dust sheets
Sandpaper/Hand sander
Face mask
Preparation
What Prep Do I Need When Painting MDF?
There is very little prep needed on MDF.
The board is already sanded down to a smooth finish, but lightly sand with fine-grade sandpaper (120-180 grit) to improve adhesion.
Pay attention to the edges (more on that below) as these are rougher than the faces of the board. MDF chucks up a lot of dust, so make sure to wear a face mask and open the windows.
Prepping the Cut Edges of MDF for Painting
There are a few options for prepping MDF edges before applying paint. The option you use depends on how smooth a finish you want.
If the edges are going to been seen, you will want to keep the edge as smooth as possible. You can fill it with wood filler and rub it down. But this is time-consuming, especially if you have a lot of edges to prepare.
Alternatively, invest in some MDF edging tape. This is also time-consuming but it will give the best finish. If the edges are not going to be seen you just need to rub them down so they are smooth.
Do I Need to Apply a Primer Before Painting MDF?
Yes. While MDF is versatile and easy to work with, it doesn't like moisture. If any gets into the wood it can swell and warp.
To make sure that this doesn't happen you will need to use a specialist primer to seal it. Try ZINSSER B-I-N Primer Sealer or Dulux Trade Quick Dry MDF Primer Undercoat.
What's the Best Paint to Use for Painting MDF?
Once you have applied a primer and sealed the MDF you can use any paint you like. However, it is best to avoid emulsion. If you want a strong durable finish, add a layer of undercoat and finish with eggshell, satinwood, or gloss, depending on what type of finish you want.
If you are painting furniture you could use furniture paint such as Rust-Oleum Satin Furniture Paint to get the finish you want.
Application
How Many Coats Do I Need to Apply?
MDF is quite an absorbent material and typically you will need to apply at least two coats of primer. You may need to apply a third, especially on the edges.
After the second coat, rub down lightly with a fine-grade sandpaper -180 grit will do. Make a judgment call on whether you need a third coat or not. If the paint is patchy across the board you need another coat. Ideally, you want to paint both sides of the MDF. But if one side will never be seen it can be left.
Once you have finished with the primer, rubbed down and wiped down with a damp cloth - leave it to dry - you can apply the top coat. How many coats will depend on the paint chosen but, to get a durable good-looking finish, two will probably be needed. If you do apply two coats remember to lightly sand between coats and wipe down to get rid of the dust. The more prep you do the better the finish.
Should I Use a Brush or Roller When Painting MDF?
A roller is the perfect tool for large expanses of MDF and is ideal for a smoother finish. A small 4-inch roller is the ideal choice for the majority of jobs. A short pile roller will add a little texture, while a foam roller give a smoother finish. Apply several thin coats until the MDF is covered.
If you are painting MDF with detail - eg furniture - you will need to use a 1 or 2-inch brush to get a good finish. Dab paint into the detail and then brush out for a thin even coat. Repeat to finish. Don't forget to lightly sand between coats.
Do I Need to Apply a Sealant?
No it doesn't. The paint you used should give you the finish that you want.
But if you want to add a final protective coat to protect the paint you can apply a clear coat. Try using Hemway Clear Matt Lacquer.
Steve is an avid DIYer with over 20 years of experience in transforming and renovating homes. He specialises in painting and decorating, but has strong all-round building skills, having previously worked in the industry for 10 years.
Homebuilding & Renovating Newsletter
Get the latest news, reviews and product advice straight to your inbox.
Thank you for signing up to Homebuilding. You will receive a verification email shortly.
There was a problem. Please refresh the page and try again.