Types of plasterboard: The popular options explained and where to use them
What types of plasterboard will you need for your next DIY or home renovation project? We look at the different options and what they are commonly used for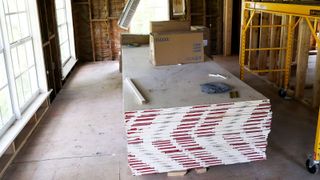 (Image credit: Getty Images)
Different types of plasterboard are used for different types of DIY and renovation projects. Standard or stock plasterboard is the ideal choice for a lot of jobs such as building a stud wall or covering block work and ceilings.

However, when plasterboarding you might need a different type of plasterboard to complete a project more effectively.
On looks alone most plasterboard is visually similar, but different types can come in different colours. The key differences are typically what lies within the core, what has been added to the core and the thickness of the board.
In this guide we look at some of the key different types of plasterboard you may need on your project, what they're commonly used for, comparative costs and how they should be fixed to a wall.
Key types of plasterboard for DIY projects and home renovations
Plasterboard is a great choice for many projects. It is easy to install, cost-effective and versatile. But it's important that you choose the right type for the job as Stephanie Higgs, Category Manager at Jewson explains: "Navigating the range of plasterboards on the market can be challenging. With specific design and performance benefits, the future use of a room will determine which kind of plasterboard to use.
"When used as part of a full drywall system, options include plasterboards with superior acoustic performance, increased durability, improved fire-protection, better moisture resistance, more efficient thermal performance, and easier installation."
Here we look at six common choices that DIYers, home renovators and self builders should use and explain the differences.
1. Standard plasterboard
Standard, stock, regular plasterboard or gypsum board are all names for the 'everyday' choice of plasterboard that is commonly used for interior walls and ceilings. Higgs says its: "Affordable, versatile and easy to work with, suitable for most common applications."
It is typically made of a gypsum core, sandwiched between two layers of grey paper – though the back is sometimes different – and comes in 9.5mm and 12.5mm thicknesses.

It is available in various sizes, with the most common board sizes being 1,200 x 2,400mm and 1,200 x 3,000mm. This makes it ideal to build a partition wall as the studs are placed at 400mm or 600mm centres.

Standard plasterboard is typically the cheapest type of plasterboard but costs vary depending on thickness, size, and manufacturer. Expect to pay around £10-£15 a square metre. You'll need drywall screws if fixing to wood, and dot and dab if fixing to blockwork or brickwork.
2. Fire-resistant plasterboard
Fire-resistant plasterboard is specifically designed to slow down or prevent the spread of fire in a building. "Products such as Gyproc® FireLine withstands fire for longer than standard plasterboard when used as part of a full drywall system, allowing time for safe evacuation," reveals Higgs.
It is made by adding glass fibres, vermiculite or other fire-resistant materials to the gypsum plasterboard core, which increases its resistance to heat and flames.

Plasterboard is fire rated from Class 1-4 with Class 1 offering the best fire resistance and Class 4 being the least effective. Different thicknesses help increase ratings with the common fire-resistant plasterboard sizes being 12.5mm, 15mm, 19mm.
Lower rated board is fire resistance for around 30 and 60 minutes, while higher rated boards can provide fire resistance of up to 120 minutes.
It can be used anywhere where standard plasterboard is used and it is fixed in very much the same way. You can use the dot and dab method for fixing to masonry walls and drywall screws for fixing to timber ceilings joists. It is slightly more expensive than standard plasterboard, but prices vary depending on fire rating and thickness.

It is worth noting that standard plasterboard is fire resistant but not rated.
3. Insulating plasterboard
Insulating plasterboard, sometimes known as 'thermal plasterboard' is made by adding a layer of insulation material, such as expanded polystyrene (EPS) or polyurethane foam, to one side of a 9.5mm or 12.5mm board.
It is used in homes as a form of internal wall insulation, but can also be used to insulate ceilings. As Higgs suggests: "Products such as Gyproc ThermaLine, helps to improve thermal performance and reduce energy costs."
Insulating plasterboard is typically bonded to sound, solid and dry existing plaster or masonry.
It tends to be thicker than other types of plasterboard with sizes commonly ranging from 22mm to 100mm. The thicker the insulation the more efficient it will be, but the costs are considerably higher than standard plasterboard. It currently starts at around £40-£50 per 2,400 x 1,200mm board.
4. Acoustic plasterboard
Acoustic plasterboard is designed to reduce sound transmission and comes with a denser core than other types of plasterboard. "Products such as the Gyproc SoundBloc can help to provide better insulation against sound allowing occupants to enjoy quieter spaces when used as part of a full drywall system," says Jewson's Higgs. It is a good choice in the home if you want extra soundproofing between rooms.
Size is pretty standard with 2,400mm x 1,200mm and 1,800mm x 900mm being popular choices. It is available in standard 12.5mm thickness, but you can get thicker boards up to 30mm for extra soundproofing.

Again, it is more expensive than standard plasterboard and prices can vary quite significantly depending on size, thickness, and brand, but expect to pay from £20-£80 for a standard-sized sheet.
Drywall screws or nails are used for standard fixing, but to prevent sound leakage you can use an acoustic sealant on edges and joins.
5. Moisture-resistant plasterboard
Moisture resistant plasterboard is manufactured with additives in the gypsum that make it more tolerant to moisture and humidity. "Products such as Gyproc Moisture Resistant protects walls and ceilings from high humidity, preventing damage from mould in areas like kitchens and bathrooms," reveals Higgs.
As its name suggests it is moisture resistant – but note it is not waterproof – which helps stop mould from growing, aiding when tiling onto the plasterboard. In wetrooms, however, designated concrete backer boards are a better solution.

Sizes are very much the standard with 9.5mm, 12.5mm and 15mm being the common thicknesses and 2,400mm x 1,200mm the common board size. Price is similar to standard plasterboard but expect to pay up to around £25 per sheet. It's easy to spot as it often comes in a shade of blue or green to represent water.
6. Flexible plasterboard
Flexible plasterboard is similar to standard plasterboard, but typically with equally spaced grooves across the back of the board. The grooves are around three quarters of the depth of the board. This allows a high degree of flexibility, allowing it to be bent and curved to fit various shapes and angles.

It is typically used in home renovation projects where curved or arched walls or ceilings are required.
Flexible plasterboard is available in all the common sizes such as 1,200mm x 2,400mm. But the thickness of the board is slightly different starting with a thin 6mm, so not so soundproof or fire resistant but you can get thicker board up to 12mm. Expect to pay a little more than standard with prices ranging from around £20-£60 a sheet.
You need to be careful fixing flexible plasterboard. A flexible joint compound or adhesive is helpful for accommodating the board's flexibility. Drywall screws or nails can be used but you need to make sure that they are going into the board core and not a groove. It is also a good idea to use metal edging beads to reinforce corners and edges.
How do I cut plasterboard?
Plasterboard sheets don't always a perfect fit so you will need to be cutting plasterboard at some point when working on a DIY or home renovation project. You will need a sharp Stanley knife and a long straight edge such as the Silverline SL23 Spirit Level from Amazon to get a straight cut. After cutting, bend the board to snap to size.

If you want to cut a different shape, if going round pipework, then a jigsaw is a good choice. If you want to punch a hole in the plasterboard for a socket or similar, invest in a jab saw like the Stanley FatMax Jab Saw from Amazon.
Get the Homebuilding & Renovating Newsletter
Bring your dream home to life with expert advice, how-to guides and design inspiration, direct to your inbox.
Steve is Homebuilding & Renovating's DIY content editor, and has been a writer and editor for two decades. He is an avid DIYer with over 20 years of experience in transforming and renovating homes. He specialises in painting and decorating, but has strong all-round building skills, having previously worked in the industry for 10 years.