Tiny Houses: What You Need to Know About Living in a Micro Home
By Hugh Metcalf published
Living in so-called 'tiny houses' is a phenomenon about more than just the size of your build. We explore the key considerations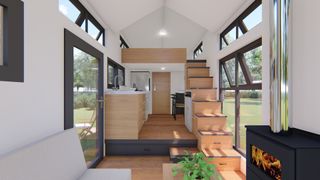 (Image credit: The Tiny Housing Co.)
Tiny houses are the textbook definition of good things coming in small packages. Part self build, part caravan, tiny houses offer a modern alternative to getting on the housing ladder, offering a budget-friendly option for those who can commit to a compact, nomadic lifestyle.
After all, tiny houses aren't just super small builds, they're part of a movement. The Tiny House Movement is a way of life which is especially popular over in the US, but with lifestyles shifting over here in the UK, you might find that tiny house living is the right fit for you now too.
What are Tiny Houses?
Tiny houses are about more than just the size of the home you live in. The Tiny House Movement is an ethos that focuses on a particular kind of build — one that is low-cost and mobile, yet well equipped.
"When you live 'tiny', you strip back what you need, live minimally, but not poorly - quite the opposite," explains Dane Smith-Burchnell, Director of the Tiny Housing Co. "You have everything that works for you, rather than living with a house which isn't well designed, insulated or suitable for your needs. Tiny living, allows you to live freer, able to move about if you wish and to save more money for things that matter."
While most tiny houses are around 20-25m2, anything under 50m2 and moveable might be considered a tiny house. You'll need to consider the legalities of the size of your tiny house on the roads too.
Image 1 of 5
The Tiny Housing Co. gave us a sneak peek at their new Nene tiny house design.
Image 2 of 5
Image 3 of 5
Image 4 of 5
Image 5 of 5
Are all Tiny Houses on Wheels?
Part of the attraction of a tiny house is not only the freedom that comes with the house being mobile, but also the ability to circumvent some regulations on where they can be placed.
"With the labour market being global, and very fluid in the UK, people have to move very often, so with a movable tiny house, they can move the house to their new job, or simply, work from home if needed in the countryside or somewhere more appealing," says Dane. "The downside is, there needs to be a place to put the house, which is the hardest part about tiny living."
There are also considerations that need to be made to ensure that your mobile tiny house is road legal. It can't, for example, be more than 2.55m wide, but weight restrictions also apply. Also, if you only have a standard driving license, you won't be able to drive a tiny house that is more than 7 metres long. This will require a category C1E license, however this is relatively easy to achieve.
However, if the mobile nature of a tiny house isn't as important to you as the size, you'll be able to find many companies who specialise in micro builds with extremely small but efficient footprints, which can either be built anchored with building foundations or as a more mobile, but maybe not on wheels, cabin style home.
(MORE: A Gallery of Small Homes, all Under 100m2)
Where can I put a Tiny House?
Do I need planning permission for a tiny house?
If the tiny house is the sole dwelling, or used as a standalone dwelling, it will require planning permission.
Here, as with anything that involves planning permission, is where it gets a bit tricky.
You are able to keep a tiny house on your existing property if it falls with the maximum size of a caravan (19.8m x 6.7m), as it will be counted as such. However, for this to be applicable, you'll also not be able to use it as a stand alone dwelling, only as 'additional living space', according to the Tiny Housing Co.
If purchasing land for the home, or where using the tiny house as the main or a separate dwelling, you'll require planning permission as with any other development.
Other options for placing your tiny house include caravan parks and park home sites. You may also be able to pitch your tiny house on plots of land on farms, under a planning loophole that allows for separate dwellings for farmers under Permitted Development. If you're not a farm owner, you may be able to find a farmer who is happy for the extra income for using the plot.
What are the Advantages of Tiny Houses?
There are many benefits to the idea of a tiny house, especially for those who don't require a geographical tie to the same degree (ie. working from home).
These include:
More affordable than traditional housing
No mortgage
Eco home living as less energy to heat and less materials to build
Can be off-grid
Image 1 of 3
The interiors of this Tiny House by Tiny Eco Homes shows how spacious these micro builds can be.
Image 2 of 3
The interiors of this Tiny House by Tiny Eco Homes shows how spacious these micro builds can be.
Image 3 of 3
The interiors of this Tiny House by Tiny Eco Homes shows how spacious these micro builds can be.
How Much do Tiny Houses Cost?
Tiny houses cost around 20% of the cost of an average home. Most tiny houses range from £50,000-£65,000, but can be more expensive depending on the design, final specification and the level of solar panels and batteries provided.
(MORE: How Much Does it Cost to Build a House?)
Can you get a Mortgage on a Tiny House?
No, mortgages are only for buildings that are tied to the land. Therefore, tiny houses can only be financed with savings, personal loans or commercial loans.
How do I Heat and Power a Tiny House?
Mobile tiny houses are perfectly suited to off-grid living. Electricity is best generated with a well-specified array of solar PV panels; however, using solar PV to then heat water through a separate hot water heater isn't as efficient as also employing solar thermal panels or hybrid solar panels for you hot water needs.
Solar batteries are also an important addition to a photovoltaic solar array for a tiny house, allowing you to store electricity generated. However, these can be heavy and space-consuming, so this should be considered as a key part of your tiny house design.
A tiny house should be well-insulated, far better than a standard mobile home, but they still require heating. Electric radiators and underfloor heating are common choices for efficiency, while freestanding heaters have the benefit on not needing to be installed, so they can be moved around the space as required.
It's not uncommon to see a log burning stove or multi-fuel stove installed in a tiny house also, giving options for heating the space especially in the colder winter months when solar PV panels provide less power.
Hugh is Digital Editor of homebuilding.co.uk and has worked on a range of home, design and property magazines, including Grand Designs, Essential Kitchens, Bathrooms, Bedrooms and Good Homes. Hugh has developed a passion for modern architecture and green homes, and moonlights as an interior designer, having designed and managed projects ranging from single rooms to whole house renovations and large extensions. He's currently renovating a Victorian terrace in Essex, DIYing as much of the work as possible. His current project is a kitchen renovation which involves knocking through walls and landscaping a courtyard garden.
Homebuilding & Renovating Newsletter
Get the latest news, reviews and product advice straight to your inbox.
Thank you for signing up to Homebuilding. You will receive a verification email shortly.
There was a problem. Please refresh the page and try again.