Government's £150m Funding Pledge Sets up Milestone Year for Self Build
By Jack Woodfield published
New government plans included the Help to Build scheme, which has received widespread support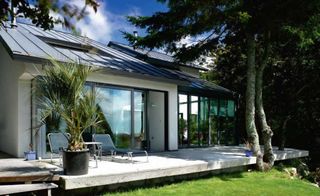 (Image credit: Nigel Rigden)
The government's series of measures to kick-start a self build revolution in the UK have received widespread acclaim from industry bodies.
The announcements made on Saturday 24 April included the £150m Help to Build scheme, which was officially launched to make it easier for people to self build their own home.
The government also published a Self and Custom Build Action plan, which set out plans to support the sector, including the next steps into the forthcoming Right to Build review.
This is what the pledges mean for self builders across the UK.
New Loan Scheme Launched
Help to Build, an equity loan scheme, will be backed by £150m funding which is expected to be allocated across four years, and has been hailed as a potentially transformational scheme for custom and self builders.
Self builders will be able to access lower deposit mortgages via Help to Build, freeing up capital to help them with build costs, making self build an enticing option to get onto the housing ladder. The announcement followed the launch of the government's new 95% mortgage guarantee scheme last month.
Commenting on the scheme, Adrienne Minster, CEO of Rated People, said: "Building your own home is something many people have dreamed about, but few have been able to achieve.
:It's great that the government's new Help to Build scheme aims to support more people to realise this dream. And if the initiative can deliver the 30-40,000 homes a year, it will be a big boost for the UK's economy."
Applications will be open from late summer, while a Help to Build prospectus is expected to be published this spring.
The government says the scheme will also benefit small building firms, and because SME builders account for one in ten new homes, the scheme will help scale up the number of self and custom build homes built every year.
Self and Custom Build Action Plan Announced
Alongside Help to Build, the government also published its Self and Custom Build Action Plan, which set out measures to support the sector. These include:
The next steps of the review of the Right to Build legislation to improve how it is applied in practice
A prime minister-commissioned review to establish a plan to scale up self and custom build homes
Funding for the Right to Build Task Force so it can continue to work with English local authorities to advise around delivery and policy
£2.1m funding for local authorities to bring forward plots on land they own
Right to Build Review
The next steps of the review of the Right to Build legislation, which was announced on Right to Build Day last year, to better support custom and self builders, will include a ministerial roundtable with the self build sector this month. This will be used to assess whether further reforms of Right to Build laws are needed.
The Right to Build data for 2019/2020 (provided from councils as to how many self build plots they have commissioned) will be published by the Ministry of Housing, Communities and Local Government (MCHLG) this spring.
Self Build Scaling Up Review
Prime Minister Boris Johnson will also commission Richard Bacon MP, who championed the 2015 Self and Custom Housebuilding Act, to lead a review on how to scale up the delivery of self and custom build homes.
Mr Bacon will report his findings on Friday 23 July.
Funding for Right to Build Task Force
There is also a pledge for further funding for the Right to Build Task Force to help local authorities, community groups and other organisations deliver self and custom build housing projects across the UK.
Neighbourhood Planning
Moreover, the government has announced £2.1 million in funding to help communities have a greater say in how their local area is developed.
The fund will boost neighbourhood planning by giving additional support to local authorities in under-represented areas. A further £330,000 is also available to councils wishing to pilot this approach to neighbourhood planning.
Earlier this month, the government also launched a £75m Brownfield Land Release Fund (BLRF) which includes a £25m Self and Custom Land Release Fund.
This only directly impacts local authorities, but will support the delivery of more plots for anyone wishing to self build.
Jack has worked in journalism for 11 years and is the News Editor for Homebuilding & Renovating, a role he has had since 2019. He strives to break the most relevant and beneficial stories for self builders, extenders and renovators, including the latest news on the construction materials shortage and hydrogen heating. In 2021 he appeared on BBC's The World at One to discuss the government's planning reforms.
He enjoys testing new tools and gadgets, and having bought his first home in 2013, he has renovated every room and recently finished a garden renovation.
Homebuilding & Renovating Newsletter
Get the latest news, reviews and product advice straight to your inbox.
Thank you for signing up to Homebuilding. You will receive a verification email shortly.
There was a problem. Please refresh the page and try again.