New Right to Build "Numbers Remain Far Short' of Demand, Industry Body Says
By Jack Woodfield published
The Right to Build data for 2020/21 shows self build growth, but concerns remain over the data monitoring process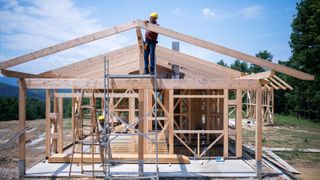 (Image credit: Getty Images)
New Right to Build data reveals self build growth but the "numbers remain far short" compared to underlying demand, according to the National Custom and Self Build Association (NaCSBA).
New government data this month shows that in 2020-21, 12,263 new individuals joined the Right to Build registers - which helps aspiring custom and self builders to find self build plots to build on. This is an increase of 31% from the same period a year prior.
Moreover, between 31 October 2020 and 30 October 2021, 58,813 individuals were on the registers in total, an increase of 25% from a year earlier. Yet only a total of 8,309 planning permissions were granted for serviced plots suitable for self and custom build during this period, which is still an increase of 7% from 2019-2020.
While NaCSBA welcomed the broadly positive pattern of growth demonstrated, it has called for much more robust monitoring of the Right to Build registers, following the closure of the sixth base period since the Right to Build legislation commenced.
"Whilst we welcome the progress made, these numbers remain far short of the numbers that reflect underlying demand here in England, and the delivery rate in every other developed country," said Andrew Baddeley-Chappell, NaCSBA CEO.
"There are many reasons for this. Awareness of the registers remains low, and barriers to joining in many cases too high."
Data Monitoring is "Far From Ideal"
Right to Build is a piece of legislation that helps self builders and custom builders overcome one of the biggest hurdles they face — finding a self build plot.
But NaCSBA and Richard Bacon MP, an ambassador for the Right to Build Task Force, have previously suggested that local authorities have manipulated data to reduce the amount of self build plots they must permission. Councils have three years from the close of each base period to provide sufficient planning permissions to meet this demand.
NaCSBA says that monitoring and counting of plots permissioned in the new government data (opens in new tab) "remains far from ideal", noting discrepancies across the different English councils where the legislation applies.
"There are many discrepancies too, for example, in how authorities are counting plots, such as including all plots as potentially suitable for custom or self build," adds Baddeley-Chappell.
"Another issue is charging, such as with Three Rivers District Council requires that you pay £725 to join and remain in its register for three subsequent years. We also estimate that around 20,000 entries have been wrongly removed from registers."
The government is in the midst of concluding its Right to Build review which will assess changes to make the legislation more effective, and it is due to respond shortly to Richard Bacon's plan for a major scaling up of the self build sector.
If you want to sign up to the Right to Build registers, make use of the Right to Build Task Force (opens in new tab) resources to help with your application, such as utilising examples of criteria a planning authority could use to determine if an application, permission or development is for self build or custom housebuilding.
Jack has worked in journalism for 11 years and is the News Editor for Homebuilding & Renovating, a role he has had since 2019. He strives to break the most relevant and beneficial stories for self builders, extenders and renovators, including the latest news on the construction materials shortage and hydrogen heating. In 2021 he appeared on BBC's The World at One to discuss the government's planning reforms.
He enjoys testing new tools and gadgets, and having bought his first home in 2013, he has renovated every room and recently finished a garden renovation.
Homebuilding & Renovating Newsletter
Get the latest news, reviews and product advice straight to your inbox.
Thank you for signing up to Homebuilding. You will receive a verification email shortly.
There was a problem. Please refresh the page and try again.