Right to Build to be Reviewed to Boost Self Build
By Claire Lloyd published
Right to Build review announced by government in a bid to boost the number of people building their own homes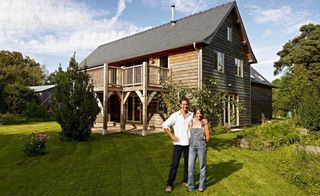 (Image credit: Simon Denison)
The government has unveiled plans to review the Right to Build laws today, in order to boost self build and custom build numbers in England.
The announcement coincides with Right to Build Day, a key date in the self build calendar, whereby local authorities in England must evidence there are sufficient plots to meet demand from prospective self builders in their area.
As part of the Right to Build review announcement, Housing Secretary Robert Jenrick stated: "We are backing people who want to design and build their own home and today I have launched a review to ensure councils provide enough land and take proper consideration for these homes when making planning decisions in their area.
"This will help more people get a foot on the housing ladder and support our building industry as we deliver the homes that this country needs."
(MORE: Self Build Guide)
What is Right to Build?
Right to Build is a piece of legislation that supports those who want to build their own homes in England.
It was passed as part of the Housing and Planning Act 2016 and requires local authorities to help to find plots for aspiring self builders, which is done through the Right to Build register.
Prospective self builders are able to log their interest with their local authority via these registers.
As part of this legislation, local authorities in England must then ensure that they have sufficient plots available to meet the demand, and demonstrate that planning permission (or permission in principle) has been granted on these plots within three years.
Local authorities are required to evidence that they have met this demand on Right to Build Day, which takes place annually on 30 October.
Right to Build Review: Plans to Boost Self Build
Right to Build review warmly welcomed
"This excellent announcement today by the government should help many more people achieve the dream of living in better and more beautiful homes." Andrew Baddeley-Chappell, CEO of National Custom & Self Build Association (NaCSBA).
As part of the review, the government aims to examine how effectively current legislation is supporting self and custom build across England, including whether they need to increase land available for this purpose.
Furthermore, the data local authorities collect on self and custom build in their area will now be published annually. It is hoped that this will increase transparency and ensure local authorities are meeting their responsibilities.
The government also announced that the Housing Secretary has written to local authorities in England to ensure they consider self build both when providing land for building new homes and when making planning decisions.
Right to Build: Previously a Postcode Lottery
A recent survey by the National Custom & Self Build Association (NaCSBA) and the Building Society Association (BSA) revealed that one in three people would like to build their own home.
However, while the Right to Build legislation was designed to help prospective self builders and custom builders with one of the biggest hurdles – finding a plot – it has not been embraced by all local authorities.
As the map above shows, some local authorities have yet to even implement planning policies to help people self-build.
Through FoI requests, NaCSBA established that only 45% of England's local authorities believe they have met their duties under the legislation.
Furthermore, around 8,000 names have been removed from the registers across England. Since April 2016, an estimated 55,000 people have signed up to Right to Build registers across England, but due to roughly 8,000 removals, the total currently sits at around 47,000.
It is hoped that the government's review will address these issues.
Reactions to the Right to Build Review
The announcement has been welcomed by self build experts and the self build and custom build industry body, the National Custom & Self Build Association (NaCSBA).
Andrew Baddeley-Chappell, CEO NaCSBA, stated:
"England has the lowest known rate of self-commissioned homes in the developed world. Our new homes market is crying out for the greener and higher quality build that goes hand-in-hand with more consumer choice. Housing diversification is key to the government's housing strategy.
"This excellent announcement today by the government should help many more people achieve the dream of living in better and more beautiful homes."
Richard Bacon MP and Ambassador for the Right to Build Task Force, also endorsed the announcement:
"I warmly welcome the government's review of the current law. Some local councils are already doing an excellent job in providing more opportunities but some others are not yet supporting the spirit of the legislation and have some way to go if they are to grasp the huge opportunities for more and better housing which greater customer choice offers. We need to make sure every council is able to deliver on this important agenda which will help provide more high quality homes."
Jason Orme, managing director of the UK's number-one self build magazine, Homebuilding & Renovating, stated:
"The Right to Build is a hugely attractive piece of legislation that doesn't quite deliver on its promise. It allows local authorities way too much wriggle room to either support it or not, and it doesn't actually help individuals who want to self build right now find their own plot of land.
"In some cases, local authorities are charging people to sign up to the register with absolutely no return for the individual. We welcome the review of Right to Build and are confident that, with some subtle but important changes, it can create the material shift in numbers of self built homes in the UK that everyone knows is required."
Claire is Editor of Homebuilding & Renovating and has been a member of the team for over 13 years. An experienced homes journalist, her work has also appeared in Real Homes and Period Living magazines. She has a particular interest in green homes, and interior design is also a passion; she has undertaken qualifications in this area. Claire has recently finished her renovation project — and is now onto the next.
Homebuilding & Renovating Newsletter
Get the latest news, reviews and product advice straight to your inbox.
Thank you for signing up to Homebuilding. You will receive a verification email shortly.
There was a problem. Please refresh the page and try again.