5 Reasons to Buy Underlay for LVT Flooring
By Sponsored Content published
It's time for a revolution in installing LVT – to solve all the problems that a glue-down method creates and enjoy sustainable and warm flooring for years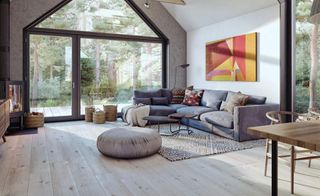 (Image credit: Bricoflor)
CONTENT SUPPLIED BY BRICOFLOR
Installing dry back/glue down vinyl (LVT) (opens in new tab) using adhesive can be expensive and tricky and definitely requires the services of a professional – but there is a simple DIY solution that could save you both time and money.
Here are five reasons you should buy underlay for your LVT flooring.
1. Save Money
When you purchase glue down vinyl flooring, two things are still required: the adhesive glue and the professional fitter – the cost of which is in addition to the flooring itself.
But buying LVT flooring with an underlay can actually work out to be much cheaper, as this example shows:
For 12m² room, the required glue costs around £40 and fitting cost for LVT varies from £320 to £400 (let's call it an average of £360) – so you will be looking at around £400 for install the glue down vinyl flooring.
Now for the same area of 12m², an underlay costs around £80 – that is more than 75% cheaper compared to the gluing method! And fitting LVT with an underlay is a job that can be tackled on a DIY basis.2. Easy Installation
2. Easy Installation
You might doubt your abilities to install the underlay and the flooring without the professional help, but actually, the process is very simple.
Here are some laying instructions for LVT with an underlay (always remember to follow the recommendations from the flooring manufacturer):
Before installation, make sure that the floor is clean and dry
Remember that the mat will reduce the irregularities of the floor up to 0.6mm depending on the underlay used
Lay the mat on an earlier prepared subfloor, with the protective film upwards
Spread the next sheets in parallel to the previous ones
The sheets of the mat must be adjoin to each other, so there are no breaks
Peel off the adhesive protection layer
Do not remove the entire protective layer, only the part that is necessary to place several tiles
Stick the LVT with an expansion of 5 mm from each wall.
3. Additional Benefits
One of the best things about using an underlay is that it can be paired with underfloor heating, leaving your feet warm and cosy – this makes a big difference on chilly mornings!
Beautiful vinyl floor designs can also completely change the style and atmosphere of your kitchen and bathroom. Vinyl is water resistant, so is especially suited to kitchens and bathrooms. Installing it in those areas requires just one extra step to the process mentioned above, which is a silicone sealant around the edges to prevent water damage.
4. Speed
Choosing to lay the vinyl floor with an underlay is not only quicker than gluing but also means that the floor will be ready to use straight away. There is also good news for those who are afraid of making a mistake while laying the floor – bonding time with an underlay, such as Arbiton (opens in new tab), for LVT takes about 30 minutes, so if there's incorrectly positioned tile, you can simply peel it off and put it in the right place!
5. Flexibility
Expert Tip
Plan the layout of your LVT floor before you start. Lay it down (without sticking it to the underlay), then cut to your desired size and in the right places.
Installing LVT with an underlay makes the biggest difference in the rental properties. Using this method for the glue down vinyl makes the tiles as easy to remove or change as laying them down.
The vinyl covering and the underlay are both easy to remove and will leave the subfloor undamaged.
Arbiton Multiprotect LVT Fastlay (opens in new tab) surface is integrated with a special strengthening mesh, which stabilises the connection between LVT and underlay, offering a long-lasting result.
For more information, contact Bricoflor (opens in new tab).
Homebuilding & Renovating Newsletter
Get the latest news, reviews and product advice straight to your inbox.
Thank you for signing up to Homebuilding. You will receive a verification email shortly.
There was a problem. Please refresh the page and try again.