Radiators Not Working? Try This Troubleshooting Guide
By Alison Wall published
With winter just around the corner, radiators not working can be a big problem - here's how to fix the most common problems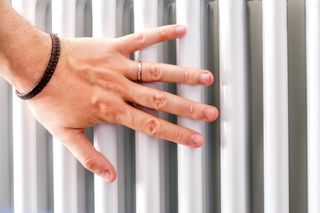 (Image credit: getty images)
Radiators not working, especially as temperatures drop, can be incredibly inconvenient for homeowners. Radiators work hard for us for many months each year, taking the chill off the cooler evenings of spring and autumn and keeping us cosy in the coldest weeks. But even the best radiators will occasionally need a little maintenance to keep them running efficiently.
The good news is that there is much you can do yourself. Other times you'll need a competent professional.
Read our essential guide to find out how to tackle even the most troublesome radiator (and boiler) problems as well as how to keep your heating system in tip top condition.
(MORE: 11 Ways to Prepare Your Home for Winter)
Radiators Not Working Because They are Hot at the Bottom and Cold at the Top
This is a common sign of radiators not working properly – as well as a cold band at the top of the radiator you may also find the radiators are making strange gurgling noises. It's normally caused by a build-up of air at the top of the radiator, which tends to happen naturally over time.
This problem is easily solved by bleeding the air out of the radiators and this is a simple job that you can do yourself.
One for the professionals? This is easy enough to tackle yourself; if you find yourself getting stuck, then by all means call in a professional.
Radiators Cold at the Bottom but Hot at the Top
This is another common sign of radiators not working that spells less than cosy rooms, and it's probably because of a build-up of debris that has settled at the bottom of the radiator.
To flush all of that muck out you'll need a professional to conduct a power flush of your system. For a couple of radiators, this could take one or two hours; for a whole heating system expect this to take the best part of a day.
One for the professionals? Yes – this isn't a job for DIYers.
Radiators Taking Too Long to Warm Up
If you find that your radiators are becoming more sluggish, it's probably because your system is starting to get blocked up with muck and debris. This reduces the effective size of the pipes, meaning that less water is flowing round the system.
The answer is a flush or cleanse; this will take the best part of a day. To prevent the problem happening in the first place, you can ask your heating engineer to fit a system filter, and this will take an hour or so.
One for the professionals? Yes – call in a reputable professional for both the flush/cleanse and to fit the system filter.
Some Radiators Not Working, While Others Are Warming as Normal
If some radiators are much cooler than others, then your central heating system needs rebalancing. Apart from the discomfort of cold rooms, there's a good chance you'll be spending much more on fuel bills than you need.
There are several reasons for this problem; often it is because the TRVs (Thermostatic Radiator Valves) have not been adjusted correctly.
You can either rebalance the system yourself, or call in a professional.
One for the professionals? You can do this yourself; if you're not confident doing this, call in a professional.
(MORE: How to Balance Radiators)
Boiler Pressure Too Low
If your boiler pressure is too low, you'll notice either that your heating has become less efficient or the pressure gauge on your boiler turns to red (an optimum pressure is just above 1 bar to 1.5 bar).
There are several reasons for this problem: it may be that there is a water leak somewhere in the system or the pressure has fallen after bleeding a radiator.
Repressuring the boiler is straightforward and can be done on a DIY basis. There are two ways to tackle this. You can either do this via an external filling loop or an internal filling loop (with or without a key).
One for the professionals? Normally you can do this yourself. If you have any doubts about how to repressurise your boiler, your heating engineer will be able to help.
(MORE: How to Repressurise a Boiler)
Tips for Preventing Your Radiators or Boiler from Breaking Down
The first thing to do is get a service in the summer months, to make sure everything is working as it should ready for the winter months. You can also run the heating system every now and then, maybe once a month or every other week, leading up to winter to make sure it is working well.
You can also check the pressure on the boiler, especially in the autumn - you are looking for the pressure to be just above 1 bar up to 1.5 bar.
One for the professionals? Some of this you can do yourself, such as checking your system during the summer months; for a service you'll need to call in a professional.
Homebuilding & Renovating Newsletter
Get the latest news, reviews and product advice straight to your inbox.
Thank you for signing up to Homebuilding. You will receive a verification email shortly.
There was a problem. Please refresh the page and try again.