Removing Wallpaper: A DIYer's How-to Guide
By Steve Jenkins published
If you need to know about removing wallpaper, follow this expert advice to tackle the task quickly and effectively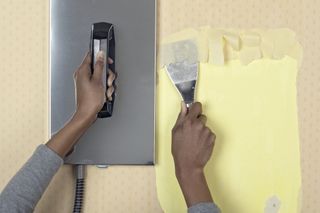 (Image credit: getty images)
Removing wallpaper is the first step to a fresh new room makeover as it will mean smooth clean walls ready for decorating. But how easy is it to remove wallpaper? With the right tools and a little effort your walls will be wallpaper-free in no time. Discover the essential kit and techniques you need to do it the right way.
(MORE: How to Paint a Room)
Tool List for Removing Wallpaper
Heavy duty scraper/scraper knife
Bucket and sponge
Step ladder
Masking tape
Preparation
Step 1: Clear the Room Before Removing Wallpaper
Before you get started, clear out as much furniture as possible. If this isn't practical place it in the middle of the room and cover with dust sheets. Make sure to cover any flooring. There will be water in the removal process so plastic sheets offer better protection.
Next remove any fixings such as TV brackets, shelves or pictures. Unscrew and place somewhere safe and out of the way.
Step 2: Protect Sockets and Switches Before Removing Wallpaper
Electrical sockets and light switches will need protecting and kept dry while removing any wallpaper. The first step is to switch off the electricity - or isolate the supply and switch off the area you are working in e.g. downstairs. Now unscrew the socket/switch part of the way and cover with a plastic bag, tape down and screw back down.
Do I Need to Score the Wallpaper First?
To make removing wallpaper easier you need to score it. This allows water, steam or stripper to penetrate the wallpaper and get underneath and soften the old wallpaper paste. You can use a wallpaper scorer such as the Stanley Max Orbital Wallpaper Scorer. This gives consistent scoring across wallpaper.
Do not press too hard as you do not want to score or damage the plaster under the wallpaper. Alternatively, you can use a Stanley knife or scissors but be careful not to go too deep and mark the plaster.
Removal
Step 3: Soak the Wallpaper
The simplest and cheapest removal solution is warm water. Get a sponge and a bucket of warm water, dip in the water, gently squeeze and liberally sponge water onto the wall. Wait for 15 minutes. Get a 3 or 4-inch stripping knife/scraper and gently push into the paper and up to remove. This method is ideal for easy to remove wallpaper.
A chemical stripper solution is similar to the water option but the stripper solution contains chemicals that help dissolve and break down wallpaper adhesive for a more effective stripping solution.
You can buy ready-to-use solutions such as Polycell Wallpaper Stripper or a concentrate like Zinsser Dif Wallpaper Stripper concentrate. Apply as instructed. Use a 3 or 4-inch stripping knife/scraper or a heavy duty scraper. These typically have a longer handle and are good for difficult to remove wallpaper.
Should I Use an Electric Steam Stripper When Removing Wallpaper?
Warning
Do not place the steamer plate over any electrical outlets. Place an inch away from the switch or socket. Leave areas around sockets and switches until last.
Electric steam strippers are great at removing stubborn wallpaper such as woodchip, painted wallpaper and multiple layers of wallpaper. They make the whole removal process faster and easier. You can buy steam strippers relatively cheaply, but if it is a one-time use think of hiring one.
Fill the steamer tank and wait for the water to boil. When ready steam will start to appear from the steamer plate.
Hold the plate at the bottom of the strip to be removed. Start by holding for 10-15 seconds and testing how easy it is to remove the wallpaper. You may need longer. Now place the plate on the next section along the bottom of the strip of wallpaper. While doing this get your paint scraper and scrape off. Repeat until finished.
How Do I Deal with Awkward and Stubborn Areas?
A steam plate won't get into certain areas due to its size. To get to an awkward area, for example a narrow strip between a corner and window frame, you can use a small scraper. If high up use a step ladder to reach. Try to stand - shoulder height - in line with wallpaper to be removed to get more leverage.
If you are having trouble removing a stubborn patch of wallpaper - or paste - use chemical stripper in a spray bottle. Spray on the stubborn area and leave for 10-15 minutes and scrape off. If needed, repeat the process until done.
FAQs
How Do I Clean the Walls Once I've Removed the Wallpaper?
Make sure that all paper has been removed. Then give it a quick brush over with a hand brush. Then get a cloth or sponge, warm water and a drop of washing up liquid. Squeeze out the cloth/sponge so it is only damp and wipe down the walls - starting at the top. Then give it a wipe over with just warm water and leave to dry for 24 hours.
How Soon After Removing Wallpaper Can I Paint or Repaper the Walls?
This will depend on the method used and the condition of the wall. If steam or water were used you need to wait for the wall to dry and fill and sand. If you use wallpaper stripper it will need to be cleaned, dry, filled and sanded. This will typically be at least 4 hours before you can start papering or painting. Ideally you want to leave it for 24 hours to be sure.
Can Old Wallpaper Be Recycled?
No. Old wallpaper will have been treated with glue or wallpapering paste, it could have been painted and could have traces of plaster and mould on the paper. The best way to dispose of it is with your general rubbish.
Steve is an avid DIYer with over 20 years of experience in transforming and renovating homes. He specialises in painting and decorating, but has strong all-round building skills, having previously worked in the industry for 10 years.
Homebuilding & Renovating Newsletter
Get the latest news, reviews and product advice straight to your inbox.
Thank you for signing up to Homebuilding. You will receive a verification email shortly.
There was a problem. Please refresh the page and try again.