Ordering Concrete: Everything You Need to Know
Ordering concrete correctly is an essential part of creating the best foundation for your new home - here's how to get it right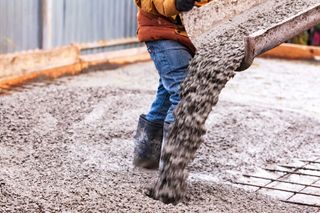 (Image credit: getty images)
Ordering concrete can be daunting for those getting stuck in on their first build project, but it is crucial to make sure you order the right concrete and consider the practicalities of physically getting it into the trenches. 
Building foundations is arguably the most important stage of building a house - get it wrong and the whole project is put in jeopardy. 
Here are five top tips for ordering concrete to get your project off to a solid start.
Tip 1. Calculate the volume of concrete you require by measuring the width, depth and height of each section of trench, allowing for any deviations. Many concrete suppliers now mix on site and allow you to order and pay for precisely the volume you use.
Tip 2. Accurate trenches of the right depth with good straight sides, excavated by an experienced groundworker, will minimise the amount of concrete required.
Tip 3. Concrete is made up of four main ingredients: 
water
Portland cement
aggregates
and air.
The ratio of the ingredients changes the properties of the final product, which allows the engineer to design concrete that meets their specific needs.
Tip 4. Your construction drawings will indicate the concrete mix to be used based on the structural engineer's design.
For strip foundations and trenchfill foundations the mix is usually what is known as Gen 2 or Gen 3 (General Concrete Mix).
For foundations that are reinforced with embedded steel, reinforced concrete (RC) mixes are used. For most reinforced foundations RC 25/30 is typically used. Reinforced raft foundations are generally RC 35/45.
For areas where the ground has been found to contain sulphates (which can attack the cement in concrete) special foundation concrete mixes are specified that have cements resistant to these and other chemicals.
(MORE: Foundation Systems and Soil Types)
Tip 5. Access to place concrete directly into trenches is often limited on a domestic site. In these cases, pouring foundations is made much easier by the use of a pump. If you decide to use a pump it is essential to order pump mix concrete which is a dense cohesive mix.
Homebuilding & Renovating Newsletter
Get the latest news, reviews and product advice straight to your inbox.
Thank you for signing up to Homebuilding. You will receive a verification email shortly.
There was a problem. Please refresh the page and try again.