Opening Up Internal Spaces
By Michael Holmes published
Removing internal walls can transform your home, bringing in light and creating space. We explain how to make the most of your remodelling project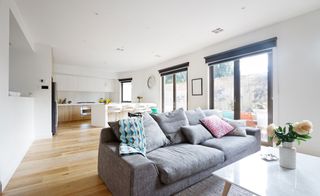 (Image credit: getty images)
If the current layout of your home isn't working, your first instinct may be to add more space by extending. This may well be an option, but it's not the whole story.
Your first thought should be whether you can make more of the space you already have. Traditional properties tend to have a warren of small rooms. Previous additions such as porches and conservatories only add to the problem, leaving interiors with no light and turning existing rooms into corridors.
Remodelling can solve these problems and create the space you want, without having to extend.
Where to Start
Floorplans
Get a set of floorplans drawn up so you can take a fresh look at the layout of your home.
Ideally this will be a full measured survey, showing exact dimensions and angles. A surveyor (rics.org.uk

(opens in new tab)

) will charge £600-£900 plus VAT to draw floorplans, elevations and key sections.
As a starting point, you could draw up plans yourself on squared paper. These are adequate if you are only making minor changes.
Orientation
Next, check the orientation so you can work out the passage of the sun during the day and which rooms get light when.
Make a note of which side of the property is quietest and most private, and mark the position of the gas and electric meters (if in the house), the soil pipes and any inspection chambers outside.
Note any changes in floor level or ceiling height.
Using your plans you can then explore all options to create the space you need. You can add or remove walls and doorways, and convert space such as an attached or integral garage, loft or cellar.
Kitchen Breakfast Room
High on most people's wish-list when remodelling is a family kitchen with informal dining area and a separate utility room and cloakroom. Typical remodel options include combining the existing kitchen with the dining room, and perhaps the living room too.
Another common option is to convert an attached or integral garage and combine this space. If necessary, extra space can be added by extending.
The fewer walls you remove, the lower the cost, so don't make unnecessary changes. Adding new walls, to form a utility room for instance, is less expensive than removing walls.
Locating your kitchen sink and utility room to make use of existing soil pipes will be the most cost-effective option but there is usually a plumbing solution for any situation. Gas and electric meters can be relocated, but this will add £300-£400 per meter to costs.
Master Bedroom
The second most popular option is to create a larger master bedroom with an en-suite bathroom and perhaps a dressing area. A typical solution is to knock a doorway into an adjacent smaller bedroom – often the box room – and to add bathroom facilities here, closing up the original doorway.
Choosing a location for the en-suite with access to a soil stack is the most cost-effective option, but there is always a plumbing solution.
What to Consider
Non-structural walls can typically be removed without any compensating measures being necessary, except for making good the walls, ceiling and floor.
If you're removing loadbearing structural walls, you will need to insert a beam to support what is above it instead. This is usually steel, and the structural engineer will calculate the depth and width of the steel beam needed to hold the weight. They will also calculate the positions of any piers (an upright to support the beam, like a goalpost) and associated works.
The larger the span of space the steel beam is required to cover, the bigger the depth of the beam. This can sometimes mean it protrudes into the room below. This is usually referred to as the downstand.
At this point, you could consult with your structural engineer to discuss ways to hide the steel beam — preferably, in the floor structure above. This will not only give you valuable inches in terms of head height, it will also look better.
Watch out for changes in floor or ceiling level when joining rooms together. Small changes can be overcome with a single step, or by adjusting floor or ceiling levels to match. Larger differences will require steps and this can take up a valuable space.
When remodelling, respect the key relationships between spaces, such as between the kitchen and dining area. Make sure all of the main rooms can be accessed directly from a centrally located hallway and landing.
Once you have created an open plan space, you will need to reconfigure the wiring and lighting, and update the heating and controls. Treat each area as a separate room or 'zone' with its own focal point, access and circulation routes, and independently switched lighting circuits, albeit controlled from grouped switch panels in key locations.
Internal Spaces Costs
For a 'typical' opening up project that involves removing a 5m-wide loadbearing wall, builders would typically quote between £1,000 and £2,000 (plus VAT, where applicable).
This would cover:
temporary support of the structure
demolition of walls
building of required padstones and supports for the new beam
insertion of the beam
plasterboarding out
making good at wall, floor and ceiling junctions.
Michael is HB&R's Head of Content and Product Development. Michael is also, Chair of the National Custom and Self Build Association (NaCSBA), presenter of multiple property TV shows and author of Renovating for Profit (Ebury). Michael is a regular in the seminar theatres and Advice Centre at the Homebuilding & Renovating Show.
Homebuilding & Renovating Newsletter
Get the latest news, reviews and product advice straight to your inbox.
Thank you for signing up to Homebuilding. You will receive a verification email shortly.
There was a problem. Please refresh the page and try again.