What is Limewash Paint? Here's What you Need to Know
By Hugh Metcalf published
From its breathable nature to its unique finish, limewash paint has plenty to offer your home. Find out more with our guide to using limewash on walls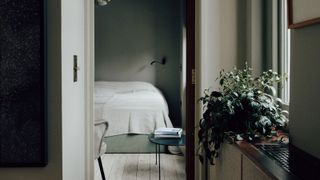 (Image credit: Francesca's Paint)
Limewash paint is best known as a finish for traditional building materials and renders, such as lime plaster. However, as textured wall finishes have grown in popularity, limewash has had a resurgence for use in the home.
However, painting a wall with limewash is a different process than when using a standard emulsion paint, and the resulting finish has vastly different properties.
From the pros and cons, the differences between emulsion and limewash and how it's applied, find out more about this unique paint in our guide.
What is Limewash Paint?
Limewash paint is a natural, eco paint that creates a textured wall surface. It's made form hydrated lime, which creates a putty, along with a pigment to add colour.
"The lime is first put in an oven at a very high temperature and then placed in water to cool down," explains Francesca Wezel, founder of Francesca's Paints. "The longer it stays in the water, the thicker it becomes."
What's the Difference Between Limewash and Normal Paint?
Unlike normal paints, limewash penetrates the surface of the wall, and colour is built up over successive coats. This also gives it breathable qualities.
"Limewash is plastic free and breathable, [while] normal paint might contain acrylic or vinyl (plastic), giving it a flatter appearance and rendering it not breathable," explains Francesca Wezel of Francesca's Paints.
Limewash paint is extremely low-sheen, even more so than a matt emulsion, and has a unique mottled texture. Unlike many modern washable paints, limewash can't be wiped to remove marks and scuffs.
What are the Benefits of Limewash Paint?
Limewash has some excellent qualities that make it a great choice for both period houses using traditional materials and modern houses looking to add character.
This includes its breathable nature, making it suitable for old and damp-problematic wall.
It's also chosen for its texture, its velvety appearance and achieves great depth.
Are There any Drawbacks?
Limewash paint can be pretty unforgiving of uneven, marked surfaces and won't disguise any imperfections. All loose and flaking materials will need to be removed, and surfaces need to strictly be clean and free from grease before applying.
Unlike washable paints, limewash cannot be wiped because of its powdery quality. It also can't be touched up. You'll need to re-apply a diluted coat of limewash across the wall.
Where Should Limewash Paint be Used?
Limewash is traditionally used on exterior walls — "It's perfect for decorating and protecting porous stone and lime-rendered surfaces," explains Little Greene's creative director Ruth Mottershead. However, it's become increasingly popular to use limewash for interior walls.
When using limewash externally, it creates a unique patina thanks to the carbonating effect when exposed to weather. "For interior use, the carbonation doesn't happen in the same way, resulting in a more velvety, less streaky look," says Francesca Wezel. "
Limewash paints can be used in any room of the house, although due to it not being wipeable, it's not best suited to areas of heavy traffic such as entrance hallways or children's bedrooms.
How do you Apply Limewash Paint?
Limewash paint is normally applied with a brush, not a roller. "It's easy to apply, and will require four coats for full coverage", explains Ruth Mottershead. However, some brands of limewash paint will only require two coats.
"To help the carbonation process, limewash paint needs to be applied on a wet surface - the wall needs to be mist sprayed with water before applying it to the wall, before applying the second coat and after the final coat has completely dried," explains Francesca. "This process helps the lime to create its mottled and velvety appearance."
Remember that limewash will look transparent when applying, but dry to an opaque, much lighter finish than it appears when wet.
What are the Alternatives to Limewash?
Another option for breathable walls in period homes is distemper paint. "Distemper is a traditional breathable interior paint, commonly used in older buildings and loved because of its soft, powdery finish," explains Little Greene's Ruth Mottershead. "It is suitable for walls, ceilings and fine plasterwork, providing a soft, matt finish ideally suited to bedrooms, living rooms, dining areas and other low traffic areas."
Hugh is Digital Editor of homebuilding.co.uk and has worked on a range of home, design and property magazines, including Grand Designs, Essential Kitchens, Bathrooms, Bedrooms and Good Homes. Hugh has developed a passion for modern architecture and green homes, and moonlights as an interior designer, having designed and managed projects ranging from single rooms to whole house renovations and large extensions. He's currently renovating a Victorian terrace in Essex, DIYing as much of the work as possible. His current project is a kitchen renovation which involves knocking through walls and landscaping a courtyard garden.
Homebuilding & Renovating Newsletter
Get the latest news, reviews and product advice straight to your inbox.
Thank you for signing up to Homebuilding. You will receive a verification email shortly.
There was a problem. Please refresh the page and try again.