Retrofit Central Heating
By Natasha Brinsmead published
Where do you start if the central heating in your home is dated — or non-existent? Natasha Brinsmead takes you through the options for sorting it out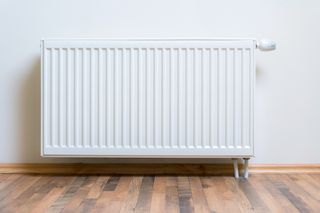 (Image credit: getty images)
Homes in need of renovation often have dated, inefficient or downright dangerous central heating systems, while others will have none at all. In these cases, it will be necessary to plan to have a new boiler and radiators installed.
A central heating system consists of a heat source combined with connected heat outlets — this usually means a boiler and radiators, but it can also mean underfloor heating and renewable heating solutions. You will need to find a properly qualified heating engineer to install your new system and your choice should depend on the type of boiler you are having fitted.
Gas boilers: engineer registered with Gas Safe.
Solid fuel-burning boiler (eg woodburner): a HETAS member should be considered.
Oil burning appliances and services: an Oil Firing Technicians Association (OFTEC) member.
Electric boilers: need a qualified electrician or a boiler engineer with experience of electrical boilers.
What Will You Need For Your New Central Heating System?
In short, a boiler and, depending on the type of boiler you opt for, possibly a hot water cylinder and maybe a cold water tank — plus radiators and controls for the system. You can calculate how many and what size radiators you will need yourself (there are various rough calculators available online to help), or ask your heating engineer to do this for you.
A room's overall heating need is measured in British Thermal Units (BTU) and radiator manufacturers and suppliers will provide the BTU output for each model.
How Much Will New Central Heating Cost?
The costs of the materials will vary depending on the system and specification you opt for. You will need to factor in the cost of your boiler, radiators and controls, including pipework, plus the cost of having them all installed.
As a rough guide, to install central heating into an average three-bed property with no heating system will cost between around £3,235–£4,200, based on a tradesperson's day rate of around £200, plus £100 per day for a labourer if they are needed.
Installing Central Heating: Step-by-Step
1. Choose a boiler and select the radiators that will offer adequate heating for your home, along with new controls (perhaps with the aid of a heating engineer).
2. Your engineer should be able to help you come up with a plan for the system you want to install. You will also need to decide on a good spot for your new boiler and where you want to position your radiators.
3. The radiators are usually installed first, at around four to six inches above floor level.
4. The pipes are then laid from the radiators and valves to the boiler, after which the controls are then installed.
5. The water (and, in some cases, the gas) is shut off while the boiler is installed.
6. All of the radiator vents will be closed, the system filled with water and each radiator allowed to vent through. Finally, the boiler can be switched on and the flow of heated water balanced using the valves.
Our estimate: 3–5 days; £3–4,200
Which System?
Combi: Combination boiler systems heat the water as you need it — so no need for a hot water storage tank. They also use mains water pressure so there is no need for an overflow tank.
Gravity-Fed Systems: It can occasionally be better to upgrade these systems rather than replace. The negatives though include variable flow and the space the cylinders and expansion tank requires.
High-Pressure Systems: These systems use mains water pressure, so they usually give lots of hot water at a good flow. They do, however, require a hot water tank which can add to installation costs.
Natasha is Homebuilding & Renovating's Associate Editor and has been a member of the team for over two decades. An experienced journalist and renovation expert, she has written for a number of homes titles. She has renovated a terrace and is at the end of the DIY renovation and extension of her Edwardian cottage. She is now looking for her next project.
Homebuilding & Renovating Newsletter
Get the latest news, reviews and product advice straight to your inbox.
Thank you for signing up to Homebuilding. You will receive a verification email shortly.
There was a problem. Please refresh the page and try again.