How to Choose a Woodburning Stove
By Claire Lloyd
As a nation, we're rather obsessed with our woodburning and multifuel stoves, but there's a lot to consider before investing in one. Claire Lloyd explains the options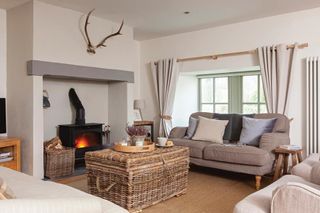 (Image credit: Fiona Walker-Arnott)
Where to Start
Before setting your heart on a woodburning stove, it's essential to establish whether you have a supply of firewood readily and locally available.
You may choose to plan for the year ahead and purchase logs to season (air dry) yourself, which will happily bring cost benefits, but you will require a log store, preferably one close to the house, to do so.
If you're unable to pin down a good, reliable supplier or are short on space to season and/or store wood, then a multifuel stove could be a very good idea; they give the option of burning solid fuels such as smokeless anthracite, peat or turf briquettes, as well as wood.
There's a key difference between the ways in which these fuels are burnt; while wood burns best on a bed of ash with air circulating above, conversely, solid fuels require air circulating below. Multifuel stoves are designed for both tasks, although some woodburning stoves can be specified with a removable grate for the purpose of burning solid fuels.
The efficiency of your stove is down to several things but, perhaps most of all, what you actually burn in it. The calorific value of timber does vary slightly from timber to timber but it's actually the moisture content (MC) that has the biggest impact on how many kWh you get out of each log.
"It is important for the health of your stove, flue and heat output that you burn wood that is 25 per cent MC or below. How you get to that, either by buying kiln dried, or buying wetter wood and allowing it to dry out, is down to your storage facilities and personal preference," says Logs Direct's Liz Foulds.
(MORE: Get a quote for your woodburning stove)
Smoke Control Areas
On the subject of fuel, if you live in a town or city, do check to see if you're within a Smoke Control Area; you can find out by contacting your local authority or visiting their website. If you do find yourself in one, then you'll only be able to burn DEFRA-approved smokeless fuel (such as anthracite) — wood certainly is not one.
Alternatively, if you do want to burn wood or non-exempt fuels, you'll need to specify a DEFRA-exempt stove; there's a list available at smokecontrol.defra.gov.uk, but you'll find that most manufacturers and suppliers are quick to mark out models with this stamp of approval.
Heating the Room
You'll also need to consider how you want your stove to heat the room.
Radiant stoves, as the name suggests, radiate heat through the glass and stove body, providing a focal point to cosy up to (they're still perhaps popular because they most resemble open fires in this way). This type of stove is safest when installed within a chimney breast or inglenook, and soapstone is sometimes used to clad the top and sides; this stone absorbs, stores and slowly radiates heat.
A convection stove, however, features an outer shell or additional side panels which clad the combustion chamber — the heat is transferred to the air caught within this outer shell and is, in turn, distributed around the room.
They're a better option for freestanding stoves – as the sides don't get so hot – and good in open plan spaces where they're likely to be used as a secondary heating stove.
(MORE: Get a quote for your woodburning stove)
Heat Output
Establishing the heat output (which is measured in kW) required in the room is something to consider early on. Too small, and the stove will be inadequate for purpose. It's perhaps tempting to opt for a stove with a considerably larger output than required, 'just in case'.
However, stoves work best when operating at high temperature, achieving close to their heat output — with too large a stove, you could find yourself constantly cutting the air supply and dampening the fire right down (which in turn impacts on efficiency) to cool off. So, it's important to get it right.
For every 14m³ of space, approximately 1kW is required to achieve a comfortable temperature. So to estimate the heat output required, divide the room in cubic metres (length x width x height) by 14.
This calculation provides only a rough estimate however, as factors such as the level of insulation, wall construction, the number of window or door openings, and features such as open stairwells have a bearing. It's therefore a good idea to have an installer undertake a survey to ensure you specify the right model.
Air Supply
Stoves need air for combustion to take place. In order to obtain a sufficient air supply, the air within the room needs to be replenished.
In older, draughty homes, and particularly those with large rooms, this doesn't tend to be an issue. However, in modern, well-insulated, airtight self built homes, this is not the case.
The situation is further complicated by mechanical ventilation systems. Room-sealed stoves with a direct air supply (which basically means the air is taken from outside the house, not inside) have an important application here.
If you do have an airtight home, look out for models which provide all the air the stove needs externally — some only provide the primary air source, with air still drawn from the room.
(MORE: Get a quote for your woodburning stove)
Features to Look Out For on a Woodburning Stove
'Cleanburn' is a term which you'll likely come across during specification. This involves the introduction of additional air which burns the gases given off in the first burn, preventing them from escaping up the flue, or sooting up the glass screen. On that note, 'airwash' also helps with the latter; air is blown over the inside surface of the glass to prevent combustion gases creating soot here.
Stovax offer a function called Opti-Burn. "It works by offering the best balance between heat output and the airwash function; the result is an efficient burn that is clean, so you can still enjoy the flames and embers through the glass," says Stovax's Matt Beckenham. Some manufacturers such as Hwam provide an autopilot feature which regulates air intake for maximum efficiency, meaning you don't have to control the stove manually.
Burning Wood
Wood with too high a moisture content will be difficult to light, cause soot and even impact on the longevity of your stove and your flue.
"When newly chopped, most woods tend to have a moisture content of around 60 to 80 percent — they require a substantial amount of drying before being suitable to burn," says Stephen Talbot of Logs Direct. "We wouldn't recommend burning wood with more than a 25 percent moisture content, and ideally you should be looking for less than 20 percent."
If you choose to season (air dry) your own wood, then it should be located in a covered, open-sided log store (allowing air to circulate, but protected from the elements) — it can take a year to season, and even longer with some hardwoods. Another option is buying kiln-dried wood.
If you're intending to cut and season wood yourself, then it's also worth checking the maximum log length your stove will hold; some can hold logs up to 550mm or longer.
(MORE: Get a quote for your woodburning stove)
What is the Cost of Running a Woodburning Stove?
The key to success depends on the fuel you're buying — which most people give remarkably little thought to. For a start, hardwood logs are denser than softwoods and you'll receive more kWh from a cubic metre bag of hardwoods than softwoods — but softwoods are usually cheaper. While the type of wood offers a variable in output, it's not massive — by far the biggest impact is moisture content.
The table below is a very general guide to how moisture content affects kWh output.
| Moisture content | Approx. kWH/kg | |
| --- | --- | --- |
| 10% (kild dried/brickettes) | 5 | |
| 30% | 3.5 | |
| 40% | 3 | |
| 50% (freshly cut) | 2.5 | |
Most merchants sell in cubic metre bags but the weight of these bags will vary depending largely on the moisture content.
Kiln dried logs (where the moisture is below 10%) will cost £120-£140 per cubic metre bag. But the weight of these will be just 250kg.
A bag of 'seasoned' logs where the moisture content (MC) can still be up to as much as 30%, even after 12 months of air drying, will weigh on average 300kg per cubic metre bag and cost you between £70 and £90.
A cubic metre of freshly cut logs would come in at 500kg with a moisture content of 50% and be cheapest at £50 per bag.
So let's work out the relative values of those different options based on the above assumptions.
| Type of log | Cost/kg | Cost/kWh |
| --- | --- | --- |
| Fresh (50% MC) | 10p | 4p (at 2.5kWh/kg) |
| Seasoned (25%) | 26p | 6.5p (at 4kWh/kg) |
| Dried/brickettes (10%) | 52p | 10.4p (at 5kWh/kg) |
So, perhaps surprisingly, the figures show that the differences in price between dried and freshly cut logs are not usually reflected in the improved outputs you'll receive (by paying more for dried). The best option is to store as much wood as you can and dry it out over two to three years. The trick is to buy cheap bags of freshly cut logs (at £50-£70 per bag) and then let them dry out to boost output to 4-5kWh/kg. You'll then be enjoying costs of around 2p-3p/kWh.
In terms of your annual heat demand figure, heating a typical room to say 4kW all day (24 hours) would have used up 96kWh of energy — the equivalent of £4.32 at current gas prices (that's assuming, of course, that the heating isn't very well controlled and you lose a lot of heat). The cost for a woodburner to do the same (based on the above figures) would be £3.84–£9.60, or as little as £2 if you can dry logs yourself over two to three years.
Get a Quote for a New Woodburning Stove
Homebuilding.co.uk partners with the UK's best woodburning stove suppliers to match your requirements with their products.
Simply answer a few questions on what you need from your woodburning stove and we'll put you in touch with a suitable partner.
How It Works
1. Enter your details below. Tell us a bit about your project and what you are looking for, and leave some contact details.
2. We search our database. We'll match your requirements with the products and services that our partners offer.
3. Partners will contact you. Don't worry about being bombarded - only the suppliers that match your requirements will contact you.
Homebuilding & Renovating Newsletter
Get the latest news, expert advice and product inspiration straight to your inbox.
Thank you for signing up to Homebuilding. You will receive a verification email shortly.
There was a problem. Please refresh the page and try again.