How Much Water Does a Garden Sprinkler Use Per Hour? And How to Save Money
By Amy Willis published
You may be asking how much water does a garden sprinkler use per hour after the heatwave. With bills on the rise, the answer may leave you reaching for the tap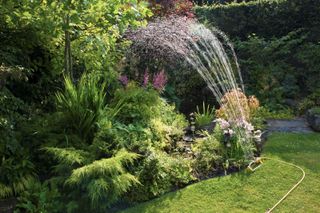 (Image credit: Getty)
How much water does a garden sprinkler use per hour is a key question following the high temperatures we've experienced across the UK this summer. Garden sprinklers might be the easiest way to water your flowerbeds during hot weather, but research suggests they're not the cheapest or most efficient.
Water consumption in gardens increases by 50% during heatwaves, putting pressure on Britain's water supplies.
With water bills estimated to rise by 1.7% this year, according to industry body Water UK (opens in new tab), moving away from tools such as garden sprinklers will help conserve supplies and save water. This means taking a hard look at how we use our household gardening equipment.
In this guide we look at exactly how much water garden sprinklers use as well as steps homeowners can take to save money — and water.
So How Much Water Does a Garden Sprinkler Use Per Hour?
How much water a garden sprinkler uses per hour makes for surprising reading. We spoke to Anglia Water, who said the figure is as high as 1,000 litres an hour.
To put that into context, this is the equivalent of taking more than 12 baths (a typical person's bath is estimated to hold around 80 litres of water). And if you break down that figure further, a garden sprinkler uses 16 litres of water every minute it is turned on.
"We want everyone to enjoy the fabulous sunshine and being outdoors, however we would like to ask everyone to think about how they are using their water," Anglia Water (opens in new tab)'s Water Saving Manager Sarah Castelvecchi, explains.
Water companies are also quick to point out that using garden sprinklers isn't a precise method of watering plants either, as the trajectory can unintentionally spray areas of the garden such as driveways and paths.
How Much a Garden Sprinkler May Cost You to Run
Around half of British homes are on a water meter, according to Water UK, meaning there's a cost attached every time you turn the tap.
Water rates vary depending on your area and can be anything from 117.77p (Northumbrian Water) to 192.19p (South West Water) for every 1,000 litres (a cubic meter). Other water companies charge 148.28p (Thames Water) and 168.53p (Anglia Water) for every 1,000 litres.
That means for every hour a garden sprinkler is turned on, it is potentially costing you around £1.50 an hour and nearly £2 an hour for those in the South West. That figure doubles or even triples if you are running more than one device.
How to Save Money When Watering the Garden
Turning off the garden tap is the obvious answer here, but it's not necessarily the most helpful one. Plants still need water to survive a hot summer and dead foliage will potentially impact your home's value — not to mention how much it costs to replace flowerbeds. And if you have recently landscaped your garden, the last thing you want to be doing is leaving your plants to die.
But there are a number of ways to reduce your garden's water consumption without simply switching everything off. Here are some of the best options available.
1. Design Your Garden in Hydrozones
If you are in the middle of your build and have yet to finalise your garden landscaping ideas, hydrozoning is the ideal approach.
This works by sectioning your garden into zones of water usage. At the top of the hierarchy might be a zone where you spend the most time, which will need the most amount of water. A good example of a principle hydrozone might be your back garden and this would be where you would set up a decent irrigation system or perhaps a lone garden sprinkler that is carefully monitored.
A secondary hydrozone meanwhile might be an area of the garden that is not used as frequently but is important for visual impact. An example might be the areas around the entrance to your home. This hydrozone would have reduced irrigation compared to the principle hydrozone.
It would also benefit from native plants that require low garden maintenance, keeping flower beds weed-free and only watering in the morning or evening to reduce evaporation. Plants that do not need as much water include lavender, allium and agapanthus.
The hydrozoning system continues down the scale, with each zone requiring less irrigation as it drops in visual importance. The bottom hydrozone will be where your garden needs zero irrigation.
2. Use Water Butts Instead of Garden Sprinklers
Water companies recommend ditching garden sprinklers completely in favour of installing water butts. These collect rainwater from your home's guttering throughout the year, ready to use when a heatwave strikes.
A water butt can hold up to 350 litres of rainwater, which can potentially fill 35 watering cans. Water butts that hold around 200 litres are ideal for those with smaller gardens that are tight on space.
It's possible to attach a hosepipe to a water butt too, handy for those with several flowerbeds, who find refilling watering cans particularly time consuming.
For avid gardeners or those with large gardens, a rainwater harvesting system, while expensive, is an even better idea.
3. Install a Drip Irrigation System or Bubblers
While typically garden sprinklers aim to scatter water far and wide in a short space of time, a drip irrigation system takes the opposite approach. These instead trickle water directly to the roots of plants in flowerbeds, pots, planters and even greenhouses. Depending on the type of system you install, the water can be fed on the surface or buried below in the soil.
When drip irrigation works (and this can be hard to get right), it can be attached to a timer to make watering a fairly hassle-free process.
That said, buying and installing drip irrigation systems can be expensive, difficult and time-consuming. It's therefore worthwhile spending time researching systems that will work best for your garden set up.
4. Let Your Lawn Go Brown
And finally, it's worth noting that grass is resilient and a well-established lawn will usually bounce back when it rains after hot weather.
That's why water companies like Anglia Water recommend simply leaving a lawn to go brown when temperatures rise.
That said, some flowerbeds and recently seeded lawns will still need water until they become well established. For this reason it's always better to seed your lawn in the Autumn or early Spring.
Amy is in the middle of the renovation of a period property in rural Suffolk. She's taken a hands-on DIY approach to the project, knocking down walls, restoring oak beams and laying slabs herself with the help of family members to save costs.
Homebuilding & Renovating Newsletter
Get the latest news, reviews and product advice straight to your inbox.
Thank you for signing up to Homebuilding. You will receive a verification email shortly.
There was a problem. Please refresh the page and try again.