Caulking Skirting Boards: A Quick and Easy DIY Guide
By Steve Jenkins published
Discover how caulking skirting boards will help fill those awkward gaps to achieve a smooth, waterproof finish ready for painting, with our expert DIY guide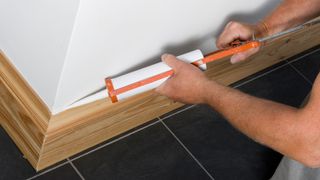 (Image credit: Getty Images)
Caulking skirting boards is the answer to getting rid of those annoying spaces that stop you getting a crisp clean painted line between your wall and skirting.

Adding a neat line of caulk will give you a smooth waterproof finish that will stop water, dust and dirt creeping behind your skirting boards. It will also provide the perfect platform when you are painting skirting boards to get the finish that you want.
Follow our step-by-step guide to find out when to caulk, how to caulk and a few tips on how to get a smooth even finish.
Caulking Skirting Boards: A Step-By-Step Guide
Before you start, make sure that you have a caulking gun, a tube of decorators caulk and a damp sponge.
1. Clean and prep
Before you add any caulk to your skirting boards you need to make sure that you have prepped the walls (filled and sanded) and the skirting boards are sanded down ready for the first coat of paint.
Use a hand brush to sweep any dust, followed by a damp cloth to wipe away any leftover dust. Finally use a vacuum to hoover up any nearby dust.
2. Get the caulk ready
Now get your caulk gun and place the tube of decorators caulk inside the gun and get ready to use. Cut open the caulk with a sharp Stanley knife and screw on the nozzle. In turn, cut off the tip of the nozzle with the knife.
Cut at 45 degree angle and around 5mm from the top. You don't want to cut too far down the nozzle as you only want a small bead of caulk coming out.
3. Add the caulk
Place the end of the nozzle at the end of the skirting board and squeeze the handle gently. Once the caulk starts coming out, move along the skirting board continually squeezing until you get to the other end. If you miss a section you can go back and add more caulk.
If new to caulking take a few practice runs on a small out of the way area. Make sure you have a cloth to wipe the caulk off if it goes wrong.
Alternatively, run masking tap along the wall and top of skirting board to create a small channel in which to apply the caulk. This will help give you nice clean edges.
4. Smooth out and finish up
You need to smooth out the caulk to get a neat finish. Some suggest using a wet finger, but this doesn't work as well as a damp kitchen sponge. Wet the sponge, press on the caulk and drag along the top of the skirting board to smooth out. Do it in sections and have a cloth on hand to wipe off excess caulk.

Leave to dry as per the manufacturer's instructions or at least for a couple of hours (longer if possible) to see if it sinks anywhere along the skirting board. If it does, you need to add more.
Do I Caulk Before or After Painting?
The purpose of caulking is to fill gaps, so it is part of the preparation process. It doesn't matter what type of skirting you have, you should caulk before you paint your skirting boards. Just make sure that the area you are going to caulk is clean and dust-free before you apply.
Look for a caulk that is quick drying so you can start painting as soon as possible. The quicker the caulks dries or 'cures' the less chance of dust and debris sticking to it, ensuring you have a smooth surface to paint on.
Can You Leave Caulk Unpainted?
You can but it depends on what type of caulking you are using. As a general rule if you do not intend to paint over the caulk then you use a clear caulk. This is typically used for exteriors around doors and windows. White caulk is commonly used for areas to be painted.
It doesn't matter if you are using MDF or pine skirting board, if the caulk is left unpainted it can attract dust and debris and can yellow over time.
What is the Difference Between Caulk and Silicone?
Caulk will seal up any gaps, is waterproof and can be painted over; while silicone is very similar it has slightly different qualities. It is used to fill gaps and is waterproof, but it remains more flexible than caulk, but can't be painted over.
This is why it is typically used in areas such as bathrooms where its colour doesn't need to change, no painting is involved and there is more movement e.g around a tiled bath.
Is Caulk Better Than Filler?
Yes and no — it depends on the job at hand. Caulk is a flexible filler and is ideal for areas that might have a bit of movement such as skirting boards, door frames and windows. This means that the caulk won't crack like a filler if there is movement.

If you are cutting skirting boards i.e. for corners, caulk is not always the best choice especially if you have small gaps. Think of using glue and wood dust to fill the gap.
Also, caulk isn't a good choice if you want to fill an area that needs a solid finish such as nail holes in wood or small cracks in plaster. These jobs need a specialist filler to work well.
Steve is an avid DIYer with over 20 years of experience in transforming and renovating homes. He specialises in painting and decorating, but has strong all-round building skills, having previously worked in the industry for 10 years.
Homebuilding & Renovating Newsletter
Get the latest news, reviews and product advice straight to your inbox.
Thank you for signing up to Homebuilding. You will receive a verification email shortly.
There was a problem. Please refresh the page and try again.