MDF or Pine Skirting Board: Which is the Best for Your Home?
By Steve Jenkins published
How do you choose between MDF or pine skirting board? We give you the lowdown on costs, sizes and finish to help you make the right choice for your project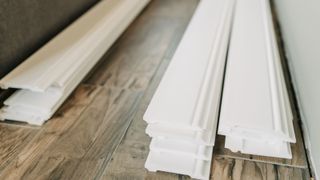 (Image credit: Getty Images)
You've decided that you want new skirting, but what's best — MDF or pine skirting board? This can depend very much on the job at hand. Are you looking to replace skirting boards in a high traffic area? Does your bathroom need new skirting? Do you live in a period property that needs its skirting updating?

MDF is stronger than pine, has a smooth, blemish-free surface, is less prone to warping and is a good choice if you are painting skirting boards. MDF comes either pre-primed or finished making it easy to paint. It boasts plenty of styles and sizes.
Pine has the beauty of natural grain making it ideal for projects where a varnished finish fits the bill.
Here we delve into the pros and cons between MDF and pine skirting boards to help you make the right decision for your needs.
MDF or Pine Skirting Board: Which Is The Cheapest?
Typically, prices for MDF and pine are very similar. Depending on style and size, MDF is sometimes cheaper and typically comes pre-primed or finished, meaning that you are saving time on painting and money on paint.
At the same time pine can be cheaper than MDF depending on the quality and source of the wood. However, pine skirting doesn't come pre-primed, meaning you'll need to buy more paint and spend more time on painting.
Which Is The Easiest To Paint: MDF or Pine Skirting Board?
There are pros and cons for both. MDF skirting boards typically come pre-primed, meaning that you don't need to worry about applying an MDF sealer or primer.
However, you will still need to add an undercoat and top coat. (Typically you'll be weighing up between satin vs gloss.)
To make sure that you get a good finish on MDF you will need to rub down with fine grade sandpaper in between coats, especially after the undercoat.

Pine skirting boards typically come as bare wood so there is a little more preparation and painting needed to get the best finish. You will need a primer, preferably one with a stain blocker so help cover knots in the wood.
You'll also need an undercoat – maybe two coats – and a top coat. Again, use a fine 220 grit sandpaper to get a top quality smooth finish.
What Is The Best Skirting Board For a Bathroom?
Pine is more resistant to moisture than MDF. If painted properly – primer, undercoat, top coat – pine skirting boards can last for years.

Standard MDF is susceptible to moisture and can swell and warp when water gets into the structure of the board. But choosing the best MDF paint can help protect and prolong the life of MDF.
Alternatively, you can buy finished MDF skirting board that is more resistant to moisture as it is already sealed. But you will still need to cut it, exposing the fibres to moisture.

It's better to opt for moisture resistant MDF skirting, which has a higher density of fibres making it more resistant to water and humidity in a bathroom. However, this does not tend to be suitable in wet rooms.
Tiled skirting may be a better alternative to both in bathrooms, particularly wet room; it is both water-resistance and can be matched to tiled bathroom floors.
Which Is The Most Durable Between MDF and Pine Skirting?
Nowadays, there is little difference in the durability of pine and MDF. However, pine is a softwood so isn't as strong as hardwood or MDF, especially HDF.
Pine is more likely to take a knock if in a high traffic area like a hallway. That said, pine is easier to repair and/or sand down and refinish than MDF.
Does MDF or Pine Skirting Board Give The Best Natural Looking Finish?
The answer is simple — it's pine skirting board. MDF is plain and uniform making it look like the manufactured wood it is. If you want a natural finish with the grain showing pine is the clear-cut winner.
If you want an enhanced natural finish that fits in with the look of your home, which is typically the case for some period homes, you will need to use a clear varnish instead of paint.

Obviously, if you are painting your skirting boards the natural grain of pine will be lost. While white is the popular choice when paint skirting boards, you might want to try some skirting board colour ideas to add some creativity.
What Sizes Do Pine and MDF Skirting Come In?
When buying skirting board there are three sizes to look out for: length, height and width/depth. The height is the most obvious measurement to look out for. If replacing like for like simply measure the current skirting board and replace with the same size.
Common skirting board sizes range from 119mm to around 200mm, with 144/145mm being a popular choice in a lot of homes. Older houses typically have taller skirting boards — around 230mm. But you can get pine and MDF skirting boards ranging from 70mm up 350mm+.
Width or depth typically ranges from 12mm to around 20mm but you can buy deeper if you want. But deeper skirting boards obviously protrude further from the wall, which can be an issue if placing furniture against the wall. The popular choices are 15mm and 18mm.
The other measurement to consider when buying pine or MDF skirting is length, typically available in 2-4 metres. Just make sure that you measure up, get enough and know how to fit skirting boards properly. Ideally you want a single length for each wall - especially if straight - so you don't have to make unnecessary cuts.
Steve is an avid DIYer with over 20 years of experience in transforming and renovating homes. He specialises in painting and decorating, but has strong all-round building skills, having previously worked in the industry for 10 years.
Homebuilding & Renovating Newsletter
Get the latest news, reviews and product advice straight to your inbox.
Thank you for signing up to Homebuilding. You will receive a verification email shortly.
There was a problem. Please refresh the page and try again.