Spring Statement 2022: VAT Cut on Energy-Saving Home Improvements
By Jack Woodfield published
A major announcement has been confirmed in the Spring Statement to help lower the cost of making energy-efficiency home improvements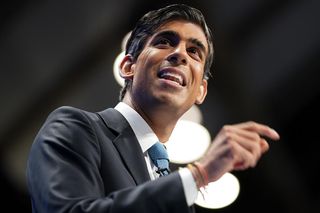 (Image credit: Getty Images)
Chancellor Rishi Sunak has confirmed in his Spring Statement that homeowners will now pay 0% VAT when installing certain energy-saving home improvements.
These eligible home improvements include air source heat pumps, insulation and solar panels, with the VAT reduction to take effect from April and run for the next five years.
Industry campaigners such as the Federation of Master Builders have long advocated a reduction on VAT on retrofitting measures, which they say will help to incentivise homeowners to make energy-efficient improvements which could save them money on their heating bills.
The standard VAT rate on retrofit work is 20%, but a reduced rate of 5% has been available for qualifying energy-saving materials (ESMs).
In making the announcement that this relief will now be cut to 0%, the chancellor said the European Court of Justice previously prevented the government from extending the relief.
Mr Sunak says that as a result of 0% VAT, families that install solar panels will now be able to save £1,000 worth of taxes a year and more than £300 will be taken off their energy bills.
How Significant is this VAT Cut?
Net Zero APPG, a cross-party UK initiative, said of the announcement: "While we welcome VAT cuts to energy efficiency measures, the Spring Statement needed to go further on net zero - retrofit, scaling up low carbon energy and more targeted and immediate action."
One such announcement which industry groups have been campaigning the government for is a national retrofit strategy. Such a strategy is urgently needed to improve the energy efficiency of 28 million households in the UK, campaigners say, and could work similarly to Ireland's retrofit strategy which launched this month.
The chancellor stopped short of announcing this in the Spring Statement, and Mike Foster, CEO of the Energy and Utilities Alliance (EUA), echoes the view that Mr Sunak needed to go further, with spiralling energy price rises set to hit millions of households from April.
"His VAT cut on solar panels and heat pumps will be welcomed by those who make them and by those who can afford to fit them, but a VAT cut on energy bills would have helped everyone."
The VAT cut to 0% on energy savings measures is an important step to create greener homes. Now we need a long term coordinated strategy linking up financial incentives, standards and labour supply. In short a National Retrofit Strategy to get it all moving @fmbuilders @CNplusMarch 23, 2022
The VAT cut on retrofit is certainly a step in the right direction, however. The Energy and Climate Intelligence Unit thinktank calculated that installing new insulation has saved UK householders nearly £1.2bn a year over 10 years, and making insulation more affordable is a positive step.
Phil Hurley, chair of the Heat Pump Association, said: "The decision to cut VAT from 5% to zero on energy-saving measures is an important step forward. Whilst this decision alone will not be enough to enable all households to access technologies such as heat pumps, we are confident that it will play a role in helping to accelerate the switch to low carbon heat."
Ross Counsell, director of Good Move, added: "This is a great motivation for those who have the direct funds to put into these means. Not only will this be more financially beneficial in the long-term, but sustainable retrofits are also essential for future-proofing your home.
"However, for low-income households, it would have been more beneficial to offer a grant, as to pay the up-front cost of solar panels and heat pumps is simply not viable for some."
The Northern Ireland Protocol will prevent the Treasury from applying the tax cut in Northern Ireland, but Mr Sunak said he will discuss changes with with Northern Ireland "as a matter of urgency".
Which Energy Saving Measures Will Apply?
Mr Sunak confirmed in his House of Commons address that heat pumps, insulation and solar panels would qualify for 0% VAT from April.
According to the government website, the current energy-saving measures available for the 5% reduced VAT rate are:
air source heat pumps
ground source heat pumps
insulation on walls, floors, ceilings and lofts
solar panels
heating controls
draught stripping, for example insulation fixed around windows and doors to reduce draughts
micro combined heat and power units
wood-fuelled boilers
To be eligible for the 5% reduced rate, applicants have previously had to either be:
Aged over 60
Receiving certain benefits
Applying for products where the total cost (not including VAT) is not over 60% of the cost of the installation
However, the new measure permanently removes the social policy conditions and the 60% test. Moreover, the list of qualifying ESMs will be expanded to include wind and water turbines, which had previously been made outside of the scope of VAT.
What Else Was Announced?
The Spring Statement, known as the 'mini-budget', is normally an opportunity to update the UK on the health of the economy and announce progress made since the October Budget and Spending Review.
But current circumstances led to pressure on the government to take action to help homeowners, amid spiralling energy price rises and the surging cost of living.
To tackle these concerns, some of the key measures Mr Sunak announced included:
A 5p cut to fuel duty - this will come into force at 18:00 on Wednesday and last until March 2023
The government's household support fund - money for councils to support vulnerable households - will be doubled to £1bn from April
National Insurance thresholds will increase by £3,000 to £12,570 - the Institute for Fiscal Studies says this will compensate 70% of workers who will be hit by the 1.25% hike in national insurance contributions beginning next week.
Jack has worked in journalism for 11 years and is the News Editor for Homebuilding & Renovating, a role he has had since 2019. He strives to break the most relevant and beneficial stories for self builders, extenders and renovators, including the latest news on the construction materials shortage and hydrogen heating. In 2021 he appeared on BBC's The World at One to discuss the government's planning reforms.
He enjoys testing new tools and gadgets, and having bought his first home in 2013, he has renovated every room and recently finished a garden renovation.
Homebuilding & Renovating Newsletter
Get the latest news, reviews and product advice straight to your inbox.
Thank you for signing up to Homebuilding. You will receive a verification email shortly.
There was a problem. Please refresh the page and try again.