These 5 Homeowner Planning Mistakes Reveal What Not to Do!
By Jack Woodfield published
Attention to detail is key to successfully applying for planning, but these mistakes highlight how not understanding or following the rules can lead to an enforcement order or worse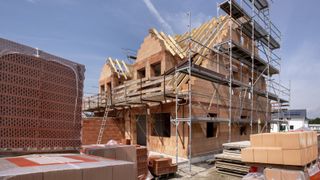 (Image credit: Getty Images)
Applying for planning permission can be a tricky business, and without knowledge of the planning system it can be easy to make mistakes — although not all of us will have been threatened with prison time as a result.
Some of the mistakes outlined below made when applying for planning permission (or, in some cases, not applying for planning) led to fines, consistent court appearances and even knocking down entire buildings.
While some, unfortunately, inadvertently fell foul of the planning rules, others found creative ways to flout them. Here's what you can learn before embarking on your project.
1. Don't Include a Shower in a Garden 'Games Room'
A couple in Aintree, Liverpool, had hoped to build a single-storey detached outbuilding in the garden of their home in 2021. They applied for a Lawful Development Certificate; they believed planning permission would not be required because the building fell under Permitted Development (PD) rights, on the grounds that it was designed as a games building, and not for living purposes.
But planning officers at Sefton Council were left confused when they saw the new plans included a shower, and were not convinced the development would be "incidental to enjoyment" and not for living purposes.
After officers refused the initial request in June 2021, the plans were taken to appeal in January 2022. Refusing the appeal, the planning inspectorate added: "The building appears to be laid out to function separately to the main dwelling, with its own bin storage, garden area, parking and access. The layout of the building, its size and orientation away from the main dwelling and the inclusion of a bathroom suggests the building would not be used for purposes which are incidental to the enjoyment of the dwellinghouse.
"Although there may be instances where a shower is reasonably required as part of an incidental use, snooker, in my view, is unlikely to generate the need to shower."
2. Don't Hide Your Build (Behind Hay Bales) From Your Local Council
Robert Fidler spent seven years, between 1999-2006, building a mock Tudor castle at his plot in the Surrey greenbelt. The four-bedroom property included a kitchen, living room, study, gravelled forecourt and a conservatory.
The only problem was that Mr Fidler had built the castle behind large hay bales and hadn't applied for planning consent. So when the hay bales were removed in 2006, revealing his castle, it didn't sit well with Reigate and Banstead Borough Council who served Mr Fidler with an enforcement notice in 2007.
A decade of legal battles followed. Mr Fidler claimed the property was legal because it had existed for four years (albeit hidden behind the hay bales) and therefore complied with planning law. But he ultimately lost a High Court fight in 2015 which required him to demolish the house — he did so in 2016.
3. Don't Start Work Before Planning Permission is Granted
Steve Ogier had applied to build a one-storey eco home on his Guernsey plot in 2017, but this was rejected by Guerney's Department and Planning Authority, due to the site being located in an area where new housing was no longer allowed.
But Mr Ogier had already begun construction, and in response he ruled himself to be king of a self-declared independent state, called Everland (named after his daughter, Evelyn). He argued that authorities had no right to stop construction because he had the power to grant planning permission himself.
A protracted 30-month trial ended in March 2021 when Mr Ogier was convicted of five planning offences and sentenced to 120 hours of community service at Guernsey's Royal Court.
4. Don't Make Any Assumptions
A Lincolnshire couple spent roughly £3,000 in January 2021 developing a vegetable patch on a small parcel of land adjacent to their property, having confirmed the land was part of their property through Land Registry records.
However, they did not realise that they had to apply for planning permission for a change the use for what South Kesteven District Council described as an 'informal open space', which the public should have had free access to.
The couple were told earlier this month they needed to pay £462 for planning permission or face enforcement action.
5. Don't Ignore the Council
A Gloucestershire accountant who built a 'leisure centre' in his back garden in 2014, equipped with a bowling alley, cinema, squash courts and private casino, didn't apply for planning permission.
Graham Wildin maintained this stance since 2013, when the council Forest of Dean District Council first warned him that he would require planning consent, and he proceeded to ignore the council's correspondence.
Then in November 2018, when the council obtained an injunction against Mr Wildin, he was given 18 months to demolish the building. But Mr Wildin still hadn't begun to demolish the site in early 2020, and was instead building a room for a swimming pool next to the leisure building.
Mr Wildin was given a suspended six-week jail sentence in November 2021, on the condition that he strip the interior of the building along with disconnecting electricity and water supplies within 18 weeks.
Jack has worked in journalism for 11 years and is the News Editor for Homebuilding & Renovating, a role he has had since 2019. He strives to break the most relevant and beneficial stories for self builders, extenders and renovators, including the latest news on the construction materials shortage and hydrogen heating. In 2021 he appeared on BBC's The World at One to discuss the government's planning reforms.
He enjoys testing new tools and gadgets, and having bought his first home in 2013, he has renovated every room and recently finished a garden renovation.
Homebuilding & Renovating Newsletter
Get the latest news, reviews and product advice straight to your inbox.
Thank you for signing up to Homebuilding. You will receive a verification email shortly.
There was a problem. Please refresh the page and try again.