Man Who Breached Planning Laws Faces Two Years in Jail
By Jack Woodfield published
Steve Ogier claims he is the king of a sovereign state, and has the power to grant himself planning permission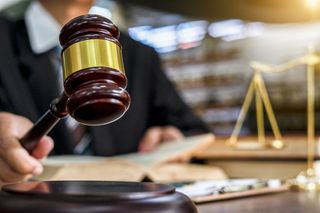 (Image credit: Getty Images)
A man who breached planning laws faces two years in jail following a failed bid to declare himself the king of his "sovereign" plot of land.
Steve Ogier, 48, has been convicted of five planning offences and will be sentenced in March, until which time he has been bailed unconditionally.
The ruling follows a long-running standoff with Gurnsey planners. Having bought the 150ft by 50ft plot in Castle, Guernsey in 2011, Mr Ogier had an application for planning permission to build a one-storey eco-home refused in 2017.
In response, Mr Ogier ruled himself to be king of a self-declared independent state, called Everland (named after his daughter, Evelyn, 8). He argued that authorities had no right to stop construction because he had the power to grant planning permission himself. His appeal at the channel island's Royal Court was unsuccessful.
Earlier this month, having failed to return the land to its previous condition, and failing to move hundreds of tonnes of soil, demolish a dry wall, remove a shed and vehicles, and to stop using nearby land for storage, Mr Ogier was found guilty of not complying with these five notices.
The maximum penalty is two years in prison or an unlimited fine. Mr Ogier plans to take his case to the European Court of Human Rights in Strasbourg.
(MORE: Do you need planning permission for sheds?)
Why Mr Ogier Was Denied Planning Permission
Mr Ogier was rejected planning permission because the site is located in an area where new housing development is not allowed.
When Mr Ogier took his appeal to the Royal Court, claiming the land was in fact a country, it was rejected by the court which said it had no population. His riposte was that Everland did in fact have a populous - specifically, its worms and insects, plus his daughter. The court again rejected the appeal.
While Mr Ogier has admitted his case is "comical", he told the Guernsey Press in 2018 that it "could have very serious consequences".
Guerney's Department and Planning Authority applied for an injunction to prevent Mr Ogier carrying out work on the land. But having already begun work on the site, Mr Ogier said he would only abide by the compliance notices providing it could be proved that the land came under Guernsey law, and claimed no-one had been able to do that.
He accepted not complying with the notices, but refused to enter pleas claiming the notices were void. Deputy Bailiff Jessica Roland said this month that the court would take that as being not guilty pleas to all five matters.
Mr Ogier has promised to halt any work on the house until he can prove Everland is an independent country.
Planning Permission: Plan Ahead
This case highlights the risks posed when you undergo a self build, extension, renovation or home improvement project without planning permission, and the sanctions that can be imposed.
There are a number of reasons why a build design may get rejected, and it's in a homeowner's interest to prepare for your build to get approved as thoroughly as possible,
Should you get rejected planning permission, remember that it doesn't have to be a death knell for your project. The council may suggest changes that need to occur in order for it to be approved, and you can subsequently apply again.
If no changes are suggested in a council's rejection, the matter can be taken to appeal, where, around 40% of householder applications that are refused are later granted.
In 2020 it was revealed that 40 retrospective planning applications are made each day, and the majority are approved. It's far from ideal to begin building if you require planning permission, but if your project would have been granted approval when it was built, then it should be granted approval retrospectively.
UPDATE: On 15 March 2021, Mr Ogier was sentenced to 120 hours of community service at Guernsey's Royal Court.
Jack has worked in journalism for 11 years and is the News Editor for Homebuilding & Renovating, a role he has had since 2019. He strives to break the most relevant and beneficial stories for self builders, extenders and renovators, including the latest news on the construction materials shortage and hydrogen heating. In 2021 he appeared on BBC's The World at One to discuss the government's planning reforms.
He enjoys testing new tools and gadgets, and having bought his first home in 2013, he has renovated every room and recently finished a garden renovation.
Homebuilding & Renovating Newsletter
Get the latest news, reviews and product advice straight to your inbox.
Thank you for signing up to Homebuilding. You will receive a verification email shortly.
There was a problem. Please refresh the page and try again.