The Grand Designs home with an infrared heating system to save on energy bills
The home has floating pods supported by steel beams and timber cladded walls to offer a truly unique self build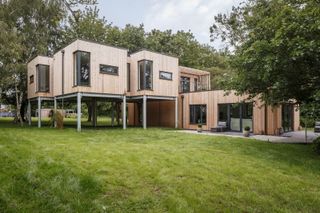 (Image credit: Channel 4)
This unique Grand Designs home nestled in the midst of a forest uses floating pods to blend into its environment and uses infrared heating to sustainably heat its home.
Danny Fenwick, a deputy principal of a vocational college in Lincolnshire, decided to take on his own self build project after selling his bungalow, and hoped to complete the build within a year after starting it in January 2022.
Despite going over time and over budget, he finally crafted his ideal eco-friendly home for his partner and three children, and we take a look at this home's innovative features.
Infrared heating used throughout the home
The heating for this amazing self build is supplied by an infrared heating system that works by heating up objects in the room rather than the air in it.
Infrared sheets, composed of thin foil, are affixed between the ceiling joists beneath the insulated roof.
This installation method was both swift and and offers a cost-effective system without the need for pipework, unlike traditional heating systems. The absence of radiators also contributes to a minimalist aesthetics of the house.
During the episode of Grand Designs that featured the home, Kevin McCloud said: "Because the heating is hidden in the ceiling there are no annoying radiators to distract you from the mesmerising views."
The home has further eco-credentials with freestanding solar panels and rain chain water drains, which collect water from the guttering.
Floating timber-cladded pods supported by steel beams
Floating pods make up this self build's upstairs rooms with a timber cladded structure supported by steel beams.
The steel beams allow for a walkway underneath the floating pods with LED lights installed to brighten up any dark areas. "I splashed out on them, but I got a good deal," Danny commented.
Transitioning from steel struts to an almost watertight shell, the entire build process took nearly two months, but did come in at £10,000 over budget. Although, the timber-frame and roof were erected in just 11 days.
To cut costs, friends and family handled insulation installation and prepared the exterior for the heat-treated timber cladding, but this ended up costing £15k more than Danny had anticipated. In an effort to save more money, Danny took on the decking job himself.
All-in-all the home took over two years to be completed. Commenting on the finished build, Kevin McCloud said: "This is a world away from the low-lying bungalow where Danny used to live."
Image 1 of 4
Views 'profoundly alter this modest home'
The home offers incredible views from its higher and lower levels.
The lower level features an open-plan living, kitchen, and dining area, accompanied by a utility room and WC. A friend of Danny's completed nearly the entire interior, including the well-equipped kitchen, for a cost of £26,000.
Additionally, the house stands out with a deck that extends over the pond, that is also supported by a steel frame.
Kevin said: "The views out profoundly alter this modest home, rectangular portholes tease you forward towards the main act, the large deck and the pond."
Image 1 of 4
The stairs lead up to the treetop pods that house Danny's two children's bedrooms and a main bedroom with en suite that leads out onto a balcony overlooking a living roof.
There is a glazed corridor connecting the pods that overlook the treetops on steel stilts that provides even more amazing views of the surrounding forestry.
Although making numerous savings on the build Danny found himself going £75,000 over budget with the final cost amounting to around £375,000.
Image 1 of 4
Get the Homebuilding & Renovating Newsletter
Bring your dream home to life with expert advice, how-to guides and design inspiration, direct to your inbox.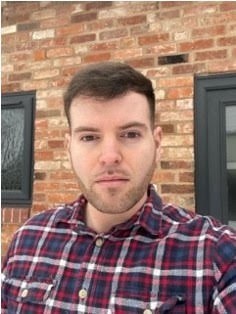 News Editor Joseph has previously written for Today's Media and Chambers & Partners, focusing on news for conveyancers and industry professionals. Joseph has just started his own self build project, building his own home on his family's farm with planning permission for a timber frame, three-bedroom house in a one-acre field. The foundation work has already begun and he hopes to have the home built in the next year. Prior to this he renovated his family's home as well as doing several DIY projects, including installing a shower, building sheds, and livestock fences and shelters for the farm's animals. Outside of homebuilding, Joseph loves rugby and has written for Rugby World, the world's largest rugby magazine.