Why is Sarah Beeny's House Being Constructed with ICF?
As Sarah Beeny's house in New Life in the Country progresses, we examine her choice of building method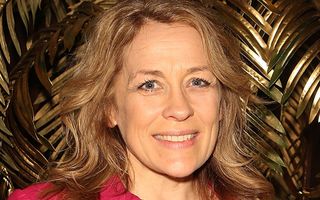 (Image credit: David M. Benett/Dave Benett/Getty Images)
Sarah Beeny's house, which features on Channel 4's New Life in the Country, is being constructed using an on-site building method called Insulated Concrete Formwork (ICF), which can be particularly appealing to self builders or those building an extension. So what is ICF? And why is it Sarah's construction method of choice?
If you haven't yet seen New Life in the Country, the show follows Sarah and her husband Graham Swift as they renovate a run-down former dairy farm in Somerset, surrounded by 220 acres of rolling views.
A key part of the work they are embarking on includes knocking down the existing farmhouse and building a carbon-neutral stately home (constructed with ICF) on a different area of the farm.
Sarah Beeny's House Challenges
The obstacles have been steep though. After weeks of uncertainty, Sarah and husband Graham finally secured planning permission in Episode 3 (more on this below), but this caused a dent in their timeframe which meant the earliest they could start building foundations was in mid-winter — when the ground was water-logged.
During Episode 6, Sarah was finally making progress on the build. Due to the speedy construction time with ICF, she and Graham had nearly completed the construction of the ground floor walls just three weeks after the foundations were laid. Coronavirus led to the site shutting down shortly after, but hopes remained high that the build would continue when safe to do so.
What is ICF?
Homes built with ICF consist of insulated hollow polystyrene blocks or panels which are filled in with concrete. Steel reinforcement is then introduced into the walls to provide long-term stability.
With Sarah and Graham project managing their build site, ICF is a good option because there are fewer components. The only elements made in a factory are the insulation moulds, which are erected on site and then used as formwork that the concrete is poured into.
(MORE: How to choose a construction system)
Pros and Cons of Building With ICF
Pros
ICF is a very most energy-efficient building system, which suits Sarah and Graham's ambition to embrace living healthily in the country. We have already seen the couple dig a pond and plant one thousand trees on their land.
ICF homes are energy efficient because they require less energy to heat and cool, and they absorb temperature swings. The materials used result in strong homes which have a reduced impact on the environment, and this can lead to lower energy bills.
Additional benefits of building with ICF include:
High levels of airtightness and insulation
Formwork is readily available; shortages will not impact on progress on site
It provides a relatively quick build, which does not require crane hire.
Cons
Building with ICF can be more expensive. The blocks and ready mix concrete can cost more than conventional masonry, and it can be expensive to add certain claddings such as brickwork.
You can expect your blockwork to cost around £40/m2, but this includes insulation. And importantly, there are still savings to be made when building with ICF.
Reduced labour costs can help you recoup some of the blockwork fees, and you can avoid paying contractor fees if you project manage the build yourself. And of course, because your home will be energy efficient, you can end up paying less for your heating.
How Sarah Beeny Obtained Planning Permission
Sarah and Graham had to contend with months of uncertainty as to whether they would even be allowed to build the house. This is because they planned to demolish and replace a dated 1970s farmhouse, and rebuild a new home on another part of the site - on land which was designated greenfield land. As such, planning rules are stricter.
In order for Sarah and Graham to replace an existing dwelling in the Somerset countryside, it needed to meet the following South Somerset District Council conditions:
A) The scale of the replacement will not result in an unacceptably large increase in the height or size of the original dwelling
B) The development will be compatible with and sympathetic in scale, design, materials, layout and siting to the character and setting of adjoining buildings, and to the landscape character of the location
C) The replacement will be on a one for one basis and evidence will be provided that the use of the existing dwelling has not been abandoned.
Meeting the Council's Criteria
In regards to point A, the council had to consider that prior permission had been granted in 2009 for the erection of a dwelling to replace the original farmhouse, and for a large agricultural building elsewhere on the agricultural holding, where Sarah and Graham had planned to build.
Six years on, an application to revise the siting of this dwelling was approved, and the principle of a replacement dwelling in close proximity to the existing farmhouse was established. Luckily for Sarah and Graham, the proposed size of their new farmhouse was considered acceptable when compared to the proposed size in the extant permission.
Regarding point B, the council assessed the application against paragraph 79 of the National Planning Policy Framework (NPFF), which enables self build designs of outstanding design to be built in the countryside.
Obtaining planning under paragraph 79 is extremely challenging, but Sarah and Graham's design passed because it was ruled to be of exceptional quality. Specifically, the council said the new farmhouse "would significantly enhance its immediate setting, and be sensitive to the defining characteristics of the local area".
And regarding point C, because Sarah and her family were living in the original farmhouse, the council proposed that the applicants file a Section 106 agreement to rescind the 2009 permission and ensure the demolition of the existing dwelling within three months from occupation of the new farmhouse.
The council ruled that the size, scale, design and materials used to build the proposed dwelling would cause no demonstrable harm to the setting of any designated heritage asset, and would cause no significant or demonstrable adverse impact on the general character and appearance of the area.
Sarah Beeny's New Life in the Country is on Wednesday nights on Channel 4 and available to watch on channel4.com
Jack is News Editor of Homebuilding & Renovating and strives to break the most relevant and beneficial stories for self builders and renovators. Having bought his first home in 2013, he and his wife have renovated almost every room and recently finished a garden renovation. Jack reports on all of the latest news that could affect your project.
Homebuilding & Renovating Newsletter
Get the latest news, reviews and product advice straight to your inbox.
Thank you for signing up to Homebuilding. You will receive a verification email shortly.
There was a problem. Please refresh the page and try again.