Right to Build Day Study Reveals One in Three People Interested in Building Their Own Home
By Jack Woodfield published
On Right to Build Day, councils must evidence they have permissioned enough plots for aspiring self builders to build their own home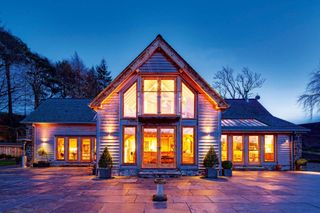 (Image credit: Nikilesh Havel)
A new report to mark Right to Build Day has revealed that one in three people in England are now interested in building their own home.
Right to Build Day (30 October) is an annual date in which councils in England must demonstrate that they have matched numbers on their Right to Build registers, which evidence how many people want to self build or custom build their own home.
Local authorities will now have to evidence that sufficient permissions for plots have been granted to cover demand between 31 October 2016 and 30 October 2017, which NaCSBA says should equate to 15,000 permissioned plots.
The National Custom and Self Build Association (NaCSBA) will be sending a Freedom of Information request to all English authorities to track their activity, and will report its findings in early 2021.
(MORE: Right to Build laws to be reviewed)
Right to Build Day Study Reveals Self Build Aspirations
To commemorate Right to Build Day, NaCSBA and the Building Society Association (BSA) investigated the self build intentions of people in the UK, and the effect of Covid-19 on people's perception of their home*.
A total of 32% said they were interested in designing and building their own home, while 9% of people said they were likely to build their own home at some point in the future. However, only 5% of all the new homes built each year are built through custom and self build, highlighting the need for greater awareness of the Right to Build registers.
When asked about the main benefits of self build, 74% said it was the ability to design a home which held the most appeal, while 50% said it was the ability to create a home that can adapt to meet current and future needs.
Notably, it was 18-24-year-olds who were most interested in self build, which NaCSBA says marks a disconnect due to younger people generally having fewer savings and less earning potential.
Perhaps unsurprisingly, financing a self build was considered to be the most significant limiting factor, with 59% of respondents saying this was their biggest barrier.
(MORE: Self Build Mortgages)
Paul Broadhead, head of mortgages and housing at the BSA said: "It's great to see that there are so many aspiring self and customs builders, particularly among the youngest generation. Increased levels of home working this year have led many to realise the importance of future proofing their homes to suit their individual needs."
Covid Affected Our Home Requirements
The pandemic has changed the way many of us view our homes, which was reflected by one in three (31%) respondents confirming they made home improvements to their living space, while 5% considered going on to design and build their own home as a response to the crisis.
Yet, despite the need for change, the NaCSBA survey found that only 17% had heard of the Right to Build registers. Andrew Baddeley-Chappell, CEO of NaCSBA, says this lack of awareness needs addressing so people have a wider range of options for the home they want to live in.
Baddeley-Chappell said: "The current lack of choice in our new homes market makes it different from every other country and every other consumer market. Only when there is diversity of choice will we get the diversity of homes that we want and need."
*The study of 2,017 adults between 9-11 October 2020 was conducted by YouGov and commissioned by NaCSBA and the Building Societies Association.
Jack has worked in journalism for 11 years and is the News Editor for Homebuilding & Renovating, a role he has had since 2019. He strives to break the most relevant and beneficial stories for self builders, extenders and renovators, including the latest news on the construction materials shortage and hydrogen heating. In 2021 he appeared on BBC's The World at One to discuss the government's planning reforms.
He enjoys testing new tools and gadgets, and having bought his first home in 2013, he has renovated every room and recently finished a garden renovation.
Homebuilding & Renovating Newsletter
Get the latest news, reviews and product advice straight to your inbox.
Thank you for signing up to Homebuilding. You will receive a verification email shortly.
There was a problem. Please refresh the page and try again.