Low Carbon Homes Project Which Won Home of 2030 Has Custom Build Mission
By Jack Woodfield published
Low carbon homes are a key benefit of custom build, but awareness is sparse in the UK, developers say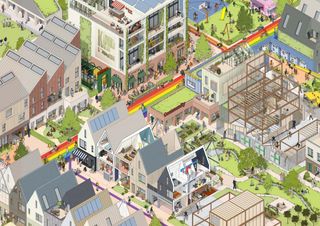 (Image credit: igloo Regeneration)
The custom build developers of a low carbon homes project that jointly won Home of 2030 say there is a complete lack of awareness of custom build in the UK.
Development designers igloo Regeneration jointly triumphed in the Home of 2030 competition in December with +Home, a custom build project in which all building materials are low in carbon.
Now, igloo's mission is for there to be greater acknowledgement of the benefits of custom build, which include building with environmentally-friendly materials, to help more people live in their dream home.
(MORE: 11 stylish Passivhaus designs)
Chris Brown, director of igloo, told Homebuilding & Renovating: "There is a complete lack of awareness of custom build. This goes all the way through government too, not knowing the difference between people who build their own homes, and homes being built at scale to the design that an individual customer wants.
"That's our focus. Education of customers is the big missing piece, but of course there's not much capacity to enable custom build for people, it's still a very small segment of the market. And there's no demand because customers aren't aware of it."
Award-Winning Low Carbon Homes
igloo says +Home sets out to transform the UK housing sector, enabling community-led and self build homes that people can design themselves. And it hopes that +Home will resonate with aspiring homebuilders who may not be aware that custom build could be their build route of choice.
The +Home entry was announced as one of six finalists in August before being crowned the joint winner in December with Open Studio by housing minister Christopher Pincher.
The project proposes a platform to connect small developers and self builders with supply chains so design is collaborative, and materials can be selected with embodied carbon calculated in the design.
Homes can be built from low-carbon materials such as straw walls or green roofs, and feature communal gardens designed to increase social interaction. The homes would be simple to build with affordable frames and components, and would be climate friendly to run.
What's Next?
igloo is now planning to build +Home, along with all five shortlisted schemes at the month-long Future Living Expo in Sunderland, which will promote low-carbon smart homes as well as wellbeing and community.
In this instance, the +Home vision will not be developed as a custom build project, but igloo hopes that by providing guests the opportunity to touch, feel and experience the homes, people will be inspired to embrace the benefits that custom build can offer
"On a wider scale, custom build really needs a big educational push," added Brown. "In Finland, 98% know about Housing Fair Finland, and half the population have been to one. The focus of those fairs is very much custom build. That's a powerful part of the education princess.
"It will be important for us to move from building these Homes of 2030, and turn the expo into a regular event. It won't be in Sunderland every year, it will move around the country, and if we can get a housing fair going regularly, then there's a reasonable chance that this will become a way that the public can see is a better way, and industry will respond to the demand that's created."
Jack has worked in journalism for 11 years and is the News Editor for Homebuilding & Renovating, a role he has had since 2019. He strives to break the most relevant and beneficial stories for self builders, extenders and renovators, including the latest news on the construction materials shortage and hydrogen heating. In 2021 he appeared on BBC's The World at One to discuss the government's planning reforms.
He enjoys testing new tools and gadgets, and having bought his first home in 2013, he has renovated every room and recently finished a garden renovation.
Homebuilding & Renovating Newsletter
Get the latest news, reviews and product advice straight to your inbox.
Thank you for signing up to Homebuilding. You will receive a verification email shortly.
There was a problem. Please refresh the page and try again.