Led Zeppelin bassist's former Rectory home on sale for nearly £10million
The Old Rectory was rebuilt after a fire in the 1970s and has since had famous owners such as John Paul Jones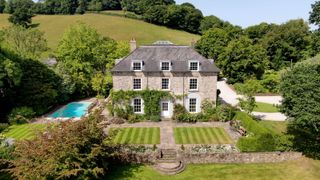 (Image credit: Knight Frank)
A jaw-dropping eight-bed manor house once owned by not one, but two legendary rockers has gone on sale for nearly £10million.
The original Old Rectory, sited in Dittisham, Dartmouth, Devon, dates from 1760 but was gutted by a blaze in the 1970s, but rebuilt.
The listed building boasts a swimming pool, a separate cottage, and a boat house on the River Dart.
Country manor with a pool and its own boat house
Image 1 of 4
It also has French windows, 5.75 acres of land, and outstanding views of the river Dart and surrounding countryside — worth a look for those considering their home renovation ideas.
The listing on Knight Frank states: "The gardens and grounds are beautifully planted and maintained to create a magnificent private setting for the property, consisting of well landscaped formal gardens, shrubberies and woodland flowing down to its own foreshore.
"Within the grounds there are additional outbuildings including a charming Stable Cottage, former Sunday School, garage block and located on the waterfront, a Boathouse recently refurbished and extended with great entertaining space."
Home renovated after fire damaged it in 1970s
Image 1 of 6
The original Georgian building was ravaged by fire in the 1970s, leaving nothing but a 50 square foot shell and a porch.
However, the site was renovated and ready for habitation by the early 1980s.
The description adds: "This is an increasingly rare opportunity to acquire an elegant and spacious period residence set in delightful grounds commanding outstanding river views and access to the water."
House with famous guests and owners
The Old Rectory was owned by Led Zeppelin bassist John Paul Jones in the early 1980s and housed Michael Berrow, manager of Duran Duran, for much of the 1990s.
The property was last on sale in 2007, and was reportedly viewed by Hollywood star Kate Winslet. In 2007, Michael Berrow's wife Frances told the Telegraph: "I knew if I showed it to Michael we'd leave London."
Led Zeppelin's John Paul Jones, who lived there in the early 1980s, used to rehearse in the old Sunday School.
The Berrows ended up restoring the property, adding skylights, traditional skirting boards and French windows.
The home is listed for sale with Knight Frank for £9,750,000.
Get the Homebuilding & Renovating Newsletter
Bring your dream home to life with expert advice, how-to guides and design inspiration, direct to your inbox.
Sam is based in Coventry and has been a news reporter for nearly 20 years. His work has featured in the Mirror, The Sun, MailOnline, the Independent, and news outlets throughout the world. As a copywriter, he has written for clients as diverse as Saint-Gobain, Michelin, Halfords Autocentre, Great British Heating, and Irwin Industrial Tools. During the pandemic, he converted a van into a mini-camper and is currently planning to convert his shed into an office and Star Wars shrine.