Insulation News: Vouchers up to £5,000 to be Issued in England, Government to Confirm
By Jack Woodfield published
Chancellor Rishi Sunak will unveil the Green Homes Grant scheme on Wednesday, which will pay two-thirds towards energy efficient home improvements such as home insulation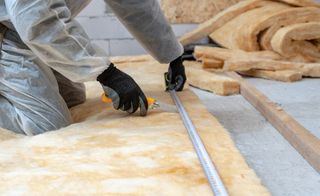 (Image credit: getty images)
Homeowners across England are set to receive vouchers of up to £5,000 as part of the Green Homes Grant scheme, to make energy-saving home improvements such as installing insulation, chancellor Rishi Sunak is expected to announce on Wednesday.
The Green Homes Grant scheme will provide £2bn for projects such as ensuring houses are properly insulated. This is part of a wider £3bn plan to cut carbon emissions.
Under the scheme, the government will pay at least two-thirds of the cost of home improvements that save energy, up to £5,000. For example, if you were to have a new, more energy-efficient boiler installed for around £2,000, then the government would contribute around £1,333 and the homeowner would pay around £666.
Homeowners will be able to spend these vouchers on loft and floor insulation, new, more efficient boilers, heat pumps, energy-efficient lighting, and double or triple glazed windows.
The Treasury claims that utilising these vouchers could save families up to £600 a year on energy bills.
Business Secretary Alok Sharma confirmed this morning while speaking to BBC Breakfast that the poorest households will be eligible to receive up to £10,000 towards these improvements. And these poorest homeowners will not have to contribute anything to the cost.
Mr Sunak will make the announcement on Wednesday as part of his economic update amid the coronavirus pandemic, where he is also expected to unveil proposals for a stamp duty holiday.
Insulation Improvements: How Will The Vouchers Work?
The scheme is expected to launch in September. In order to obtain a voucher, homeowners will have to make an online application for recommended energy efficiency measures, with details forwarded to accredited local suppliers.
Once one of the suppliers has issued a quote, and the requested work has been approved, then the government will issue the voucher.
Are the Vouchers Enough?
News of the Green Homes Grant scheme has been welcomed by business groups and industry leaders alike.
Brian Berry, chief executive of the Federation of Master Builders (FMB), said: "This is very good news, signalling both an important step towards building back better and greener, and a vote of confidence for local builders up and down the country.
We welcome the Government's investment in a #Green Homes Grant announced this morning. FMB has been campaigning for a #greenrecovery with #local #builders at its heart, as this will stimulate local growth and create new jobs.#BuildBackBetter https://t.co/3cgKQgHw7NJuly 7, 2020
And Berry's sentiments were echoed by Mike Cherry, chairman of the Federation of Small Businesses, who said: "This will offer a much-needed boost to tradespeople and others whose livelihoods were affected by the pandemic by creating green jobs, while at the same time improving energy efficiency."
However, there are concerns that the vouchers might not be enough. External wall insulation on a three-bedroom house is likely to cost in the region of £10,000, while a larger detached home will cost £8,000-£15,000. Vouchers up to the value of £5,000 will not cover two-thirds of the costs in these instances.
Moreover, industry experts fear the scheme could yet exacerbate the problems facing households if the work is not undertaken correctly. Architect Paul Testa from Paul Testa Architecture and contributor to Homebuilding & Renovating magazine, suggestions that the vouchers could lock homeowners into poor energy performance for years to come.
Testa said: "The scheme is going to be great for really poor households, who will be able to get a boiler replacement or cheap double glazing, and this will provide immediate relief. But all this will do is lock in poor performance for longer.
"For example, if you have a house with a decent gas fire boiler, then just replacing this and adding some new radiators will not save much on your energy efficiency. It's forcing people to go down the cheapest route. With regards to insulation, you might find that the minimal amount of insulation will be added, and this could tie homeowners into this poor performance for decades. It disincentives the deepest retrofits being made."
David Hilton, director of Heat and Energy Ltd and contributor to Homebuilding & Renovating, agrees that while the scheme could prove significant for some households, it could yet prove problematic.
"I welcome the move and anything that supports homeowners to make their homes energy efficient is of course a good thing," said Hilton. "However, knee-jerk reactions can be problematic, and these vouchers might not have a lasting effect if the scheme is not rolled out properly.
"For example, I've seen problems with poorly fitted insulation. If you therefore use these vouchers to install internal insulation but you do not fix external problems, then it will not have a lasting effect. And who will ensure this is done properly?
"For this reason, a VAT reduction or tax relief on retrofit would be more inclusive and help to tackle the real issue."
Pressure Mounting to Cut VAT on Retrofits
The government has long been pressured to cut VAT on retrofits, which campaigners say could have several benefits, including supporting the UK's economic recovery following the Covid-19 pandemic, and help the government meet its net zero carbon emissions target in 2050.
Green Alliance, the FMB and the Royal Institute of Chartered of Surveyors have all campaigned in recent months for the government to cut this tax, to a maximum limit of no more than 10%.
Last month, The Sunday Times reported that Mr Sunak was considering temporarily cutting VAT to 17% to ease pressure on the economy, but it is unclear whether these cuts will extend to construction and retrofitting buildings.
Jack has worked in journalism for 11 years and is the News Editor for Homebuilding & Renovating, a role he has had since 2019. He strives to break the most relevant and beneficial stories for self builders, extenders and renovators, including the latest news on the construction materials shortage and hydrogen heating. In 2021 he appeared on BBC's The World at One to discuss the government's planning reforms.
He enjoys testing new tools and gadgets, and having bought his first home in 2013, he has renovated every room and recently finished a garden renovation.
Homebuilding & Renovating Newsletter
Get the latest news, reviews and product advice straight to your inbox.
Thank you for signing up to Homebuilding. You will receive a verification email shortly.
There was a problem. Please refresh the page and try again.