Hydrogen Boiler Technology Requires Government Backing, Says Heating Specialists
Baxi Heating says the speed of the rollout of hydrogen boilers hangs upon a signal of intent from the government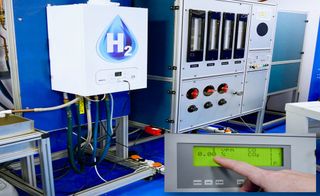 (Image credit: Baxi)
The government should commit £1bn to hydrogen boiler technology in the next spending review to help UK homes prepare to make the transition to hydrogen gas, Baxi Heating says. 
Hydrogen boiler technology is widely considered by industry experts to represent the future of smart heating, because the main by-product of burning hydrogen gas is water.
While gas boilers were omitted from the eligible improvements in the Green Homes Grant, experts regard the rise of hydrogen as a highly efficient fuel to be a primary reason why boilers have a huge role to play in the UK's low-carbon future. 
Baxi Heating has developed a hydrogen boiler prototype which is currently undergoing trials, and can run on 100% hydrogen gas as well as natural gas. This means that transferring to hydrogen gas in the future will be easy for those with a hydrogen-ready boiler because it can convert to hydrogen without the need for an entirely new heating system. 
Now, the next stage towards transferring the prototype is a signal of intent from the government, Baxi says, which will dictate the speed of the rollout. 
(MORE: Hydrogen Boilers Will Transform Our Heating Systems)
Preparing for Hydrogen Boilers
Baxi has already called for the government to mandate that all boilers installed from 2025 onwards are hydrogen-ready, and views the Comprehensive Spending Review (CSR) as an opportunity to commit to this technology. 
There are doubts as to whether the CSR - intended to detail the next four years of expenditure - will go ahead, following the government's postponement of the Autumn Budget last week, but it is widely expected that there will be a review covering a one-year plan instead. 
Jeff House, head of external affairs at Baxi Heating, told Homebuilding & Renovating: "The government's commitment to achieve net zero greenhouse gas emissions by 2050 is no mean task. A shift away from predominantly natural gas-powered heating, in favour of lower carbon technology is therefore vital if the UK is to meet its target.
"We now call on the government to match our commitment with a clear message that hydrogen is one of the key solutions to deliver net zero by committing £1bn towards readying the UK for hydrogen in the upcoming Spending Review.
"Albeit the challenges of COVID-19 have taken a toll on policy development, this year will be critical for policy - in particular the Buildings and Heat Strategy, due to be published October 2020. What is clear, and what we hope to see from future policy, is that a joined-up approach across government will be presented to tackle the ambitious journey to net zero." 
How Baxi's Prototype is Progressing
The next few months could be pivotal for Baxi's hydrogen boiler prototype. Baxi is involved in a project called Hy4Heat, which is focused on the development of domestic hydrogen appliances. As part of the trial, Baxi will aim to demonstrate critical evidence of its hydrogen boiler's capability, safety, in-use emissions and functionality. 
Baxi is also working with the HyDeploy programme, which aims to test the feasibility of blending 20% hydrogen with natural gas. Following the first phase at Keele University, which has over 100 buildings currently taking part in the research project, subsequent public trials will be delivered at other locations. 
"So far, the trial is proving successful and could lead to establishing a much larger deployment of blended hydrogen into the gas grid using existing assets and appliances," House added. 
Homebuilding & Renovating Newsletter
Get the latest news, expert advice and product inspiration straight to your inbox.
Thank you for signing up to Homebuilding. You will receive a verification email shortly.
There was a problem. Please refresh the page and try again.