Everything You Need to Know About The Virtual Homebuilding & Renovating Summer Show
The first Virtual Homebuilding & Renovating Show kicks off next week - here's what's coming up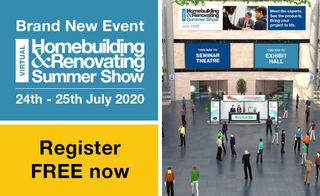 (Image credit: Future)
Homebuilding experts will assemble for the first-ever Virtual Homebuilding & Renovating Summer Show next weekend (24-25 July), with a packed seminar programme and 130 exhibitors to help provide advice to self builders and renovators - all without leaving home. 
Register here for the Virtual Homebuilding & Renovating Summer Show.
What is the Homebuilding & Renovating Summer Show?
The Virtual Homebuilding & Renovating Summer Show is a free online experience akin to the Homebuilding & Renovating Show, which will next be on the road in 2021.
The virtual show is designed for anyone hoping to embark on or in the midst of a building project. So whether you intend to extend your home, take on a renovation, or build your home from scratch, you'll find everything you need to progress with your project.
You'll be able to connect to exhibitors and experts over two days, gaining insight from seminars and masterclasses. The only difference is that this is a 3D virtual event.
There'll also be 130 exhibitors – offering products ranging from heating solutions to advice on self build mortgages – meaning you can make significant progress on your project over the course of two days.
What's on at the Homebuilding & Renovating Summer Show?
Self build and renovation experts will be presenting seminars and masterclasses to provide homebuilding tips and advice — topics include how to find a plot, creating a low energy home, and designing a kitchen.
The expert seminars and masterclasses, and exhibitor displays will be divided across four stages. This is what you'll see virtually at the show:
The Exhibit Hall - where attendees can virtually visit 130 exhibitors to discuss their self build and renovation projects, and see live demos in the virtual halls
The Main Stage - listen to inspiring presentations, from a beginner's guide to building your own home to kitchen and bathroom design talks
The Masterclass Stage - watch in-depth demonstrations and seminars on a range of topics, from heating, interiors and renewable energy
The Expert Advice Panels - listen to our expert panel of planners, architects and self builders help you progress with your project
The Land Hub - discover everything you need to know about finding and buying a building plot in these bite-sized sessions
How Will the Virtual Homebuilding & Renovating Show Work?
You can watch and browse the virtual event on your phone, laptop, desktop or tablet. You will be able to move between exhibitor booths, gathering information for your project, or check in to watch live presentations. 
You will also be able to:
Request call backs and set up meetings with valuable suppliers
Download brochures, guides and information from individual exhibitors
Watch videos from key suppliers and see their products and services in action
What Time Does the Show Start?
The Virtual Homebuilding & Renovating Show will run from 10am - 5pm BST each day on Friday 24 July and Saturday 25 July. 
For more information on accessing the show, read the FAQs.
Will There be More Virtual Shows?
Yes. The Summer Show is the first of three Virtual Homebuilding & Renovating Shows in 2020. The dates of the other two upcoming shows are:
Virtual Homebuilding & Renovating Autumn Show: 25-26 September 2020
Virtual Homebuilding & Renovating Winter Show: 27-28 November 2020
What if I Registered for a Homebuilding & Renovating Show?
If you registered for one of our spring or summer events this year, you'll need to re-register in our virtual portal here and you will be sent a link to the virtual event.  
If you have tickets to a postponed show, you will receive an email stating that your tickets will roll forward to the rescheduled date. 
Homebuilding & Renovating Newsletter
Get the latest news, expert advice and product inspiration straight to your inbox.
Thank you for signing up to Homebuilding. You will receive a verification email shortly.
There was a problem. Please refresh the page and try again.