Homebuilding Reports: Could Woodburners Eventually be Banned?
By Jack Woodfield published
With the discourse over woodburners heating up, we examine whether the heating source has a role in a net zero future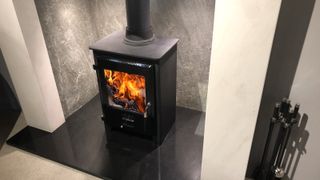 (Image credit: Getty Images)
The hot debate over wood burning stoves has escalated following the publication of a slew of new research papers, which have added fuel to the fire as to whether woodburners are an acceptable heating source in the UK's net zero push.
Homeowners exploring new fireplace ideas may choose woodburners for the crackling heart-warming allure of a log fire, and also to prevent heat escaping up the chimney. Meanwhile some homes, particularly older homes, rely on woodburners as a heat source.
But woodburners' contribution to air pollution is a prominent criticism. Research from the Department for Environment, Food and Rural Affairs (DEFRA) in February revealed that domestic woodburning (from closed stoves and open fires) was responsible for 17% of particulate air pollution in 2021. Although previous DEFRA data had suggested this figure was actually 38%.
Important industry measures such as Ecodesign and a ban on wet wood have been introduced to mitigate the environmental impact of woodburners, but some campaigners argue these measures aren't enough and have called for an outright ban.
With a myriad of research and opinions both for and against the use of woodburners, we take a look at the recent escalation of the discourse and what implications it could have on our homes.
What are the Benefits of Woodburners?
One of the key benefits of woodburners is their efficiency in hard-to-heat homes, such as solid wall properties, in which 45% heat escapes through the walls (according to the Scottish environmental charity Energy Agency).
Because the fire is effectively sealed in the chamber, woodburners are likely to be better than 65% efficient, according to Tim Pullen, sustainable building expert for Homebuilding & Renovating, while an open fire is 30% at best.
Pullen, who has written previously on the eco credentials of burning wood, says that while many woodburning homes users also have central heating, and use woodburners for their aesthetic quality, he adds: "There are also a tiny number of houses in the UK that rely on wood burners as a heat source."
And in rural homes which rely on woodburners for heating, replacing one isn't always easy. David Hilton, director of Heat and Energy Ltd and a contributor to Homebuilding & Renovating, says: "It would mean introducing a new heat source and potentially installing radiators and a full central heating system. The home may not be suitable for technologies such as heat pumps so a lot would need to be considered and the change may not be feasible."
Another significant factor is that while gas, oil and liquefied petroleum gas (LPG) systems might not release emissions directly into the home, they are polluters in their own right.
The UK's gas boilers produce twice as much carbon emissions as all of its gas-fired power stations, according to a 2021 analysis by climate charity Possible. And while an LPG boiler will produce less carbon than an oil boiler, it still produces carbon dioxide when burnt.
Therefore, can hard-to-heat homes which use woodburners to reduce their reliance on these heating sources actually have a positive impact on the environment?
"The hard-to-heat home, especially those in rural areas where oil or LPG would be the only alternative, is the natural home of the wood burner," says Pullen.
"Good quality fuel tends to be available in the locality and be reasonably priced. It will be less damaging to the environment than the alternatives, and being hard to heat it makes sense that the extra fuel needed is wood."
What Are The Cons?
Top Tips for Wood Burners
Using a woodburner properly is vital to lower emissions. Burning dry wood and manufactured solid fuels will produce less smoke and pollution than wet wood, and is more cost-effective to burn. And sweeping your chimney regularly is important for removing any blockages or debris that can put you at risk of a chimney fire.
The main point of contention with woodburners is that when certain types of fuel are burnt, such as wet wood, log burning stoves can emit small, harmful particles of air pollution called fine particulate matter (PM2.5), which can enter the body's lungs and blood.
To address this, new rules on burning wet wood came into effect last year which banned the sale of wet wood with a moisture content over 20%, and a certification scheme was introduced to ensure wood meets this requirement and is 'Ready to Burn'.
Furthermore, the new Ecodesign regulations were implemented at the turn of the year which means that all new stoves need to meet agreed emissions standards.
While these regulations are a step in the right direction, Pullen says problems with older stoves remain. "The requirements of Ecodesign deal with particulate emissions very effectively but they only apply to new stoves; they have no impact on existing stoves," he said.
Hilton adds that introducing regulations is only part of the challenge. "Regulating the supply of wood certainly helps aid cleaner combustion but I am not convinced that it is completely regulatable and it should really be down to the individual to burn responsibly."
How Much Air Pollution Do Woodburners Cause?
This itself is a big debate. The aforementioned DEFRA study warned that woodburners remain a problem for clean air, and they produce more small particle pollution than all road traffic in the UK.
The report also identified that emissions of particulate matter arising from the domestic combustion of wood as a fuel increased by 35% between 2010 and 2020, and accounted for 17% of primary emissions of PM2.5 and 10% of PM10 in 2020 — two of the most deadly types of air pollution.
Simon Birkett, of the campaign group Clean Air in London, said of these findings: "What is staggering is the increase between 2010 and 2020. There's still a really big problem. It's a public health catastrophe, so woodburning stoves need to be banned urgently. The first step should be to stop the sale or installation of them."
Yet a few weeks prior to the DEFRA report, a report commissioned by the Stove Industry Alliance (SIA) revealed that Ecodesign stoves contributed just 2.7% of the emissions from indoor burning, while open fires contributed 39%.
Moreover, between 46% and 51% of PM2.5 was reported to originate from outdoor burning, a significantly higher figure than the 5% estimated in the National Atmospheric Emissions Inventory (NAEI). The findings suggested that bonfires are a major source of PM2.5 emissions, possibly contributing as much as all wood burnt indoors.
Andy Hill, chair of the SIA, said of the report: "For far too long now the finger of blame for poor air quality has been pointed at burning wood for heat inside the home. Indoor wood burning stoves are subject to a range of regulations to ensure that emissions are minimised and efficiency is maximised."
However, such is the quantity of research on the topic, a separate study published in September 2021 by the European Environmental Bureau and Green Transition Denmark found that Ecodesign stoves still emit 750 times more tiny particles than a modern HGV truck.
In response, the SIA said of this research: "The claims are based on simplistic calculations using permitted rates of emission and do not consider either real-world use or non-exhaust emissions. Furthermore, these permitted emission rates rely on vastly differing measurement protocols and techniques. It should also be noted that there are several unreferenced assumptions, and the report does not appear to have been independently peer reviewed."
What is the Future of Woodburners?
In January, Asthma UK and the British Lung Foundation asked people with wood burners only to use them if they have no alternative source of heat. Organisations such as Mums for Lungs and Clean Air in London are vocal opponents too.
In new homes, built to be highly insulated and airtight, woodburners will likely be redundant in the coming years. "If we accept that energy efficiency is of paramount importance in these times of climate change and sky-rocketing fuel costs, then it is difficult to imagine a woodburning stove making a useful contribution to the heating demands," says Pullen.
"A well-insulated house just does not need that amount of heat in one room. If it is the visual impact of living flames that is actually wanted then bioethanol stoves do that without emitting any pollutants."
But in existing homes, especially hard to heat homes, a woodburning stove may still have a place, especially for homeowners who burn good quality fuel and would find it difficult to replace their stove.
Hilton hopes an outright ban isn't the eventual outcome of this debate. "If we ban the log burner then we are on a slippery slope to banning the barbeque. Of course, in densely populated areas or on really cold but windless days the smell of the fire can linger and the fire can then be an antisocial irritation. Common sense and courtesy need to be applied, but not a complete ban."
Jack has worked in journalism for 11 years and is the News Editor for Homebuilding & Renovating, a role he has had since 2019. He strives to break the most relevant and beneficial stories for self builders, extenders and renovators, including the latest news on the construction materials shortage and hydrogen heating. In 2021 he appeared on BBC's The World at One to discuss the government's planning reforms.
He enjoys testing new tools and gadgets, and having bought his first home in 2013, he has renovated every room and recently finished a garden renovation.
Homebuilding & Renovating Newsletter
Get the latest news, reviews and product advice straight to your inbox.
Thank you for signing up to Homebuilding. You will receive a verification email shortly.
There was a problem. Please refresh the page and try again.