Opinion: Burning Wood isn't the Perfect Eco Solution, But What is?
By Tim Pullen published
We've been burning wood to keep our homes warm for millennia, but how sustainable is this practice in an age of climate crisis? asks Tim Pullen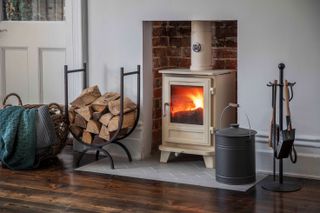 (Image credit: Garden Trading)
A woodburning stove is at the heart of many a fireplace idea wishlist for the home, but using wood as a heating fuel really highlights the importance and complexity of the question: 'Is it green?'.
In terms of sustainability, it arguably scores 10 out of 10; we can always grow more of it. But in terms of global warming, it may only score 3 or 4.
It is argued that burning wood has a net zero CO2 impact, as when it is burnt it only emits the CO2 that the tree absorbed when it was growing. The problem is one of timing. All the CO2 the tree absorbed in the years, the decades, it was growing is released in the few minutes it takes to burn.
In addition, wood fuel, especially wood with a moisture content (MC) over 20%, emits particulates in the smoke when it burns. The Air Quality (Domestic Solid Fuels Standards) (England) Regulations 2020, which came into force in May this year, bans the sale of wood with an MC over 20% and introduces a certification scheme to ensure wood meets this requirement and is hence 'Ready to Burn'.
The scheme also controls manufactured wood fuel products such as briquettes, heat logs and fuel logs with a focus on the sulphur content of their emissions. In addition, all new wood burning appliances must meet the Ecodesign 2022 standard soon, which sets emissions limits for particulate matter, organic gaseous compounds, carbon monoxide, nitrogen oxides, as well as appliance efficiency.
This is hardly onerous, as all the reputable manufacturers have been meeting the requirements set by this standard for years.
Are Woodburning Stoves a Problem?
The problem is that stoves can give out too much heat. Take a room of 5x5m floor area built to current Building Regulations standard; such a room will need around 1.5kW of heat in winter.
Any self-respecting woodburning stove filled with well-dried hardwood logs will usually put out at least 4kW, enough to make this room uncomfortably hot. This sort of overperformance often leads to log burning stoves being used once or twice and then left idle. It's generally in older, less well-insulated homes, possibly with oil-fired boilers, that they play an important role.
Prices vary from £300 for a basic, black steel stove to over £2,000 for a contemporary looking stove sophisticated enough to be used in a smokeless zone (though most new stoves will be Ecodesign 2022 compliant).
That's not factoring in installation costs, which could be significant if a new chimney is needed.
A more practical option for the modern house is a bioethanol fireplace. These give the visual appeal of flame-licked logs, a low heat output and immediate control. Their installed cost can be as little as £500 as they don't need a fireplace, chimney or flue.
Bioethanol is made from the by products of sugar manufacture, so in that sense it is sustainable. However, when it's burnt it emits CO2 (but no particulates) — around 88g/kWh compared to 233g/kWh for natural gas, 331g/kWh for oil and 35g/kWh for logs (figures from SAP 2019).
What About Log Boilers?
Unlike stoves, which heat a single room, woodburning biomass boilers are whole-house solutions, just like a gas or oil boiler. Fuel is ordered and delivered as necessary, then loaded (manually or automatically) into the boiler, which is then left to do its thing. The only other intervention needed is emptying ash, daily for log boilers and maybe twice a year for a pellet boiler.
All the good machines – Windhager, Okofen, Froeling – are Ecodesign 2022 compliant, cost from £10,000 to £25,000 installed, and are likely to last 20 years or more.
So Should we Still be Burning Wood?
Here I must declare an interest: wood has been my sole heating fuel since 2009. I currently have a Windhager wood pellet boiler and a log burning stove, though the latter is used only at Christmas.
I have enough land for a ground source heat pump, but when I made the switch there were none large enough for my situation, and in truth the CO2 issue around wood fuel was not so sharply focused then. Things have now changed and there are at least two heat pumps that would suit.
My wood pellet boiler is easy and cheap to run, reliable and trouble-free — everything I need in a heating system, with CO2 emissions the only downside.
If I were choosing my heating today, maybe I would install a heat pump, run it on electricity from my wind turbine and be truly zero carbon.
But I am where I am, as are we all, and my decision was based on what was available at the time.
Wood is a better option than gas, LPG and oil in every conceivable respect. A bioethanol stove may be better for a new build, but a woodburner fits very nicely in an existing fireplace and wood pellet boilers do well in large, difficult to heat properties. These are not perfect solutions but then, currently, nothing is.
Tim is an expert in sustainable building methods and energy efficiency in residential homes.
Homebuilding & Renovating Newsletter
Get the latest news, reviews and product advice straight to your inbox.
Thank you for signing up to Homebuilding. You will receive a verification email shortly.
There was a problem. Please refresh the page and try again.