An Announcement from Homebuilding & Renovating Magazine
By Claire Lloyd published
We'll continue to keep you inspired, informed and entertained — here's what you need to know about your latest copy of Homebuilding & Renovating magazine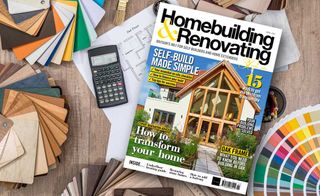 (Image credit: Future)
To say we are living in uncertain times would be an understatement, but I wanted to let you, our valued reader, know that one thing is certain: Homebuilding & Renovating will keep publishing and continue to bring you the same great mix of expert project advice, design ideas and inspiration every month.
Some things, however, will change and I want to make sure you are informed about all the implications of the Coronavirus on your enjoyment of the magazine.
An Update for Subscribers
Many of you will be subscribers to Homebuilding & Renovating magazine and we want to reassure you that we will continue to post your latest issues as normal. But because the situation is evolving every day, we do request that you provide us with your email address by filling out this simple form (opens in new tab), enabling us to communicate with you as quickly as we can in the event of any changes.
Pick Up the Latest Issue Without Leaving Home
Many more of you will pick up Homebuilding & Renovating at a newsagent or supermarket. We appreciate there have been store closures and some of you may prefer not to leave your home at this time, so you may wish to consider ordering the latest issue from our secure online store, MFM, by clicking here (opens in new tab).
If you do intend to order copies directly from us, it would be remiss of us not to point out that a subscription is considerably better value to you in the long run. We currently have some excellent offers on both the print (opens in new tab) and digital (opens in new tab) versions of the magazine.
Business as Usual
I'm sure you can appreciate that we are facing some unprecedented logistical challenges in creating Homebuilding & Renovating right now, but I also want to reassure you that the whole team and our expert contributors are currently in good health and adapting to making the magazine from the comfort of our own (renovated and self-built!) homes.
However, to ensure we are able to do this to the best of our ability, and to simplify our production process at a time when everyone from printers to delivery drivers are under enormous pressure, we have decided to make a very modest reduction to the pagination of the magazine until life returns to normal.
We will endeavour to keep you informed regularly about any changes that relate to your magazine, but I will sign off now by wishing you and your loved ones the very best of health — the whole team and I hope you stay safe and well at this time.
Please do not hesitate to contact us by emailing homebuilding@futurenet.com if we can be of any assistance.
Claire Lloyd
Editor
Homebuilding & Renovating
Thank you so much for supporting the magazine — your passion genuinely inspires us and keeps us going. Let's stick together!
Claire became Editor of Homebuilding & Renovating in 2016 and has been a member of the team for 14 years. An experienced homes journalist, her work has also appeared in titles such as Real Homes and Period Living.
She has a particular interest in green homes, and interior design is a passion too; she has undertaken qualifications in this area.
After finishing a major renovation of a period cottage, she is now onto her next project: overhauling a 1930s property in the Shropshire countryside.
Homebuilding & Renovating Newsletter
Get the latest news, reviews and product advice straight to your inbox.
Thank you for signing up to Homebuilding. You will receive a verification email shortly.
There was a problem. Please refresh the page and try again.