Two-Storey Extensions to be Fast-Tracked Under New Permitted Development Rules From This Week
By Jack Woodfield published
Two-storey extensions will be allowed under Permitted Development rights providing prior approval is granted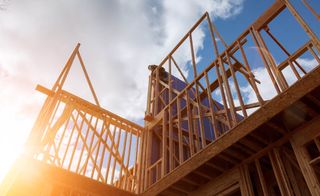 (Image credit: Getty Images)
The extension of Permitted Development rights this week means that homeowners can now extend upwards to add another storey - or two storeys in some cases – to their homes.
The new Permitted Development rights came into effect into Monday 31 August, and applications to extend up will now be fast-tracked through the planning process.
This is positive news for homeowners looking to extend up, providing more space for growing families, or to accommodate relatives, without having to move house. But the regulations have received criticism for the potentially detrimental aesthetic impact extending upwards may cause.
The extension of the Permitted Development rights was announced in July, and it was subsequently confirmed in the government's summer planning reforms that prior approval will be required for two storey upwards extensions to be fast-tracked through the planning process.
As part of the rights changes, developers will be given the right to demolish commercial and residential buildings and rebuild them as homes. However, a legal challenge is currently underway to delay these new rights from becoming law.
Can I Extend Using Permitted Development?
The new right allows homeowners of detached, semi-detached or a terraced house to extend upwards, providing all additional storeys are built on the principal part of the home.
Only homes built between 1 July 1948 and 5 March 2018 are eligible to be extended under the new rights.
Four new Permitted Developments have been set up to for homeowners and property owners to extend upwards:
Class AA: In existing free-standing buildings (such as shops and offices of more than three storeys), upwards extensions of up to two additional storeys on the topmost storey of a detached house can be erected
Class AB: In homes in a terrace (of two or more attached buildings), up to two additional storeys can be erected on the topmost storey of a house, or one additional level on a house of one storey
Class AC: In existing houses in a terrace (which include semi-detached houses), up to two additional storeys can be erected on the topmost storey of a house, or one additional storey on a house in a terrace of one storey
Class AD: In detached houses, up to two additional storeys can be erected on the topmost storey of the house, or one additional storey on a detached house of one storey.
Once prior approval has been granted for an extension, development must be completed within three years. The rights do not apply within conservation areas.
Prior Approval is Significant
Paul Testa, founder of Paul Testa Architecture (opens in new tab) and contributor to Homebuilding & Renovating, says that prior approval is an important element of the new PD rights, to ensure that neighbours have the right to reject any proposed extensions.
Prior approval is a formal submission to a local planning authority to seek confirmation that specified parts of a development are acceptable, before work can commence.
But Testa also thinks that prior approval could make it harder for homeowners to extend under the new changes.
"I'd imagine that extending up will be tricky under Permitted Development. A lot of local authorities have design guidance, which can be restrictive, and if you have neighbours who object then a planning officer will divert extenders to this guidance" said Testa.
"For those unable to attain prior approval, you will have to adhere to this guidance unless you can successfully demonstrate why your project breaks from the guidelines."
Height Restrictions Apply
There are also some height rules that extenders need to consider before building upwards:
Once works have been completed, the building must not be more than 18m high (excluding plants)
The floor-to-ceiling height of any additional storey must not be more than 3m in height or higher than the floor-to-ceiling height of any of the existing storeys
The overall height of the extension, including the roof, must not be more than 7m high.
Extensions Will Increase Value
The government anticipates that homeowners will be able to increase the value of their homes by utilising these new rights, and make the most of the space they are extending.
This government also hopes that the measures will support economic recovery from COVID-19 by encouraging development.
Jack has worked in journalism for 11 years and is the News Editor for Homebuilding & Renovating, a role he has had since 2019. He strives to break the most relevant and beneficial stories for self builders, extenders and renovators, including the latest news on the construction materials shortage and hydrogen heating. In 2021 he appeared on BBC's The World at One to discuss the government's planning reforms.
He enjoys testing new tools and gadgets, and having bought his first home in 2013, he has renovated every room and recently finished a garden renovation.
Homebuilding & Renovating Newsletter
Get the latest news, reviews and product advice straight to your inbox.
Thank you for signing up to Homebuilding. You will receive a verification email shortly.
There was a problem. Please refresh the page and try again.