8 Homes With Unforgettable Exteriors
By Sarah Handley published
Wow-factor. Statement. Je ne sais quoi. There are many ways to describe the incredible exteriors of these self build projects, but we're sure we can all agree they are unforgettable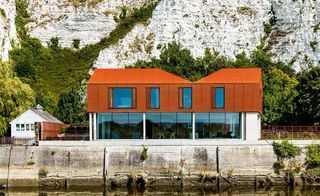 (Image credit: Simon Maxwell)
At Homebuilding & Renovating, we're lucky enough to see some of the best homes in the UK on a daily basis. Here we celebrate the design ingenuity behind some of the most memorable exteriors we've come across.
1. Fantasy made self build reality
This remarkable custom built home stretches the imagination to its limits. Built without formal plans on a DIY basis, it's an astonishing example of self build vision and enthusiasm. And we can't think of any other self build that features a decorative dragon.
2. Gold star extension
This traditional detached home in Devon got a striking new look following a extension by architect Stan Bolt. The abstract canopy provides shelter and shade to the decked terrace that sits over the basement extension.
Clad in gold-coloured copper-aluminium alloy interlocking shingles, the wing-like structure was a first for Stan, and received full support from neighbours and planning officers.
3. Boundary-pushing extension
A contrasting extension and remodelling project has turned this banal post-war detached property in Hampshire into a remarkable contemporary home.
Working within planning constraints, the existing house was turned into the open-plan living area, while a radical, contemporary extension was added to house the bedrooms. From the front, the house looks relatively unchanged, but it's impossible to forget this imaginative extension.
4. Stunning steel cladding
Encouraged by the planners to come up with a bold design, this riverside self build does not disappoint. Roughcast concrete was used for the ground floor, with grey ash-glazed bricks used on the road-facing facade.
The roof and first floor walls have been built using SIPs and wrapped in an expanded Corten steel mesh which acts as a rainscreen while allowing water to filter through to the gutters hidden beneath the metal sheets.
With the chalk cliff backdrop, this steel-clad home looks even more striking.
5. Concave curve design
With a backdrop of rolling countryside, it can be difficult to build a modern home that works harmoniously with the landscape.
This noteworthy project not only fits with its surroundings, but manages to look both futuristic and traditional at the same time.
The contemporary concave design mirrors a dewdrop-shaped lake at the front of the property, and features both modern glazing and natural materials, including local stone and exposed beams.
6. The Yorkshire chalet
Chanelling the Swiss vernacular, you could be forgiven for not believing that this chalet-style self build is actually located in South Yorkshire.
7. The self build with sails
Imported from Lithuania as a prefabricated timber frame kit, this timber, steel and glass eco home features extraordinary textile 'sails' which shade the enormous gable windows under the eaves.
8. Contemporary courtyard
You might think this home unforgettable due to the fact clever design has afforded the homeowners a peaceful and private courtyard in the Shepherd's Bush district of west London.
However, it is the distinctive orange-red metal cladding that really makes this home something to remember.
Sarah is Web Editor of homebuilding.co.uk. She began her career more than a decade ago, working on the editorial team of Public Sector Building magazine, before joining the wider Homebuilding & Renovating team as Social Media Editor in 2012. Since purchasing her first house in 2015, Sarah has been adding to the ever-increasing list of home improvements she needs to make; including extending over the garage, resurfacing the driveway, replacing existing flooring and revamping the kitchen. Fortunately, in her eight years on Team Homebuilding, including three as web editor, she is not short on design inspiration or top tips to tackle or project manage these tasks herself.
Homebuilding & Renovating Newsletter
Get the latest news, reviews and product advice straight to your inbox.
Thank you for signing up to Homebuilding. You will receive a verification email shortly.
There was a problem. Please refresh the page and try again.