Woodburning Stoves: 15 of the Latest Models
By Amy Reeves
Provide warmth and character to any home with these fabulous woodburning stoves in a selection of sizes and finishes, suitable for all styles and tastes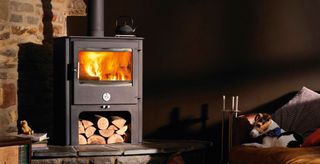 (Image credit: Ludlow Stoves)
Stylish, atmospheric and efficient to run, woodburning stoves are a popular heat source for modern living spaces. When it comes to choosing a woodburning stove, your decision will also be based on how the stove looks. So, we have put together a list of the latest stoves on offer.
Ecodesign Ready label: This shows that the stove meets new efficiency and emissions limits for woodburning stoves that are due to come into force in 2022
Cleanburn: Stoves with this labelling function in a way that burns the gases given off in the first burn, stopping them from escaping the flue or sooting up the glass screen
Airwash: Air is blown over the glass screen to prevent combustion gases from creating soot here
If you live in a town or city, you should also check whether your home is located in a Smoke Control Area. If it is, you will only be able to burn DEFRA-approved smokeless fuel (such as anthracite) rather than wood.
How to Improve the Performance of Any Wood Stove
Wood stoves have improved by leaps and bounds over the past twenty years. In 2018 log burners are technologically advanced and meticulously engineered heating appliances.
The British company Hunter Stoves has been at the forefront of these improvements, and their Aspect stove range is a prime example of performance meeting modern stove design, but according to Hunter's Lead Engineer, Michael Stoneman, there is one piece of advice that can improve the performance of any stove on the market.
"You should only ever burn dry wood. This can never be overstated. Never burn wood with more than a 20% moisture content. You would never pour water on a fire you want to burn hot, and essentially that is what one does when burning wet wood." According to Michael, using dry wood will not only improve the way your appliance works, but it will help protect the environment.
Homebuilding & Renovating Newsletter
Get the latest news, expert advice and product inspiration straight to your inbox.
Thank you for signing up to Homebuilding. You will receive a verification email shortly.
There was a problem. Please refresh the page and try again.