Ovens and Hobs Guide
Packed with a multitude of functions, it's no wonder that 90 per cent of homes now possess a built-in oven and hob, instead of a traditional range. Melanie Griffiths picks out the best on the market.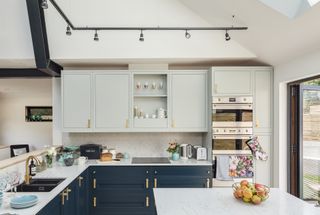 (Image credit: Simon Maxwell)
Ovens
Almost all ovens sold are electric; mainly as gas ovens don't cook as evenly without an electric fan, but also because they are more expensive to buy and have far fewer features. All decent ovens have basics like fan cooking and programmable timing, but there is a huge variety of enhanced functions on offer. Microwaves and grill functions are very useful, but also look out for 'defrost', 'pizza', 'recipe' (which program the optimum time and settings to cook various foods), 'rotisserie' (for cooking meat) and 'temperature probe'. But be realistic about which functions you are actually going to use. Buying a double oven will allow you to make much better use of the extra features, although you might want to consider a complementary steam oven, which works by boiling water and blasting steam into the cooking chamber.
'Self-cleaning' ovens are a must-have for many people, as they take away the hassle of scrubbing by burning off the dirt and grease at a high temperature for a couple of hours; the ash is simply swept away. There are two main types – pyrolytic and catalytic – but some companies have introduced water-based systems which are more eco-friendly.
Oven capacities are measured in litres (L). Single ovens have a capacity of around 50-60L, double ovens 70-80L. The standard width is 60cm.
Hobs
Despite the popularity of electric ovens, gas hobs are still the favoured choice, as gas offers excellent control. Hobs are available both with removable racks and as sealed burners — which are more expensive but easier to clean. Opt for a model with an electric pilot-light ignition.
Though many purists will not move away from gas, electric hobs have developed into formidable opponents. Magnetic induction hobs in particular are an excellent choice; they are more energy efficient than gas and twice as fast to adjust to temperature changes. However, induction hobs are more expensive and will only allow the use of pans made from a ferrous metal.
Sleek, sealed ceramic radiant and halogen hobs are also options; they are not as responsive as gas or induction hobs but can have many handy features such as timers, sensors, switches and touch controls. They can even let you know when the hob is cool.
When choosing the configuration of your hob, opt for a variety of ring strengths and consider a wok burner, which has a triple ring and gives off heat very quickly. Thermal heat is measured in British Thermal Units (BTUs) — the higher the number, the more intense the heat.
Positioning
Avoid locating hobs near windows, as they are a potential fire risk to window dressings, and bright sunlight can make it difficult to see whether or not burners are lit. Both hobs and ovens should also be kept away from doors to avoid endangering people entering the room. Ideally, there should be 300mm of worktop space either side of a hob, and ovens need work space on at least one side. Hobs must only be positioned above an oven or base unit and not over an appliance such as a fridge.
There must be a minimum vertical distance of 650mm between a hob and an extractor, and at least 800mm to a flammable surface. Ideally locate the cooking surface near an outside wall where steam can be easily extracted.
Fitting Ovens and Hobs
Ovens are made to standard sizes, so they will fit into a purpose-built base unit, but heights can vary. The base unit will come supplied with runners and the oven will have two corresponding sliding runners attached. Fitting a gas or electric hob is carried out by cutting a hole in the work surface, as per the instructions' dimensions. Any gas connections must be made by a CORGI-registered installer.
Advice from the Experts
Eco Credentials
Maurizio Severgnini, Managing Director, Hoover Candy (01685 721222)
"In the current economic climate, people should consider two key points when buying kitchen appliances — impact on their pocket, and impact on the environment. Arated energy-efficient products are known to help lower energy bills, as well as being kinder to the environment, so make them a priority."
Built-in is Better
Bill Miller, Sales Director, Gorenje UK (020 8247 3980)
"Built-in ovens have far more features, such as fully programmable functions, telescopic shelf runners, keep-warm functions and ultra-quick heat-up times. By having a separate hob it is possible to obtain the right specification required for you, gas or otherwise, whereas the choice on a range cooker is limited."
Homebuilding & Renovating Newsletter
Get the latest news, expert advice and product inspiration straight to your inbox.
Thank you for signing up to Homebuilding. You will receive a verification email shortly.
There was a problem. Please refresh the page and try again.