How to Choose a Kitchen Sink
By Claire Lloyd
Choosing a sink which works for your lifestyle – not to mention complements your interior scheme – is key to the smooth running of the kitchen, says Claire Lloyd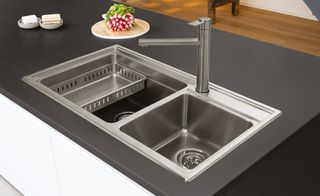 (Image credit: Caple)
Few of us today find ourselves chained to our kitchen sinks, washing up the dishes (thanks to our dishwashers), and yet the sink still plays a vital role within the modern-day kitchen.
Thinking about how you use a sink on a daily basis – and perhaps how sinks in previous homes have met or failed to meet your needs – is a good place to start when thinking about buying new. But the aesthetic a sink brings to the kitchen interior scheme is also a priority — the sink is after all a feature in its own right.
Kitchen Sinks: What to Consider
Size and bowl configuration are among the first considerations.
If a sink is used very sparingly for tasks such as washing up, a single bowl (or '1.0') may suffice. Single bowls are a good option for utility and/or boot rooms, and for kitchens short on surface space.
Many homeowners opt for 1.5 bowls and even two, which provide greater flexibility when it comes to tasks such as tipping away excess drinks whilst washing up, or for peeling vegetables.
Sink depth should be given some thought too. It's often a case of striking a balance between a sink which will accommodate large pots, and one that isn't so deep that it takes an age to fill up, or finds you uncomfortably leaning over, elbow-deep in water. If you're opting for more than one bowl, choosing bowls of different depths offers flexibility.
A plastic washing-up bowl is often used in deep models, like traditional Belfast sinks, to overcome this issue, but it's worth bearing in mind that some manufacturers do not endorse their use, as dirt ingrained on the bottom can mark/scratch a sink's surface.
Do look at a product's 'minimum cabinet size' whilst specifying too. "Most sinks will fit within a 600mm cabinet, but it's always worth checking as some sinks may require a larger cabinet size, even as large as 1,000mm," says Rangemaster's Paul Scarborough. This is particularly key when retrofitting a new sink where the units and worktop will remain.
Bear in mind that some inset models may come complete with one or more pre-drilled holes to accommodate a tap — ideal if you don't have clearance or wall space behind to mount a tap, but far from perfect when the circular hole won't accommodate your new square tap. (A tap and sink package can simplify things here.)
Look to see if your chosen model comes with an undercoating, which is applied to a sink's underside. "A good undercoat provides great sound insulation and will therefore prevent your sink from making too much noise when washing bulky items such as pots and pans. It can also prevent condensation build-up on the base of the sink," explains Luke Shipway of Caple.
"The undercoating protects the area of the worktop which has been cut from exposure to water and damp too," adds Rangemaster's Paul Scarborough. "Whilst a solid granite worktop will see no effect from this type of exposure, a laminate worktop would expand if exposed to water or damp."
Material Choice
Tori Summers, head designer at Benchmarx Kitchens, summarises the choices: "Stainless steel and the latest granite or quartz sinks give a more contemporary feel, especially when combined with striking granite, quartz or wooden worksurfaces. A ceramic sink tends to create a more enduring and timeless look. However, there are no hard and fast rules here."
Stainless steel is often the first material most think of, and for good reason too. "It's extremely hardwearing, highly temperature resistant and easy to clean," says Rangemaster's Paul Scarborough. "But cheaper models can be prone to scratching, and can be deformed if the gauge is not heavy enough and too much pressure is applied in one place."
The 'gauge' denotes the thickness of the steel. "The smaller the number, the thicker the steel," adds Luke Shipway of Caple. Look out for 18 gauge; there are even some higher-end products available in the lowest gauge, 16, too.
Stainless steel can show up scratches more readily than other material choices, with some finishes less forgiving than others as well. "A mirrored-effect sink drainer will show up scratches more than say a polished drainer," says Paul Scarborough of Rangemaster.
Ceramic is a robust, easy-to-clean option, although care must be taken not to drop heavy items which could chip the glaze. Fireclay ceramic is still a popular choice, particularly for butler and Belfast sinks. The sinks are fired at very high temperature which helps fuse the glaze surface to the clay and makes the end product highly durable.
Composites are a more recent development. There are a number of different choices, and many manufacturers have their own patented products. The most hardwearing and durable composite options are those with a high granite content, with high quartz content a close second. Some products come complete with added antibacterial properties.
Another benefit of composites – and with corian too – is the design potential offered by different colour finishes — black is particularly 'on trend' at present. Some of the more out-of-the-ordinary kitchen sink materials include timbers, copper and even concrete.
Sink Mounting
Inset sinks – sometimes referred to as top or overmount sinks or 'sit on' – are popular for their comparative ease of installation; the bowl drops into an opening, and the rim overlaps and rests on the worktop. One drawback is that dirt can build up around the raised edges, and if exposed to pooling water then the sealant can, over time, begin to peel.
Undermount sinks (which sit below the worktop for a streamline look) and integral sinks are also options. Your choice will ultimately be determined by:
your worktop material;
your budget;
the look you hope to achieve.
An integral corian sink could well be an obvious solution when installing a worktop in the same material — lending a completely seamless look. Undermount options work well with solid worktops such as granite. However, an inset model with integral drainer is much preferable with a laminate worktop, where the exposed edges would otherwise be subject to water damage if combined with an undermount sink.
Edward Potter from leading online retailer Victorian Plumbing says: "Sit-on kitchen sinks traditionally work really well with any type of worktop and are a good choice when paired with cost-effective laminate worktops. Undermounted or butler-style sinks are great to use with either real wood [although you do need to ensure the wood is adequately sealed] or stone worktops like granite."
A more recent trend has been for sinks that sit flush to the worktop. "Flush fitting sinks are popular due to the high-end minimalist finish you can achieve," says Caple's Luke Shipway. They can be more expensive than other options, however.
"Flush-mounted sinks are an emerging trend but you can avoid the expense of specialist fabrication that goes with them by choosing a sink with a low-profile perimeter," says Neil Clark of Carron Phoenix, whose stainless steel Vela sink sits just 1.8mm above a worktop.
Homebuilding & Renovating Newsletter
Get the latest news, reviews and product advice straight to your inbox.
Thank you for signing up to Homebuilding. You will receive a verification email shortly.
There was a problem. Please refresh the page and try again.