Front Doors: How to Choose the Right One
Thinking about buying a new front door? Consider maximum kerb appeal and the way a front door can work for you with our handy guide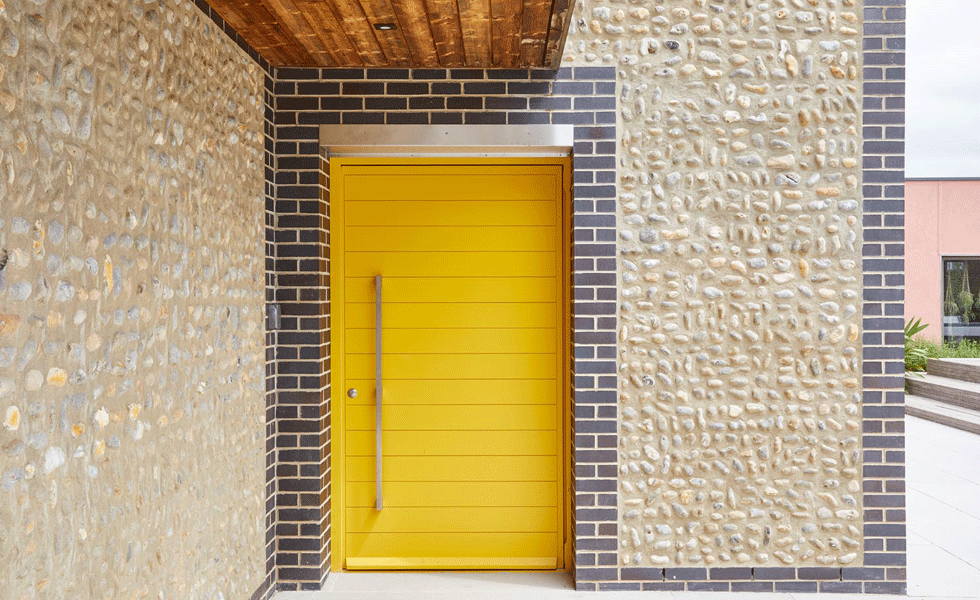 (Image credit: Urban Front)
Your front door will influence the first impressions and initial kerb appeal of your home so it's essential to do a little research into what front doors are available and to know what you should look for before buying.
This guide will help you to assess your new front door in terms of material, thermal efficiency, security and, of course, budget so you can compare available designs and make the right choice for your home. 
(MORE: How to Add Value to Your Home)
The Importance of the Front Door
As the barrier between your home and the outside world, front doors provide privacy and a sense of security and, as such, their practical — just as much as their aesthetic — attributes need to be thought through.
Front door styles have come on leaps and bounds in the last decade, both in terms of the way they look, but also the protection they offer and the energy-efficiency standards they reach.
Get a tailored quote for a new front door.
Positioning Your Door
Whether a front door or patio doors to the rear, you should consider where the door is positioned when choosing your design:
front doors with panels of glazing work well when they lead right into a dark hallway
for a door on the side, a stable door which can open the top and bottom independently could work best
and while the modern style for the rear of the house is to include sliding or bifold doors, including a separate 'master' door to match is a more practical way to enter the house in the winter.
What is the Best Material for Your Front Door?
The most popular material for front doors, timber can be the cheapest to buy off-the-shelf but it is also prone to twisting and warping over time.
Hardwood doors are just as likely as softwood doors to move, but a reasonable compromise for those who want something better is to choose hemlock, a durable North American softwood particularly well suited to doors
Capable of outperforming hardwoods, Accoya heated timber, a process developed in Holland, and is usually finger-jointed which makes it more suitable for painting than staining
Laminated or stabilised timbers (usually oak), which consists of small sections glued together, are also available.
As with most house fixtures, cost of a front door is, in the majority, dependent on the spec and quality desired. Solid timber front doors can cost between £300 and £500, but some bespoke or high quality examples can reach up to £1,400+.
Get a tailored quote for a new front door.
PVCu Front Doors
Although PVCu (sometimes written as uPVC) tends to be the cheapest alternative to solid timber doors, there is very little inherent strength in their make up, so may not be the right material choice for the front door of your home. 
The doors are built around a steel frame and invariably come with a multipoint locking which is necessary because of the material's innate flimsiness.
PVCu traditionally costs around 20% less than solid timber doors.
Non-Timber Front Doors
Non-timber front doors, made from steel or GRP, tend to be more expensive, but they offer the benefit of dimensional stability. 
External doors made of steel are primarily used in social housing in the UK but are more popular in North America. However, steel tends to have an aura of security around it which is perhaps unjustified, since a door is no stronger than its frame (usually softwood). Steel takes paint well but is susceptible to bodywork damage
A realistic woodgrain can be achieved by using GRP (glass-reinforced plastic), also referred to as fibreglass. It can also match other joinery by using a stain.
What is a Composite Door?
As PVCu and GRP are cladding materials, they require a subframe of timber or steel and are therefore referred to as composite doors. A big advantage of choosing a composite door is that the thermal characteristics can be improved by packing the hollow core with insulation. 
Composite front doors can be tougher on the purse strings due to their superior build structure with the average price landing at around £750.
Get a tailored quote for a new front door.
Assessing the Cost of a Front Door
One thing to remember is that advertised front door costs usually don't include installation, delivery, hinges, disposal of an old door and, in some cases, VAT. This means a composite front door with a £450 price attached could end up costing more in the region of £1,000. And remember, front doors with side windows and panels tend to cost more to be installed.
When narrowing down different products, try to get at least three quotes from different suppliers to see the differences in what's included and what is not to get an accurate cost average.
If you're confident in measuring up skills, employing a local tradesperson to fit your front door (or fitting it DIY) can save money, but runs the risk of a low standard of finish and incorrect measurements.
(MORE: The DIY Jobs You Should Leave to the Professionals)
Editor's Note: If you're looking for a quote for your new front door, simply tell us a bit about your project in the questionnaire below and we'll match your requirements with the services and prices that our partners offer. And don't worry, only partners that match your needs will reach out to you. 
Choosing a Front Door to Complement Your Home
Getting the style of front door right is just as important as cost when thinking about kerb appeal.
For older homes, timber is a sympathetic choice and might complement overall aesthetic of the property than, say, plastic. If your home is Georgian or Victorian, it could pay to research a good match for the period — for instance, late Georgian homes added fan lights where those earlier in the period completely filled the doorway with solid wood.
Combining a contemporary home with sleek aluminium front door is a great choice as the vast array of colours provides amazing opportunity to get a little creative. Flush doors are also increasingly popular to achieve a sleek and polished finish to contemporary styles.
Get a tailored quote for a new front door.
Security in Front Doors
Front doors have to perform two distinct and contradictory functions: they have to be easy to get through for residents and guests but secure against unwanted visitors.
Generally, we have two separate locks on our front door:
The mortice deadlock sit inside the door housing and needs to be key-operated from inside and out
A night or rim latch (still referred to as a 'Yale') can be hand-operated from the inside to facilitate escape in the event of a fire but are less secure than mortice locks as they can be forced open.
Security Standards
There is an enhanced security standard, PAS 24, which is only available on factory-built doorsets. Houses that meet the Secured by Design standard set by the police also need to meet the PAS 24 standard.
This includes subjecting the doorset to a three-minute attack using a selection of hammers, crowbars and drills.
Although it's not essential to have two separate locks, it does form part of the NHBC recommendations for new homes and as such has been widely adopted by insurance companies. The deadlock should be five lever and should ideally meet the BS3621 standard.
Other features regarded as good security in front doors include fitting a door chain and, on solid doors, a viewer.
If you want to incorporate some smart technology in your door security, then considering items like a smart video doorbell can be a sensible move.
Get a tailored quote for a new front door.
Building Regulations for Front Doors
Front doors are required to have a level threshold as Part M of the England & Wales Building Regulations so that wheelchair users can come in and out of the house without having to go over a step. Scotland and Northern Ireland have similar regulations in place.
However, this doesn't have to mean the threshold is at the front door, sometimes it's more convenient to use another external door instead. Renovations and extensions to existing homes do not have to comply with Part M.
Normally, a level threshold is one that has a lip of no more than 15mm. The doors themselves do not have to be altered in any way. However there is a requirement that the Part M compliant door should be at least 838mm (2'9") wide.
The frame around the door should also be Part M compliant (less than 15mm). There should also be no step either inside or outside the door.
A common way to design this is to have a ramped approach to the door. Alternatively, have a sunken matwell inside the door so that people coming into the house can wipe their feet.
With a reasonable amount of forethought, it's possible to create a level threshold without it being intrusive in any way.
If a house is over two storeys fire doors will need to be considered. Half-hour fire doors are required to be fitted to habitable rooms leading off the main corridor and lading areas. However, fire doors do not have to look ugly. There are now plenty of companies offering complementary fire door ranges alongside their standard internal doors.
Need a Quote for a New Front Door?
Homebuilding.co.uk partners with the UK's best window and door suppliers to match your requirements with their products. 
Simply answer a few questions on what you need from your doors and windows and we'll put you in touch with the most suitable partner.
Homebuilding & Renovating Newsletter
Get the latest news, expert advice and product inspiration straight to your inbox.
Thank you for signing up to Homebuilding. You will receive a verification email shortly.
There was a problem. Please refresh the page and try again.