5 Reasons to Choose a Slate Rainscreen Cladding System for Your Home
By Sponsored Content published
Perhaps you are building your forever home or simply want to ensure your house is sustainable, a slate rainscreen cladding system carries a wealth of benefits. Here are the top reasons for choosing this option.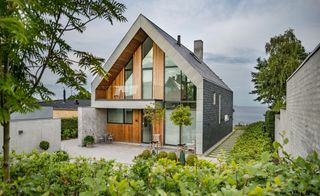 (Image credit: Cupa Pizarras)
CONTENT SUPPLIED BY CUPA PIZARRAS
Slate rainscreen cladding systems are a great option for both contemporary and modern homes — here we explain why.
1. It is a great sustainable option
Whether building from scratch or renovating your existing house, your choice of cladding will play a huge role in the eco credentials of your home.
Choosing a natural product such as slate rainscreen cladding, ensures no chemical or heat treatments will have been used in its production, therefore it will have minimal environmental impact.
In addition, a product such as CUPACLAD natural slate rainscreen cladding from CUPA PIZARRAS – something of a game-changing product in the world of ventilated façades – will work well with other external insulation systems, helping to keep your home cool in summer and warm in winter — ideal for those aiming to keep an eye on their overall energy consumption as well as their energy bills.
2. Minimal maintenance will be required
Some forms of cladding require a lot of input from homeowners in terms of maintenance — for example repainting, staining or cleaning.
Choosing slate rainscreen cladding is a great way to avoid this — perfect for those after a hands-off approach when it comes to the upkeep of their homes. The colour of slate cladding will not fade over time either.
Incidentally, other great options for those looking to minimise the maintenance requirements of their homes include rainwater goods, windows and doors made from aluminum and through-coloured render.
3. Slate cladding is perfect for contemporary and traditional homes alike
Whilst using slate within home design might be nothing new, the ways in which it can now be applied definitely are. When used as a rainscreen cladding slate can open up a whole range of design possibilities, from the unusual shapes it is available in, such as CUPACLAD's striking hexagon Honeycomb range, to the way in which it can be adapted to suit almost any wall shape or configuration.
It is also lightweight and quick to install, reducing build times and therefore installation costs.
4. Slate pairs perfectly with other materials
Combining two or more cladding materials is a great idea, adding visual interest to both new and renovated homes and working to break up large buildings or aesthetically zone them.
Natural slate rainscreen cladding sits beautifully alongside render, timber cladding and even traditional materials such as brickwork.
It also partners well with large expanses of glazing, such as sliding doors, picture windows and glass balustrades around balconies, not to mention metals often used on or around roofs, such as zinc, lead and even copper. Its ability to both blend in as well as make a statement is hard to match.
5. It is incredibly durable
When used as rainscreen cladding, natural slate forms a highly durable external envelope for houses. In fact, CUPACLAD systems were developed alongside architects and installers to ensure more than 100 years of durability, along with being fireproof, waterproof and highly resistant to the external elements.
A ventilated façade such as this also means that moisture is quickly, reducing any risks of condensation forming.
CUPA PIZARRAS are the world leaders in natural slate and have over 125 years of experience in the field. For further information the CUPACLAD website (opens in new tab).
Homebuilding & Renovating Newsletter
Get the latest news, reviews and product advice straight to your inbox.
Thank you for signing up to Homebuilding. You will receive a verification email shortly.
There was a problem. Please refresh the page and try again.