Do you need planning permission for windows?
Do you need planning permission for windows? If you're replacing windows or adding new window openings to your home, it's important to know whether or not you need permission before you get started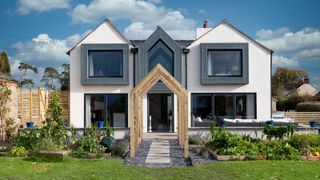 (Image credit: Jeremy Phillips)
Planning permission for windows is not always a clear cut subject. While permission is required for changes to the exterior of a building, including the installation of new windows or changes to existing windows, there are different types of planning permission — and different types of windows too.
There's the familiar, formal route where a local authority grants planning permission after a planning application. But, there's also another type of planning permission where there has been a blanket national granting of permission by the government, which allows certain building works to be carried out without a formal planning application. These are known as Permitted Development or PD rights. So, what route do you take when it comes to windows?
Can you update or replace windows without planning permission?
When you update or replace existing windows, in most cases, a formal planning application and planning permission is not required and you can carry out the work under Permitted Development.
The rule is that the windows should be of a 'similar visual appearance' to those in the existing house. The key words here are visual appearance. As an example, you may want to replace existing single-pane wood-framed windows with new uPVC double-glazed windows. Normally this would not require a planning application, even if there weren't uPVC windows previously. As long as the new windows will look like-for-like, for example in terms of their overall shape and the colour and size of the frames, then it's unlikely you'll need a planning application. While they need to look similar, they do not have to be made of the same materials.
If you want to replace your windows with radically different shapes, colours or size, then you would need to make a planning application. But what, I hear you ask, is radically different? Isn't that a matter of judgement? Yes is the answer to that. And it's not your judgement that counts, it's the judgement of the local planning authority. If you want to be sure of that, the best thing to do would be to apply for a Lawful Development Certificate from them. This would provide a legally binding judgement as to whether what you want to do needs a planning application or not. You'll need to submit proper technical drawings and various forms for this, so you might want to get a planning consultant to help you get it right.
Can you add new window openings without planning permission?
If you're introducing new window openings in your house and the windows you install will match the appearance (i.e. shape, colour and size of frame) of those already in situ, then you may be able to do this using Permitted Development (PD) rights. As mentioned above, this judgement is subjective, so you may want to apply for a Lawful Development Certificate before getting your sledgehammer out.
If the new window openings you want to introduce are covered by PD rights, then there are some caveats to be aware of for the work to fall under this type of permission. If you are going to install new window openings on an upper floor on the side elevation of your house or on a roof slope to the side of your house, then the new windows need to be both non-opening and include obscure glazing to protect neighbours' privacy, unless they would be 1.7 metres or higher above the floor of the room in which they were due to be installed.
Obscure glazing is normally rated on a scale of 1 to 5, with 5 providing the most privacy. To meet the PD rule above, side windows need to be obscure glazed to minimum of level 3. Obscure glazing does not include one-way glass.
If you're creating a new window opening on a staircase or landing (in other words not in a room) the 1.7 metre measurement should be measured from the stair or point on a landing immediately below the centre of the window, upwards to the opening part of the window.
Do bay windows require planning permission?
New bay windows would count as mini-extensions. PD rights do apply in certain circumstances. For example, if you are adding a bay window to the side or rear of a house, you may not need a planning application, depending on other factors. However, if you are adding a bay window to the front of a house, or if the new bay window will be significantly different to the existing windows, you almost certainly will need to put in a planning application. Ask a planning consultant if you are unsure.
Do you need planning permission for rooflights?
To be covered by PD rights, new rooflights would not be allowed to exceed the highest part of the existing roof. Nor would they be allowed to protrude more than 15cm beyond the plane of the slope of the original roof, as measured perpendicularly to that slope.
Don't forget that if any rooflights are to be located on a roof slope on the side of your house then the rules outlined above in new window openings will apply.
Are there any exceptions to the rules?
It's worth noting that if yours is a listed building, listed building consent will be required before any such changes are made. Remember, not obtaining listed building consent when it's needed is actually a criminal offence.
It's also important to note that all these PD rights are for houses only so if your property is a flat, maisonette or a house converted into flats, you will need to make a normal planning application, unless all you are doing is repairing, repainting or maintaining an existing window. Also, these PD rights don't apply for any house that became a house thanks to certain other PD rights; nor if the local planning authority has not removed the applicable PD right in an area that includes the house in question; or if a previous planning application included a condition that removed these PD rights. If you are unsure if any of these exclusions apply to your house, ask a professional planning consultant for advice.
If the work on your windows doesn't sound like it would be covered by these PD rights, it may not be the end of your project. You may be able to get just what you want via a normal planning application. Again, it's best to ask a planning consultant to advise you on this and, if necessary, to help you with the application.
Simon Rix is a professional planning consultant. He was a council officer and later an elected councillor before setting up Planix.UK Planning Consultants Ltd.
Get the Homebuilding & Renovating Newsletter
Bring your dream home to life with expert advice, how-to guides and design inspiration, direct to your inbox.
Simon Rix is a professional planning consultant, who began his career working in local government in the 1990s. He was a council officer and later an elected councillor, so he knows how the planning system works from both sides. He went on to set up Planix.UK Planning Consultants Ltd; a consultancy company that advises self builders, home extenders and those taking on small to medium-sized building projects on planning permission.