Planning permission for fences: How high can a fence be without planning?
Discover what you need to know about planning permission for fences, as well as how high a fence can be without planning permission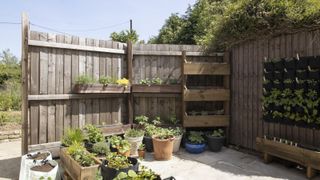 (Image credit: Simon Burt)
Establishing if you need planning permission for fences is a smart idea for this routine landscaping task. You don't want to be caught out and be faced with taking it down.
A key element of landscaping design, boundary treatments such as fencing help to shield outdoor spaces from overlooking and poor weather, help define the boundaries of our gardens, as well as keeping small children and pets safe from busy roads.
General maintenance, such as replacing a fence panel or painting a fence will not be covered, but discover below how planning permission might affect your plans to erect a new fence, or completely replace an old one, and how high your fence can be without planning permission.
Can I put up a fence without planning permission?
"It is usually necessary to obtain planning permission before installing a new fence, particularly if the fence is over a certain height or is being built in a particularly sensitive location," advises Simon Rix, planning consultant at Planix.UK.
"However, there are some circumstances in which it may be possible to install a new fence without planning permission. These include:
building a fence that is no more than 2 meters in height that is not adjacent to a highway used by vehicles.
building a fence that is no more than 1 meter (3 feet 3 inches) in height that is adjacent to a highway used by vehicles."
Although most homes don't need planning permission to build any fence types under 2m, be wary that you don't overstep your boundaries (literally) and encroach onto neighbouring land. This could lead to legal disputes, so it is best to discuss with your neighbour and refer to the land registry before installing a fence.
Furthermore, homeowners within designed areas such as conservation areas, with homes which are classed as listed or with an Article 4 Direction, may need permission so it is always best to check with your local planning department before you make any changes in these instances. The cost of planning permission should also be considered alongside the fence cost.
How high can a fence be without planning permission?
You will need planning permission if you want to erect a new fence over 2m tall, or 1m tall if it is adjacent to a highway used by vehicles (or highway footpath).
This includes any top trellis — so don't be mistaken and add a wooden addition atop your fence with the hope to make it taller.
If 2m is not tall enough for your liking or garden design, hedges are not included within this restriction so with a little patience a green boundary could be grown — as long as no covenants are broken or a driver's sight line is not disrupted.
"If you are maintaining, improving or altering an existing fence and it is already higher than these limits, the total height [or repairs or alternations] can go up to the height of the existing fence without the need for a planning application," adds Simon Rix.
For answers to commonly asked fence questions, take a look at out guide to fence rules, including maintenance responsibilities.
How close to a boundary can I build a fence?
"There isn't a limit on how close to a non-highways boundary you can go without the need for a planning application but in terms the boundary with a highway, the legislation has no defined limit as to what 'adjacent' to it means, but many regard within 5 metres as a good rule of thumb," advises Simon Rix.
Do I need planning permission to take down a fence?
While you might not need planning permission to build a fence you might need permission to take one down in a designed area such as a conservation area. "In the UK, it is generally necessary to obtain permission before taking down a fence in a conservation area or around a listed building," explains Simon Rix.
"This is because conservation areas and listed buildings are subject to special protection and any changes to the external appearance of these buildings or the surrounding area is carefully controlled." This also applies to walls and gates.
Article 4 Directions can also restrict a homeowners' ability to remove or replace a fence, wall or gate, so you will similarly need planning permission for instances such as these.
Can I object to a new fence?
If your neighbour has built a new fence which exceeds the high restrictions or if it is placed on the wrong boundary, you are able to object to your local planning department.
If your neighbours have applied for planning permission for their fence, an objection can be similarly be submitted during the process.
Get the Homebuilding & Renovating Newsletter
Bring your dream home to life with expert advice, how-to guides and design inspiration, direct to your inbox.
Assistant Editor Amy began working for Homebuilding & Renovating in 2018. She has an interest in sustainable building methods and always has her eye on the latest design ideas. Amy has interviewed countless self builders, renovators and extenders about their experiences for Homebuilding & Renovating magazine. She is currently renovating a mid-century home, together with her partner, on a DIY basis, and has recently fitted her own kitchen.