OLEV Grant Ends This Month - Apply and Save £350 on an EV Charger
By Jack Woodfield published
You don't have long to make the most of the OLEV grant, so here's everything you need to know to apply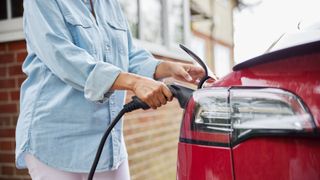 (Image credit: Getty Images)
The OLEV grant ends on 31 March 2022 meaning homeowners considering installing an EV home charger have just days to apply for funding.
Technically known as the Electric Vehicle Homecharge Scheme, the grant is issued by the Office for Low Emission Vehicles (OLEV), which has since been renamed the Office for Zero Emission Vehicles (OZEV), can save homeowners £350 on the purchase and installation of a home charging point.
Charging an electric car at home could become the new normal for homes, and since the beginning of 2022 it is a legal requirement for some self build homes to install electric vehicle (EV) charging stations. The Building Regulations will also be updated this year to include Part S, which is dedicated to the installation of electric vehicle charge points or cable routes in England.
Here's what you need to do if you're looking to apply for OLEV grant funding.
What is the OLEV Grant?
The OLEV grant was designed to encourage homeowners to switch to electric vehicles, reducing air pollution through tailpipe emissions and helping to decarbonise the transport system in the push towards net zero.
The grant provides a 75% contribution to the cost of one charge point and installation, with a cap set at £350.
Who is Eligible?
You will be eligible if you own an eligible electric or plug-in hybrid vehicle, or you've leased one for a minimum of six months. You'll also need to have dedicated off-street parking at your property, such as a driveway or garage.
Moreover, you'll need to:
Commit to installing an OLEV-approved charge point
Commit to using an OLEV-approved charge point installer
Ensure installation is completed by 31 March 2022.
You may be able to apply for two charge points at the same property if you have two qualifying vehicles.
Which Vehicles Are Eligible?
All vehicles must be listed on the EVHS eligible vehicles list at the time of installation. If a vehicle or model is not listed, it is not eligible for the grant.
All full battery electric vehicles meet this criteria, but only some plug-in hybrid vehicles with CO2 emissions below 75g/km are eligible.
Second-hand electric vehicles will be eligible provided the application for the grant is made within four months of receiving the vehicle.
How do I Apply?
You'll first need to select an installer for your chargepoint. Once you've confirmed your details and eligibility, your installer will confirm this information and apply for the grant on your behalf.
How do I Claim Back the Grant?
The installer will be paid the grant amount on successful applications, and this will be deducted from your bill.
What Will Replace the OLEV Grant?
The government says following the end of the scheme it plans to invest into more rapid public chargers, to focus on supporting those who are not able to get a home charger installed.
Who Will the OLEV Grant Remain Open to?
Anyone who lives in single-unit properties such as bungalows and detached, semi-detached or terraced housing will no longer be eligible from April 2022.
However, the scheme will remain open to homeowners who live in flats, and people in rental accommodation (flats and single-use properties).
What Other EV Grants are Available?
The Workplace Charging Scheme, offered by the OZEV, is another voucher-based scheme that provides workplaces with support towards the initial costs of the purchase and installation of EV charge points.
Much like the OLEV grant, it covers up to 75% of the total costs of the purchase and installation of EV charge points capped at a maximum of £350 per socket, up to 40 sockets.
Jack has worked in journalism for 11 years and is the News Editor for Homebuilding & Renovating, a role he has had since 2019. He strives to break the most relevant and beneficial stories for self builders, extenders and renovators, including the latest news on the construction materials shortage and hydrogen heating. In 2021 he appeared on BBC's The World at One to discuss the government's planning reforms.
He enjoys testing new tools and gadgets, and having bought his first home in 2013, he has renovated every room and recently finished a garden renovation.
Homebuilding & Renovating Newsletter
Get the latest news, reviews and product advice straight to your inbox.
Thank you for signing up to Homebuilding. You will receive a verification email shortly.
There was a problem. Please refresh the page and try again.