How To Use a Strimmer: Give Your Garden a Fine Finish
By Steve Jenkins published
Learn how to use a strimmer to trim up long grass, neaten up edges on your lawn and tidy up those hard to reach areas. Plus, your questions answered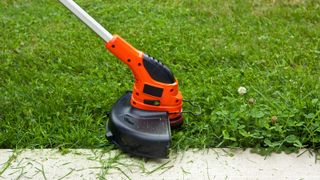 (Image credit: Getty Images)
You've finished mowing the lawn and now you need to know how to use a strimmer to get rid of long grass and weeds in those inaccessible and annoying areas that your lawnmower won't reach.
A lawnmower will give you a well-manicured lawn but hidden away in the corners, along fence edges and around borders there will be untouched grass and weeds spoiling the look of your lawn.
The best strimmers will take care of all those stragglers and give your lawn edges a neat and tidy trim to get it looking its best. But it's not just long grass in tight spots that a strimmer is good for.
They're great at scything down long grass ready for a lawnmower, good at getting rids of weeds wherever they live and the ideal tool for creating crisp clean lawn edges.

Here we give you a quick guide on how and what to use your strimmer for to give your garden a smart and sharp look.
How To Use a Strimmer
A strimmer is much more than a one trick pony, so follow our guide to get the most out of yours.
Before you start strimming
Before you unleash your strimmer on your garden there are some simple safety tips to follow. Check that there are no hidden rocks or rubbish that can flick up and cause damage to you, your strimmer and your surroundings.
It is a good idea to wear some form of protective gear just in case something does go wrong. Strong boots are a good idea, especially as this is the nearest part of you to the strimmer.
Wear long trousers to stop debris and if you have a pet – dog dirt – flicking onto your legs. Finally, wear eye protection. If you hit a stone and a fragment comes loose you don't want it stuck in your eye.
Get rid of long grass and weeds
The common use for a strimmer is to get up close and personal with long grass and weeds that your lawnmower cannot reach. Simply switch on your strimmer, hold so that your nylon string is horizontal and slowly move towards the grass and weeds against walls and obstacles. When it starts cutting, move left or right to get rid of the grass. Go back over once more to get a clean finish.
Edge your lawn
You can go with a straightforward lawn edge or try an interesting lawn egding idea. Whatever you choose to do you will first need go along the edge with your strimmer horizontal to remove stray grass. Don't get too close as it might start digging into the lawn.

Now angle the strimmer vertically so it's around 90 degrees to the edge and follow the edge slowly to get rid of any long grass and create a crisp clean edge. Go back again to perfect any wonky edges.
Get creative
If you have the time and the inclination you can try something a little different with your strimmer. Try different grass heights and create patterns with the strimmer to give your garden a unique look.

Plan ahead to get a great look. And, remember if it all goes wrong you can simply cut down to a short length and wait for it to grow again.
Is a Strimmer Easy To Use?
Electric corded and cordless strimmers are pretty straightforward to use. An everyday strimmer designed for urban gardens is lightweight, manoeuvrable and easy to operate.
The only issue you might have with a strimmer is string replacement. But typically this is easy to do.
What Can a Strimmer Cut?
Strimmers are designed to cut long grass, weeds and unwanted plants in areas that are inaccessible to lawnmowers. Typically, a strimmer will use a plastic/nylon string to reach these areas. If the string encounters any tougher garden materials – like wooden branches or stone – it will break.

So if you are near solid surfaces like brick walls, concrete fence posts or trees, it is best to approach these areas with caution to prevent the string from breaking.
How Long Does the String On a Strimmer Last?
There isn't a definitive answer to this question, but there are a few factors that make a difference. First the thickness of the nylon string will have a bearing on how long it lasts. If you have a thin string and you do a lot of heavy duty gardening it won't last long. So check what string you have and upgrade if necessary.

How you use it will be a factor. If you are heavy handed and keep cutting near solid surfaces it will break often and not last long.

What's more, if your strimmer is left unused for a few months or more in a shed, the string can become brittle and will break easily the next time you use it. One tip to make the string last longer is to soak it in water for a few hours or overnight.
How Long Does a Cordless Strimmer Battery Last?
Cordless strimmers found in your local DIY merchants are typically 18-20V and last around 30 minutes for a full charge. This can be slightly less if your strimmer has to work harder. As you might expect, bigger batteries last longer. If you have a heavy duty strimmer with a large battery, this is likely to last around an hour.

Recharge times depend on the battery size and brand, but expect to wait between 30 minutes and a couple of hours. Plenty of time to think about garden fence ideas to complement your lovely lawn.
Steve is an avid DIYer with over 20 years of experience in transforming and renovating homes. He specialises in painting and decorating, but has strong all-round building skills, having previously worked in the industry for 10 years.
Homebuilding & Renovating Newsletter
Get the latest news, reviews and product advice straight to your inbox.
Thank you for signing up to Homebuilding. You will receive a verification email shortly.
There was a problem. Please refresh the page and try again.