How to Remove a Chimney Breast
Removing a chimney breast can seem like a daunting task but, providing you follow our simple guide, it need not be complicated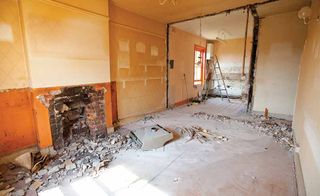 (Image credit: iStock)
Whilst it is wise to make every effort to save original period features, such as the fireplace, there can be benefits to removing a chimney breast in some older houses — namely the space that can be freed up.
For this reason, removing a chimney breast in a bedroom, living room or even dining room is often something renovators choose to do.
An internal chimney breast can be removed at ground and/or first floor without having to remove the external stack. No only does this mean it is actually not as disruptive as you might have thought, but it also avoids the need to alter the roof or external appearance and character of the building.
Bear in mind that you only remove sections of the chimney. Anything remaining above, such as the stack, will need to be supported.
(MORE: Complete Guide to Renovating a House)
What Does Removing a Chimney Breast Involve?
External chimney stack removal can be done from outside the building and, if done carefully, need not disrupt any internal decoration.
Removing an internal chimney breast, however, is a mess job. It will create lots of dust and debris, so the room should be cleared and sealed off from the rest of the property as much as possible.
Remember too that any gas, plumbing or electrical services for existing or old heating appliances to be removed should be isolated and altered before you begin.
If upper sections of the chimney are being retained, they will need to be supported using strongboys on steel acrow props before removing the structure below. This support should be kept in place until the new permanent support, designed by a structural engineer, is in place.
On the ground floor, the stack should be taken down to ground level. Ensure suitable damp prevention measures are in place, something that will depend on whether you have a concrete or timber subfloor structure. Any voids in the wall, floor and ceilings will need to be filled and made good.
Once the structural work is complete, walls will need replastering and decorating. The flooring may also need updating to fill the reclaimed space.
How Much Does it Cost to Remove a Chimney Breast?
Costs include plastering and making good skirting, etc. Additional allowance should be made for making good decoration and floor finishes. Expect the work to take one to two weeks.
Ground or first floor chimney breast only: £1,400-2,400 plus VAT
External stack: £1,000-2,000 plus VAT
Full chimney in a two-storey property: £2,800–3,800 plus VAT
Do I Need Planning Permission to Remove a Chimney Breast?
No. Planning permission is not required for internal alterations, like removing a chimney breast, as they don't constitute development. However, it's an offence to make alterations to a listed building without first obtaining listed building consent.
The removal of an external chimney will usually be classed as Permitted Development (PD) and automatically have planning permission. PD rights only apply to dwelling houses and not to flats. PD rights can be removed or restricted for properties in a conservation area or national park, so check before undertaking work.
There are other building rules you must adhere to when planning to remove a chimney breast:
Building Regulations: The work should comply with the Building Regulations and is 'notifiable'. This means you must inform the local authority building control department and make an application, or use an independent approved inspector who will do this on your behalf. The fee is around £200-220 plus VAT.
Party Wall etc. Act (England and Wales): If any part of the work is on or close to the boundary with a neighbouring property, including shared party walls or structures, you must serve notice on your neighbours under the Party Wall etc. Act. Budget £700-800 plus VAT per neighbour affected.
Permission from the freeholder: For leasehold properties, permission for alterations will usually require a landlord licence giving consent to the works. For a shared freehold, the other owners will need to agree to the works.
Gas: Safety alterations to gas services must be undertaken by a competent person. The best way to find someone is to use the Gas Safe Register.
Homebuilding & Renovating Newsletter
Get the latest news, expert advice and product inspiration straight to your inbox.
Thank you for signing up to Homebuilding. You will receive a verification email shortly.
There was a problem. Please refresh the page and try again.