4 Features to Consider When Designing Your Perfect Staircase
By Sponsored Content published
Your staircase will occupy a prominent position in your home and be used frequently, so it is important that it looks good and functions well within the interior space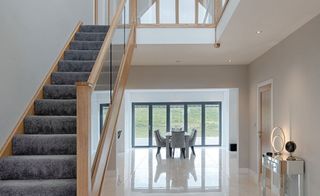 (Image credit: StairBox)
CONTENT SUPPLIED BY STAIRBOX
Whether you are looking to install a new staircase from scratch or replace an existing one as part of a renovation or remodelling project, considering these features will help you find the best design for your space.
Go Bespoke
If you want to create a staircase with the wow-factor, then a bespoke design is the way forward. There are various things you can do to make the stairs a real focal point in your home, such as opting for open riser or cut-string configurations. Speak to your chosen staircase supplier to get their input and find out what's possible. They will be best placed to advise on the most effective use of the space, and suggest solutions you may not have considered.
Glass Balustrades
If your home suffers from a lack of natural light or is more compact, then using a glass balustrade in the design can be a great option. A glass balustrade will allow light to flow more freely through your hallway, stairs and landing, making the space feel much larger.
Glass balustrades are also ideal for those wanting to create a more contemporary style in their homes.
Material Choice
With a range of materials and balustrade options to choose from, it's easy to achieve a traditional, classic or modern look. Taking the age and style of your home into account will ensure your staircase choice is complementary to the rest of your home.
Opting for softwood components like strings and spindles could dramatically reduce the overall cost, while adding touches of oak to handrails will lift the overall look for minimal additional expense.
Space Saving Dimensions
If space is at a premium in your home, there are a number of options for you to consider. You could play with the layout by switching from a standard straight staircase to one with a turn, where there is the option to include a quarter or half landing, or a 3-tread winder which is particularly useful when you want to minimise the amount of space your stairs occupy.
You could also opt for a space-saving staircase to optimise the available square footage. This is especially useful for those looking to create access to a loft as part of a conversion project. Do check with your staircase supplier that the staircase meets the specific criteria set out in the Building Regulations.
Start designing your staircase with the StairBox StairBuilder (opens in new tab) tool, or contact the team for a bespoke quotation.
Homebuilding & Renovating Newsletter
Get the latest news, reviews and product advice straight to your inbox.
Thank you for signing up to Homebuilding. You will receive a verification email shortly.
There was a problem. Please refresh the page and try again.