Eco Heating Systems: Which is the Greenest Option?
By Tim Pullen published
Eco heating systems are becoming a viable alternative to gas boilers, particularly as energy prices skyrocket. Here we weigh up the greenest options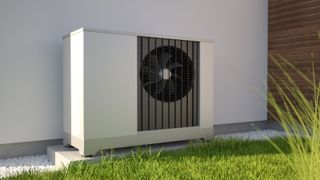 (Image credit: Getty Images)
Eco heating systems need to have two things: zero CO2 emissions and a long life. One of the biggest decisions on any renovation or self build project is how you're going to heat your home, and with gas boilers on the way out in new builds, eco heating systems are certainly a step in the right direction.
Whether you opt for an air source heat pump or alternative methods of home heating, it's vital that eco heating systems are installed with efficiency in mind. This means providing your home with enough warmth throughout the year while keeping environmental impact to a minimum.
In this guide, we look at how to go about choosing the right eco heating system for your home, comparing cost-effectiveness with levels of sustainability, so you can make an informed decision.
Why Choose Eco Heating Systems?
The typical gas or oil boiler will last 10-15 years before its efficiency has dropped to a point where it can no longer be used. This means that a house with a design life of 80 years will need seven or eight of them during that time.
Each replacement requires time and effort on your part while not being very good for the planet — thanks to the CO2 embodied in its system's manufacturing. An eco heating system, however, should last longer, and make savings on emissions that outweigh the CO2 produced by manufacturing its replacement.
Which Are the Most Affordable Eco Heating Systems?
Budget-friendly eco heating systems are, ideally, ones you don't install, because your house is so well insulated and airtight that dedicated heating isn't necessary.
This is, in all practical senses, impossible. Even if a thermally efficient house could be built, people would still need hot water, and therefore something to heat it. That could be done with solar energy, and the all-solar house has been done, but it is not cheap or easy and it's a bit unpredictable.
That said, the principle of improving thermal efficiency to minimise the heat demand remains the cheapest, and in some senses the greenest, option. Good insulation and airtightness is key to creating a warm, sustainable home.
It will last for the life of the house it's installed in, and extend that life by making the building more suitable for future demands. Meanwhile, CO2 embodied in the manufacture of the insulation will be recovered multiple times in emissions savings.
As such, before looking to eco heating systems, investing in the fabric of the building, to reduce your heating demand, should arguably be is the first priority, particularly when building a new home or taking on an extensive renovation.
Which Eco Heating Systems Are the Greenest?
The greenest option for eco heating systems is either a water source heat pump (which takes heat from a large body of water) with a heat battery, or a ground source heat pump.
These pumps operate with equal efficiency night and day. A battery will store the heat produced, allowing the heat pump to be run at night when the carbon intensity of grid electricity is at its lowest (demand can often be met wholly by wind farms and nuclear plants).
Heat from the battery can then be used for underfloor heating and hot water during the day. Be sure to sign up to a green electricity supplier like Octopus or Ecotricity, as well, for maximum efficiency.
Systems of this type have effectively zero CO2 emissions and last 20 to 30 years, but the capital cost is high. This is where thermal efficiency like insulation and airtightness comes in, allowing the use of a smaller system to help mitigate this cost.
Having said that, air source heat pumps are almost becoming the default standard for self builders and renovators. (Swapping your gas boiler for an air source heat pump is becoming more mainstream for owners of existing homes.)
This may principally be because there is no water available for a water source heat pump and not enough unshaded land for a ground source (or the bore hole alternative to the latter proves prohibitively expensive). But perhaps this is also because they are cheaper than the alternatives and more likely to be familiar to the local plumber or heating engineer.
They are less efficient but are nonetheless a better option than a gas or oil boiler.
Eco Heating Systems: Which Is the Best Option?
It's now common knowledge that fossil fuels are a problem, but biomass isn't perhaps the answer either. We can always grow more wood, but the embodied CO2 from manufacturing and transporting the fuel is still a huge cause for concern.
That leaves electricity. There are times of the day and days in the year when the carbon intensity of grid electricity is zero. Each new wind or solar farm that opens, and each coal-fired power station that closes, makes this a better option.
The only other alternative on the horizon is hydrogen heating as a replacement for grid gas, but that is still in its infancy in the UK.
Having established that electricity is to be preferred, it is difficult to ignore the three- or four-fold efficiency advantage that heat pumps offer. Alternatives like modern, efficient night storage heaters and infrared heating (quick reacting, with low capital cost) have their place, but are seldom a whole-house option.
New technologies are emerging all the time, like the Heat Wayv microwave boiler, which will likely offer whole-house heating, but it is not yet available for purchase.
At present, heat pumps are the only proven technology, and used with a hot water cylinder, remain the best option.
In the immediate future, the question is then not so much, 'will a heat pump work for me', but more, 'how do I get my house ready for a heat pump'?
Tim is an expert in sustainable building methods and energy efficiency in residential homes.
Homebuilding & Renovating Newsletter
Get the latest news, reviews and product advice straight to your inbox.
Thank you for signing up to Homebuilding. You will receive a verification email shortly.
There was a problem. Please refresh the page and try again.