Can You Put a TV Above a Log Burner?
By Natasha Brinsmead published
Can you put a TV above a log burner in order to warm up your nights in front of the latest box set? Our guide reveals why it might not be the best idea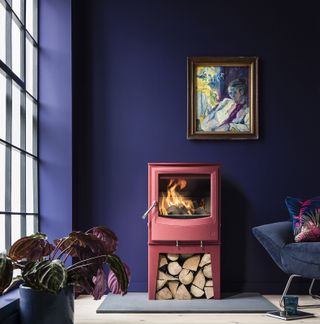 (Image credit: Arada)
Can you put a TV above a log burner? It is a common question many people ask when planning the layout of their new living room.
Log burning stoves make a fantastic, warming focal point in any space and it is not uncommon for them to take prime position in the living room — which is often where it is best for the TV to be located too. Because of this, fitting a TV above a wood burner can seem like a good idea — combining two important focal points in one central location.
In our guide, we look at whether it is such a good idea, as well as setting out the pros and cons of this set up.
Mounting a TV Above a Fireplace
There is a lot of conflicting advice about the wisdom of mounting a TV above a fireplace. Although there are ways to do it, the general consensus from the experts seems to be that, if at all possible, it is better to locate your TV somewhere else, away from a direct heat source.
However, should you have you heart set on putting a TV above a log burner, it is recommended you follow these tips:
Check with your TV manufacturer to see how much heat it can withstand — according to Direct Fireplaces, most TVs can operate in temperatures of up to 37°C, however, as they point out, TVs produce their own heat whilst on too
Fit a thick fire surround and projecting mantlepiece above your fireplace to provide a barrier between some of the heat produced and the TV
Use a thermometer to measure the heat in the spot you want to fix your television while your log burner is alight to see the maximum temperature reached
Fit the TV as high up the wall as is comfortable to watch in order to keep it as far away from the log burner as possible
Consider an alternative to a log burner, such as a bioethanol fireplace or a gel fire instead — they have a lower heat output but still create a focal point
In short, if you are asking 'can you install a log burner over a log burning stove' the expert advice from most stove manufacturers seems to be 'it is better not to' or to ask your TV manufacturer.
"Installing a TV directly above a wood stove isn't typically recommended, but if a TV will be sufficiently protected from the heat of a stove it may be suitable," says Jon Butterworth, Director at Arada Stoves, although he also points out that it is difficult to give an answer which fits all appliances and fireplaces.
"There is no set distance from the top of the stove, each manufacturer's stated clearance to combustibles, for each appliance should be applied as a rule of thumb," he continues. "Using a mantel or beam below the TV would be beneficial, as would recessing the TV into the fireplace if able, so that the heat passes in front of the screen, rather than behind."
Disadvantages of Placing a TV Above a Log Burner
Safety concerns aside, there are several other reasons why fitting a TV above a log burner is not generally advisable. These include:
The TV will often be too high for comfortable viewing. Typically, the centre of a TV screen should be at eye level when you are sitting to watch it
There may not be sufficient space for a television. Depending on the height of your fireplace and the width of the wall your log burner is fitted to there may not be enough space for a large television
Retro-fitting wires could be disruptive. Bear in mind you will need the TV to be plugged in — although recessing the TV into a small alcove within the wall can help with this, in some cases it may actually bring the television closer to the flue within the wall.
Can You Put a TV Above a Log Burner? Yes or No?
While there is nothing to stop you putting a TV above a log burner, it is something that is best avoided.
"We would recommend avoiding the placing of delicate electrical equipment in close proximity to highly efficient and thus extremely hot heating products," state Stovax.
Even without the safety concerns of locating electrical cables so close to high temperatures, it could well shorten the lifespan of your television, as well as causing neck ache if located too high on the wall.
If you are set on fitting your TV to your chimney breast, consider a log burner alternative. If not, we have plenty of other chimney breast ideas for you to consider.
You might also like to consider other log burner ideas, such as opting for a freestanding log burning stove instead and placing it in one corner of the room, reserving the central position in the space for your television.
Natasha is Homebuilding & Renovating's Associate Editor and has been a member of the team for over two decades. An experienced journalist and renovation expert, she has written for a number of homes titles. She has renovated a terrace and is at the end of the DIY renovation and extension of her Edwardian cottage. She is now looking for her next project.
Homebuilding & Renovating Newsletter
Get the latest news, reviews and product advice straight to your inbox.
Thank you for signing up to Homebuilding. You will receive a verification email shortly.
There was a problem. Please refresh the page and try again.