Worcester Bosch's Hydrogen Boiler Prototype Enters First Field Trial
By Jack Woodfield published
Bosch says that with government support, hydrogen boilers could be rolled out from 2025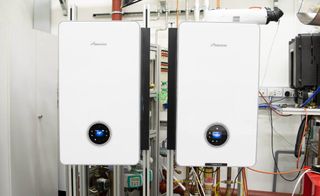 (Image credit: Worcester Bosch)
Worcester Bosch has every confidence that its 100% hydrogen boiler prototype will pass its first field trial with flying colours.
Worcester Bosch unveiled its hydrogen boiler earlier this year, with hydrogen technology widely considered by experts to represent the future of smart heating. Hydrogen would be used to make the mains gas network greener, because the main by-product of burning hydrogen gas is water.
Homeowners who trade their gas boiler for a hydrogen-ready boiler will significantly improve their energy efficiency, and the transfer to hydrogen gas will be straightforward, because Bosch's boiler can convert to hydrogen without the need for an entirely new heating system.
Interestingly though, gas boilers were snubbed as an eligible improvement on the recently-launched Green Homes Grant.
The first field trial on Bosch's hydrogen boiler launched in September, and Martyn Bridges, director of technical communication and product management at Bosch, says he is expecting continued progress.
Bridges told Homebuilding & Renovating: "The laboratory tests have been running for over three years and have helped us develop and fine tune the boilers. We have every confidence we'll have no issues in the field trial."
(MORE: Hydrogen boilers 'will transform our heating systems')
Hydrogen Boilers From 2025?
It could still be several years before hydrogen boilers are brought to market, but Bosch has earmarked a potential rollout from 2025.
This, however, depends on government support. "If government policy changes take place, we can meet an introduction of hydrogen-ready appliances from 2025 onwards," said Bridges.
Bridges added that hydrogen-ready boilers are the key to enabling conversion of the existing gas distribution networks from natural gas to hydrogen.
"We are very confident that moving from natural gas to hydrogen is the best route for decarbonising existing homes."
A Like-for-Like Replacement
Bridges also spoke of the convenience homeowners with existing gas boilers will experience should they opt to install a hydrogen boiler.
Bridges points to the comparatively complicated process of installing heat pumps (another form of low carbon heating), whereas a hydrogen-ready boiler is intended to provide a like-for-like replacement for an existing natural gas boiler, allowing the appliance to be replaced with a hydrogen-ready variant when it reaches the end of its natural life.
According to Bosch's recent white paper Fuelling the Future, a hydrogen-ready boiler can be quickly and easily converted to burn hydrogen at the time when the local network switches over.
"Converting a hydrogen-ready boiler from natural gas to hydrogen will take around an hour and involve changing a couple of components such as the burner," the authors say.
"And from an end-user point of view, a hydrogen-ready boiler does not require any behaviour change - it will provide the same delivery of comfort as an existing appliance."
Jack has worked in journalism for 11 years and is the News Editor for Homebuilding & Renovating, a role he has had since 2019. He strives to break the most relevant and beneficial stories for self builders, extenders and renovators, including the latest news on the construction materials shortage and hydrogen heating. In 2021 he appeared on BBC's The World at One to discuss the government's planning reforms.
He enjoys testing new tools and gadgets, and having bought his first home in 2013, he has renovated every room and recently finished a garden renovation.
Homebuilding & Renovating Newsletter
Get the latest news, reviews and product advice straight to your inbox.
Thank you for signing up to Homebuilding. You will receive a verification email shortly.
There was a problem. Please refresh the page and try again.